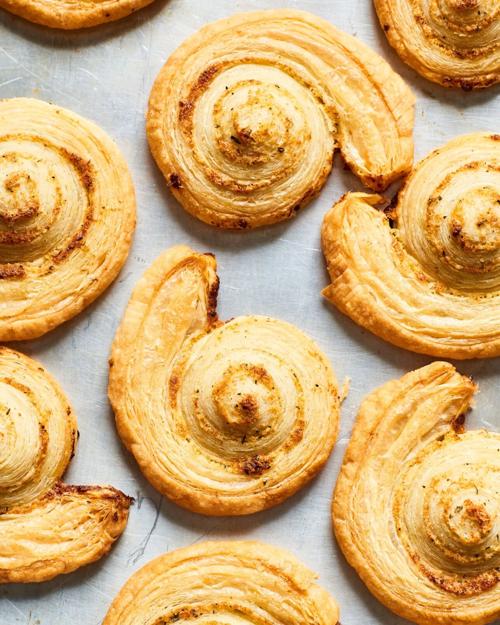 Take a look in your freezer. Do you have a box of puff pastry? Great. Now peek into your pantry. See that packet of ranch seasoning? Grab it. Together, you have everything you need to make these buttery, flaky pinwheels. They're the perfect anytime snack.
Puff pastry and ranch seasoning are two of the most versatile ingredients to keep in your kitchen, and this quick snack proves it. Simply roll out a sheet of thawed puff pastry, sprinkle it with ranch seasoning, roll it up, slice it into pinwheels, and bake. The result is a warm, two-bite treat that's full of the garlicky, herby ranch flavor you know and love.
The easiest route to take here is to reach for a packet of store-bought ranch seasoning. But if you have some extra time, consider making your own homemade mix to use for the pinwheels. Save any extra for future use in tacos, slow cooker dinners and even pasta.
Ranch Pinwheels
Makes about 20 pinwheels
1 sheet frozen puff pastry (from a 17.9-ounce box)
All-purpose flour, for dusting
1 (1-ounce) packet ranch seasoning mix, or 3 tablespoons homemade ranch seasoning
1. Thaw 1 sheet frozen puff pastry according to package directions.
2. Arrange a rack in the middle of the oven and heat the oven to 400 F.
3. Unfold the puff pastry onto a lightly floured work surface. Sprinkle evenly with 1 packet ranch seasoning. Starting at a short end, roll up tightly like a jelly roll. Arrange seam-side down.
4. Cut crosswise into 1/2-inch-thick slices. Place the slices cut side up in a single layer on a baking sheet, leaving a little space between each one. Bake until golden-brown, about 15 minutes.
(Sheela Prakash is a senior contributing food editor at TheKitchn.com, a nationally known blog for people who love food and home cooking. Submit any comments or questions to editorial@thekitchn.com.)