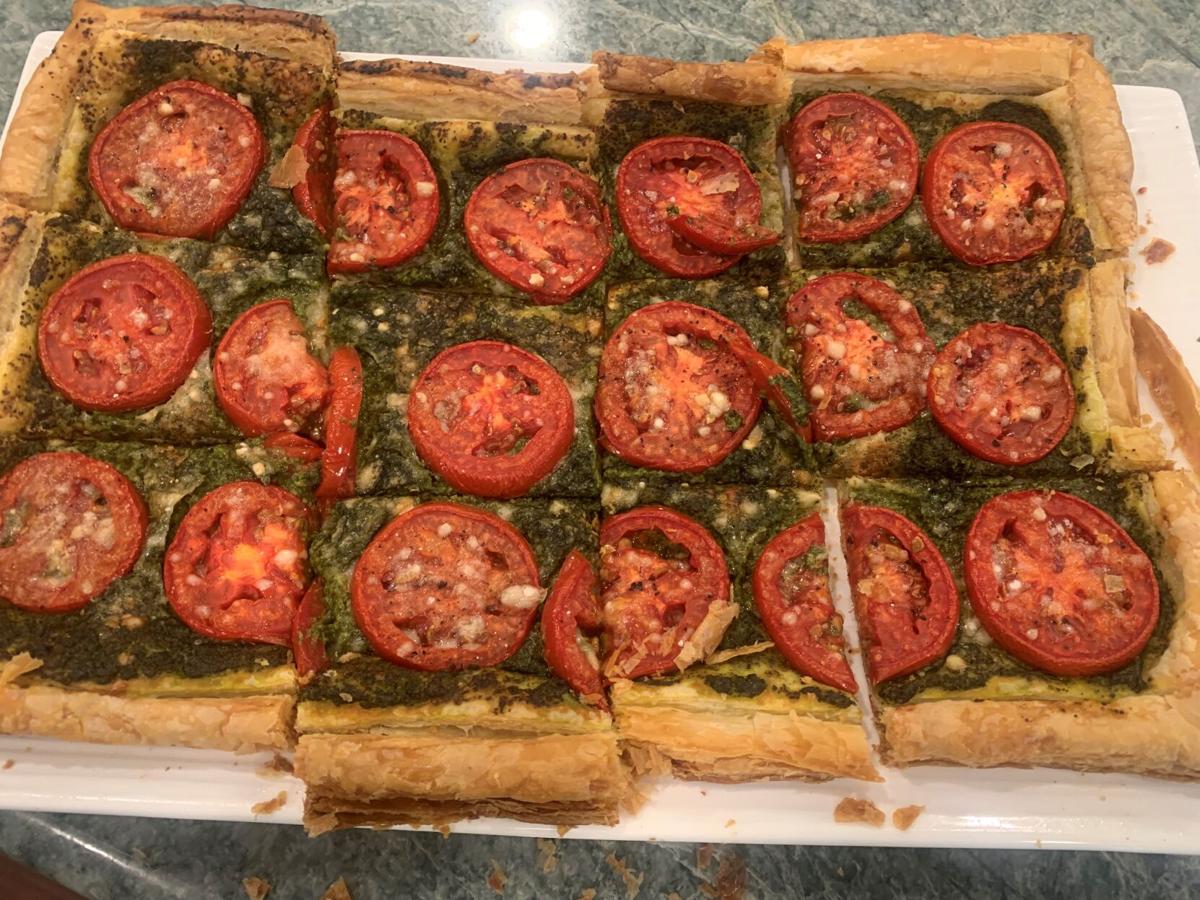 With the advent of frozen all-butter puff pastry available for the home cook, we can make many inventive dishes that are Seriously Simple. I've made my share of desserts with commercial puff pastry, but this is my first attempt at a first course or appetizer. I wanted to prepare a simple summer tart that was full of lively flavors. I mean what could be better than tomatoes and pesto?
Working with puff pastry takes a little getting used to. Make sure to defrost the pastry before you roll it out to desired size. I like using parchment paper sheets under the pastry for ease in rolling and also for transferring the pastry onto the sheet pan. Make sure to use a sharp knife to carve out the half-inch border, but don't cut all the way through. I found that punching little holes inside the border with a fork close together helps keep the puff pastry from rising.
This tasty appetizer can be served cut into pieces with cocktail napkins or on small plates with forks. I've given you a pesto recipe if you feel like making it from scratch. Also, make sure the Roma tomatoes are ripe.
I have also served these crispy tomato pesto gems on individual plates as a first course with a simple arugula salad dressed with lemon vinaigrette on the side. Any way you serve this, make sure to have a chilled cocktail or rose wine of your choice to accompany.
Tomato Pesto Tart
Serves 6 to 12
4 medium Roma tomatoes, sliced 1/4-inch thick
Salt
Freshly ground black pepper
1 sheet (7 ounces) packaged puff pastry, defrosted, preferably all butter
1/2 cup favorite homemade or store-bought pesto (see following recipe)
3 tablespoons freshly grated Parmesan Reggiano
1. Line a large baking sheet with paper towels. Place the sliced tomatoes on top in a single layer. Sprinkle salt and pepper evenly over the tomatoes. Let tomatoes rest for about 15 minutes.
2. Preheat the oven to 400 degrees and set a rack in the middle of the oven. Working on a large sheet of parchment paper, gently roll out the puff pastry into a 10-by-15-inch rectangle, trimming any uneven edges. Using a sharp knife, lightly score a 1/2-inch border around pastry. Transfer the pastry, using the parchment paper to help, to a nonstick sheet pan. The tart should be on the parchment paper.
3. Prick the inside with a fork every few inches, leaving the 1/2-inch border. Using a spoon and a spreader, coat the center of the puff pastry with the pesto evenly, leaving the border unbrushed.
4. Working within the border, arrange the tomatoes on top of the tart, allowing them to barely overlap, if necessary. Sprinkle Parmesan cheese evenly over the tomatoes. Bake, rotating halfway through, until puff pastry is browned and puffed, 30 to 35 minutes.
5. Remove from oven and let cool slightly. Cut into squares and place on a serving platter, or on individual dishes or transfer entire tart using parchment paper to guide it onto large rectangular white platter. Then cut into slices and serve.
Basil Pesto
Makes about 1 to 1 1/2 cups
This Italian paste is delicious on many soups. Originally pesto was made with a mortar and pestle, but the food processor works almost as well.
2 medium garlic cloves
2 cups medium-packed fresh basil leaves (about 2 medium bunches)
1/2 cup parsley leaves
2 tablespoons pine nuts
1/2 cup olive oil
black pepper, to taste
3/4 cup freshly grated Parmesan cheese
1. Add the garlic cloves to food processor fitted with the metal blade while motor is running. Process until pureed.
2. Add basil and parsley and process until finely chopped. Add the pine nuts and finely chop. With the blades turning, slowly pour in the olive oil in a fine stream. Add pepper and cheese and process until well-blended. Taste for seasoning.
3. Refrigerate in a tightly covered container until ready to use.
(Diane Rossen Worthington is an authority on new American cooking. She is the author of 18 cookbooks, including "Seriously Simple Parties," and a James Beard Award-winning radio show host. You can contact her at www.seriouslysimple.com.)