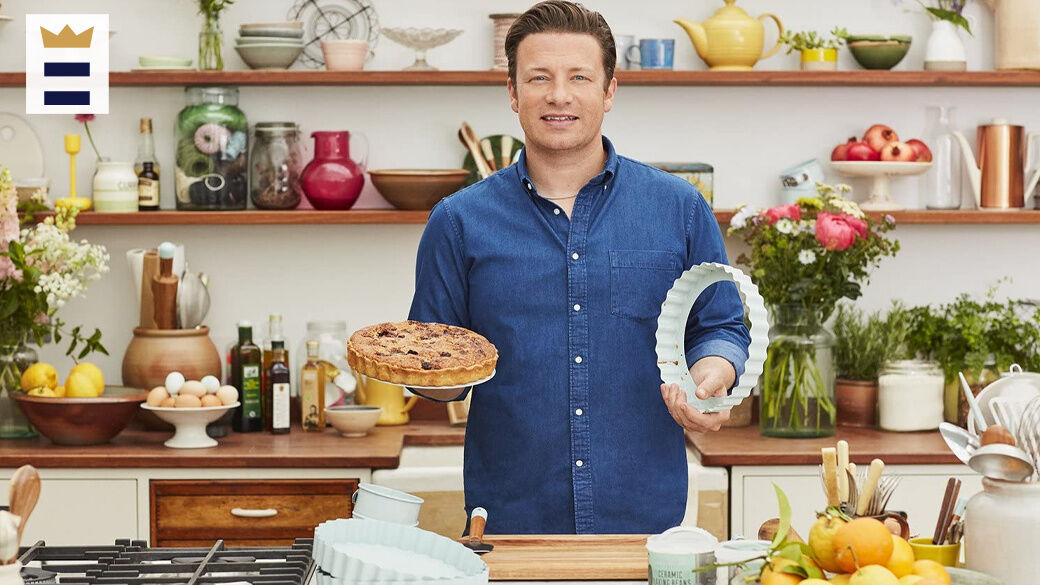 If you love baking, you may be looking to add a high-quality tart pan to your bakeware collection. A tart pan is a great tool for making everything from fruit tartlets to custard tarts to quiches and more. When shopping for a tart pan, you'll want to consider the shape, size and material of the pan plus several features such as a removable bottom and nonstick surface which help to easily release your tart from the pan. 
This guide helps you pick the best tart pan for you, including several recommendations such as the Jamie Oliver Tart Pie Tin, a durable steel tart pan known for even heating and easy release. 
What to know before you buy a tart pan
Material 
Tart pans are typically made from either steel, aluminum or silicone. You may also occasionally find a tart pan made from high-fired stoneware. It's important that the material is nonporous so that moisture doesn't get into the pan. You also want to look for a material that's durable and can stand up to both hot and cold temperatures. If you're planning to make heavier custard tarts and quiches, you'll want to choose a deep and heavy-bottomed tart pan. Whereas lighter tarts do well in silicone tart pans 
Tart pan shape 
Tart pans come in a variety of different shapes. While a round tart pan is the most popular choice, you'll also find rectangular and square tart pans as well as some specialty shapes, such as the Fox Run Mini Tartlet Set, which includes several different unique designs. 
Tart pan size
You'll also find tart pans in a variety of different sizes, anywhere from a 4-inch diameter to a 14-inch diameter. When purchasing a tart pan, consider what kind of tarts you'll be making most often. Quiche and many dessert tarts, such as a lemon tart or chocolate torte, are typically made in a large round tart pan. If you're looking to make small fruit tartlets or mini quiches, consider a smaller tart pan. 
Tart pan features
Removable bottom 
A tart pan with a removable bottom allows you to more easily remove your delicate tart or quiche from the pan. This way, you can hold the tart from the bottom and carefully remove the rim before sliding the tart off of the bottom onto a serving platter. For particularly delicate tarts, you may also choose to use the disc as your serving platter. However, keep in mind that cutting on the bottom surface with a sharp knife may damage the pan over time. 
Nonstick surface 
A nonstick coating on your tart pan will make for even easier removal. This prevents stubborn crusts from sticking to the tart pan surface and leading to breakage. A darker nonstick surface may also lead to more even browning on your crust compared to the lighter finish of aluminum or steel. 
Fluted sides
Fluted sides refer to the wavy edge on the rim of your tart pan. This decorative touch makes for a professional-looking tart that looks particularly beautiful on a plate. A tart pan with sharp flutes will generally look sharper and more professional than one with wider flutes. 
Tart pan cost 
A good tart pan will generally cost between $10 and $30. The price varies depending on the brand, material and durability. As a general rule, there is no need to overspend on a tart pan. You can find a very high-quality tart pan for around $20. 
Tart pan FAQ
Is a tart pan different from a pie tin? 
A. A tart pan is specifically made for specialty tarts such as fruit tartlets, custard tarts and quiches. This type of pan has straight sides, either fluted or not, in comparison to the sloped sides of a traditional pie pan. Most tart pans also have a removable bottom and/or nonstick surface to allow for easy release. While pie pans tend to all be similar in shape and size, tart pans come in a variety of different shapes and sizes. While pie pans are often made from plexiglass or ceramic materials, tart pans are made from aluminum, steel or silicone. This allows both for easier release and even browning.  
Can I put my tart pan in the dishwasher?
A. Silicone tart pans, such as the Wilton Silicone Tart and Pie Molds, can be run through the dishwasher without worry. While some metal tart pants are advertised as dishwasher safe, keep in mind that harsh dishwasher detergents can still damage the product and reduce its durability or nonstick performance over time. For best results, hand wash if possible. 
Which tart pan should I get?
Best of the best tart pan
Jamie Oliver 10-inch tart pie tin: available at Amazon, Kohl's and Bed Bath & Beyond 
Our take: A high-quality steel tart pan with a removable bottom and a nonstick surface.
What we like: 10-inch diameter is convenient for a variety of tarts; removable bottom and nonstick material makes for easy release; heavy-gauge steel is durable and will not warp over time. 
What we dislike: Scratches easily; not dishwasher-safe. 
Best bang for your buck tart pan
Wilton Mini Silicone Tart and Pie Molds: available at Amazon 
Our take: A six-piece set of four-inch silicone tart molds best for small baked tarts and pies. 
What we like: Silicone material is very flexible and easy to remove, even on stubborn crusts; tart molds come in six different beautiful colors; oven-safe up to 500°F; dishwasher safe. 
What we dislike: Silicone is too flexible and flimsy for some tart recipes. 
Honorable mention tart pan
Fox Run Nonstick 9-inch Tart Pan: available at Amazon and Wayfair
Our take: A premium nonstick steel tart pan with a removable bottom that offers strong heat conduction and even browning. 
What we like: Heavy-gauge steel makes for superior heat conduction and an even bake; premium nonstick coating for easy release; removable bottom is ideal for heavy or fragile tarts; tart pan comes in other sizes including 4-inch, 11-inch and 14-inch; dishwasher safe. 
What we dislike: Pan is too shallow for standard quiche recipes. 
Katy Severson is a writer for BestReviews. BestReviews is a product review company with a singular mission: to help simplify your purchasing decisions and save you time and money.
BestReviews spends thousands of hours researching, analyzing and testing products to recommend the best picks for most consumers. BestReviews and its newspaper partners may earn a commission if you purchase a product through one of our links.
Distributed by Tribune Content Agency, LLC.