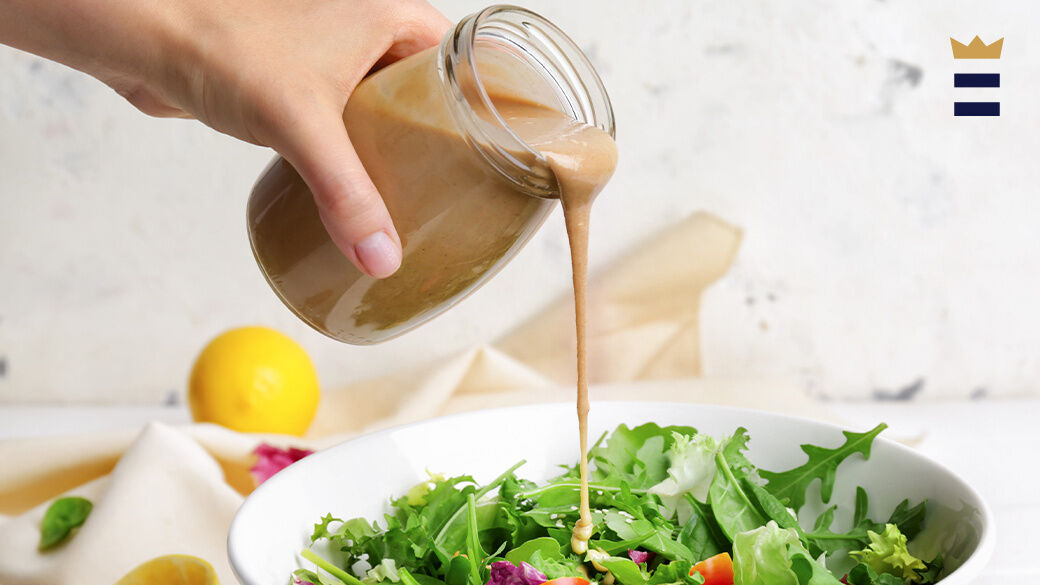 Why should I buy a salad dressing shaker?
Store-bought salad dressings can't compare to the fresh taste of a dressing you make at home. You don't need to be a chef to make homemade dressing, either. All you need is a little olive oil, some vinegar, maybe a splash of lemon juice and a great salad dressing shaker.
Salad dressing shakers are as varied as the recipes you'll need them for. They're available in all shapes, sizes and materials. Most will get the job done, but some are better than others.
To that final point, the OXO Good Grips Salad Dressing Shaker is our top pick. This product doesn't leak when shaken, is airtight and watertight for storage and is dishwasher safe for easy cleaning.
Things to consider before buying a salad dressing shaker
Material
Salad dressing shakers come in two materials: glass and plastic. Plastic is the most common choice. It is more affordable and won't shatter if you drop it (though plastic can still crack). Plastic is also prone to absorbing food, which can lead to retained flavors and nasty smells. Glass costs more, and while it may shatter if dropped, it won't absorb the food inside. Glass is arguably more aesthetically pleasing as well.
Capacity
Salad dressing shakers typically come in sizes ranging from 1 cup to 2.5 cups. Use your best judgment to determine the appropriate size for your household. For example, if there are five people in your household but you're the only one who eats salad, then a 1-cup shaker should suffice.
Mixing
Some salad dressing shakers come with extra mechanisms for mixing, which are great for creamier recipes that don't mix well when just shaken. Mixing mechanisms can come in the form of built-in agitators controlled with a lever or handle or an internal whisk/blade that moves independently.
Salad dressing shaker features
Dishwasher safe
Nobody likes washing dishes by hand. Make sure to buy a dishwasher-safe salad dressing shaker, so you can just toss it in and forget it.
Measurement markings
Eliminate the need to use a bunch of measuring cups that you'll have to clean later by choosing a salad dressing shaker with measurements marked onto the container itself. Keep in mind that some are more precise than others.
Airtight lid
It might seem like all salad dressing shakers have airtight lids, but if you look closer, you'll find some are only leakproof. Find one that's airtight, so you can store it securely in the refrigerator or leave it on the table during dinner without worrying about spoilage.
Salad dressing shaker cost 
Most salad dressing shakers range in price from $10 to $20. The high-end salad dressing shakers made of glass that are big enough for a large household can cost up to $35.
Salad dressing shaker FAQ
Can I make more than salad dressing in my salad dressing shaker?
A. Absolutely! The only limit is your imagination. Marinades and sauces are commonly made with salad dressing shakers as well.
Why should I make my own salad dressing to begin with?
A. Besides the aforementioned extra-fresh taste, you can make dressings that don't exist in stores. Additionally, it's much healthier to mix your own (store-bought dressing can be full of artificial preservatives).
How do I wash a salad dressing shaker that isn't dishwasher safe?
A. Throw in some warm or hot water and a little bit of dish soap, then shake it like it's a new dressing. If it still isn't clean, use a bottle brush to remove any remaining residue. 
Which salad dressing shaker should I get? 
Best of the best salad dressing shaker
OXO Good Grips Salad Dressing Shaker: available at Amazon, Bed Bath & Beyond and Macy's
Our take: Durable and easy to use, this salad dressing shaker is perfect for all your liquid mixing needs.
What we like: It comes in all sizes and colors. This model is also airtight and watertight with a leakproof seal, and it is dishwasher safe and BPA free. Detailed measurements on the side keep mixing easy, and the elegant design makes it a nice addition to the table.  
What we dislike: The lack of an additional mixing component means creamier dressings are more difficult to make.
Best bang for your buck salad dressing shaker
Norpro Salad Dressing Maker: available at Amazon
Our take: Affordable and sizeable, this product is a great entry point for new chefs.
What we like: Recipes printed on the side make it very easy for beginners to get started.
What we dislike: The lid doesn't close very well, and there's no proper seal between the cap and the bottle. 
Honorable mention salad dressing shaker
Whiskware Salad Dressing Shaker with BlenderBall Wire Whisk: available at Amazon
Our take: The addition of the stainless steel BlenderBall makes emulsifying thick and creamy dressings a dream.
What we like: The large 2.5-cup capacity gives the BlenderBall space to do its job. The BlenderBall can remain in the bottle with your dressing without affecting the taste.
What we dislike: This model is dishwasher safe, but the BlenderBall makes it slightly complicated to clean. There are reports of the bottom breaking during mixing, but these reports appear to be associated with an earlier glass model.
Jordan C. Woika is a writer for BestReviews. BestReviews is a product review company with a singular mission: to help simplify your purchasing decisions and save you time and money.
BestReviews spends thousands of hours researching, analyzing and testing products to recommend the best picks for most consumers. BestReviews and its newspaper partners may earn a commission if you purchase a product through one of our links.
Distributed by Tribune Content Agency, LLC.