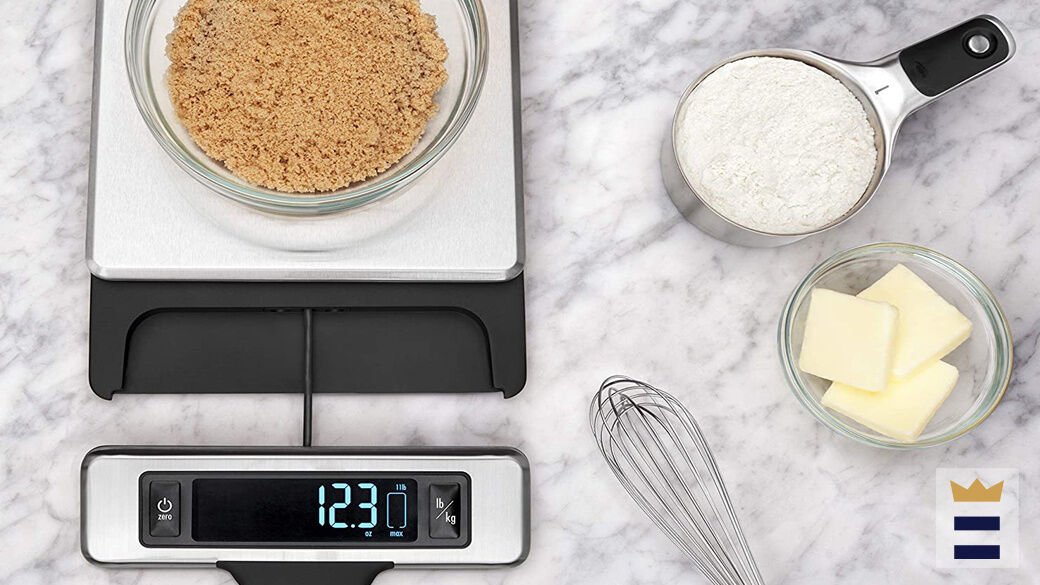 OXO kitchen scales
As any home chef will gladly tell you, preparing a successful meal is a blend of art and science. Recipes are very similar to chemical formulas, especially when it comes to baking. One important element of any formula is precise measurement of the ingredients, and, in the kitchen, this job often falls to an accurate digital kitchen scale. In the food equipment industry, OXO Good Grips is considered to be one of the best manufacturers of kitchen equipment, including digital food scales.
When shopping for a new kitchen scale by OXO, your personal cooking preferences also play a role. Bakers often seek out scales with smaller capacities but more accuracy in terms of ounces and grams. Cooks prefer scales that can handle heavier bulk ingredients, such as meats or vegetables. Any OXO kitchen scale that satisfies both cooking and baking needs is a good one to own.
What to consider when buying an OXO kitchen scale
Accuracy and calibration
While some recipes do allow some leeway when it comes to ingredient proportions, many have been developed with precise measurements in mind. This is why accuracy is a very important consideration when choosing an OXO kitchen scale. OXO is well-known in the food appliance industry for its attention to detail and accuracy, as well as ergonomics. While OXO may not offer as many kitchen scale models as their competitors, the scales themselves have been rigorously tested for accuracy before shipping. When in doubt, look for certification of accuracy from a recognized lab somewhere on the packaging or owner's manual.
Many OXO kitchen scales automatically re-calibrate themselves after every use, but you can still check them by adding a known weight to the platform and noting the results. As a rule, consistency is a better gauge of calibration and accuracy than raw weight, however. A pound of flour measured for a batch of cookies should match previous and future weighings. Most OXO kitchen scales use digital technology, which is generally more accurate than mechanical scales.
Tare weight
Some ingredients can be placed directly on the platform for weighing, but others need to be stored in a container first. The weight of this container, however, becomes a factor in the reading. This is known as "tare weight." Most OXO kitchen scales provide a way to nullify or "zero out" the weight of the container. Users can also zero out the weight of previous ingredients as new ingredients are added. This is especially useful when measuring cake mixes or spice rubs with multiple ingredients. A tare weight function can also nullify the weight of packaged meats for more accurate portioning.
Ease of use
The function controls of a digital kitchen scale should be intuitive and reliable. Some models only provide a single button to control everything from tare weight to unit conversions, but OXO has made the process more user-friendly with an automatic shut-off feature and clearly-marked function controls. The platforms of most models are easy to remove for cleaning and sanitation, and the scales themselves work on batteries, no AC plugs required.
Display
One common issue with kitchen scales is access to the display panel. A large mixing bowl or baking pan can block the user's view of the digital display, making it much harder to get accurate measurements. OXO and other kitchen scale manufacturers solve this issue by creating pull-out digital displays. If the cook is measuring small amounts of dry ingredients directly on the platform, the digital display remains easily visible under the platform. 
However, if the platform is holding a large cooking vessel or mixing bowl, the digital display can be pulled out of the base on a tether. This allows the cook to read the weight display without having to remove the container. The digital numbers should be large enough to read comfortably from a distance, and backlighting should improve visibility under less-than-ideal conditions.
Construction and design
Entry-level OXO digital kitchen scales tend to incorporate a number of food grade plastic components, usually in an effort to keep the price point low without sacrificing durability. However, plastic-based weighing platforms do take a fair amount of abuse, and less-expensive scales may not survive a fall from the countertop. Home cooks should consider an upgrade to stainless steel or tempered-glass platforms whenever feasible. Sturdy rubberized feet provide a solid slip-resistant base, and the overall profile should be low enough for easy cabinet or drawer storage. 
Best OXO kitchen scales
Best of the Best OXO kitchen scale 
OXO Good Grips 11-Pound Stainless Steel Food Scale: Available at Amazon, Bed Bath & Beyond and Sur la Table
Our take: If a single digital kitchen scale from OXO would meet your immediate needs, this model with an 11-pound capacity would be the one to consider first.
What we like: Includes pull-out display with large digital readout. Stainless-steel platform is easy to clean. Has a tare weight function. Converts to ounces, grams or kilograms. Minimal profile on counter.
What we dislike: Drains battery power sooner than expected. Some minor reading deviations reported.
Best Bang for the Buck OXO kitchen scale
OXO Good Grips 5-Pound Food Scale with Pull-Out Display: Available at Bed Bath and Beyond and Amazon
Our take: For home cooks with minimal weighing needs, this entry-level digital scale provides accurate readings for smaller portions of dry ingredients, spices and meats.
What we like: Affordable price point for casual users. Displays remaining capacity to avoid overload. Backlit digital output on a pullout display that's easy to read. Accuracy comparable to more expensive models.
What we dislike: Plastic construction is lightweight and prone to breakage. 5-pound weight capacity limits usage.
Best OXO kitchen scale for Coffee Preparation
OXO 11212400 Good Grips 6-Pound Precision Coffee Scale: Available at Amazon and Bed Bath & Beyond
Our take: For home-brewed and craft-coffee enthusiasts, this 6-pound digital scale from OXO provides both precise dry measurements and pour-over brewing times, and also works as a general kitchen scale.
What we like: Includes a timer for pour-over coffee preparation. Scale is highly accurate with dry ingredients. Platform is easy to remove and clean. Measures in ounces, grams or kilograms. Sleek appearance on counter.
What we dislike: Tare and timer functions can be challenging to use. Digital display does not pull out.
Best for Portion Control
OXO Good Grips 1-Pound Healthy Portions Scale: Available at Amazon, Bed Bath & Beyond and Sur la Table
Our take: While not ideal for general dry-ingredient measuring, this portable scale is perfect for dieters who need to control caloric intake or divide products into manageable portions.
What we like: Measuring bowl is dishwasher safe and nests with the base for storage. Ingredients can be zeroed out mechanically for accuracy. Easy to pack for office or travel-food portioning. 
What we dislike: Smaller than expected with limited capacity. Accuracy is a common concern.
Michael Pollick is a writer for BestReviews. BestReviews is a product review company with a singular mission: to help simplify your purchasing decisions and save you time and money.
BestReviews spends thousands of hours researching, analyzing and testing products to recommend the best picks for most consumers. BestReviews and its newspaper partners may earn a commission if you purchase a product through one of our links.
Distributed by Tribune Content Agency, LLC.