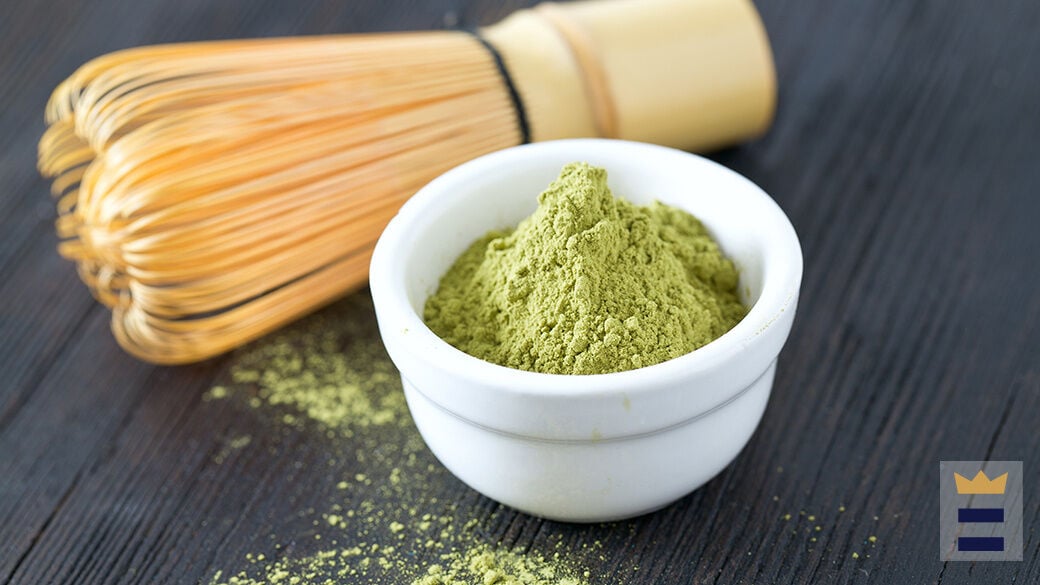 Matcha powder
If you've consumed green tea, then you've consumed a product that comes from the same plant as matcha. Matcha is simply the dried leaves of the green tea plant ground into a fine powder. 
While traditional green tea typically comes in a tea bag that you steep in water, matcha powder is stirred directly into water, creating a bright green, frothy beverage. Both matcha, as well as standard green tea, have health benefits, such as potential cancer-fighting antioxidants and digestion-soothing properties. However, matcha is slightly more concentrated than traditional green tea, so it may offer more of these benefits.
How to use matcha powder 
While you may be most familiar with matcha from bright green, caffeinated beverages served at your coffee shop, there are many things you can do with this product. Thanks to its buttery flavor, matcha powder can be added to homemade ice cream for a tasty dessert. Some bakers like to add it to baked goods such as muffins and loaves. It can even go in your smoothies for a caffeine boost. Its antioxidant properties also make matcha a beloved ingredient in many beauty products, from face masks to eye gel patches and even body scrubs.
Types of matcha
Not all matcha powder is made equal. Tea lovers have broken matcha down into five categories: premium grade, café grade, classic grade, ingredient grade and kitchen-grade. To simplify things, all of these fall under one of two larger categories: ceremonial or culinary. 
Ceremonial matcha is the "original" variety. It's made from very young tea leaves, which gives it a distinct flavor that's best served with simple hot water. Culinary matcha powder is typically made from slightly older tea leaves and is best suited for more complex recipes such as lattes, smoothies and cupcakes. 
Best culinary matcha
Best of the best 
The Tao of Tea Liquid Jade Powdered Matcha Green Tea: available at Amazon and iHerb
Grown in Uji, Japan and stored in an airtight tin, this powder offers the authentic flavor matcha lovers look for. Plus, it's manufactured using direct trade processes. It's 100% organic with a sweet and buttery flavor, though its taste is too grassy for some.
Best bang for your buck 
Superfoods by MRM Matcha Green Tea Powder: available at Amazon and iHerb
This powder comes in eco-friendly packaging and is reasonably priced. It's non-GMO and free of preservatives. It mixes easily with liquids and is good for baking. Some users state it's too bitter.
Other options 
Navitas Organics Organic Matcha Powder: available at Amazon and iHerb
With an earthy flavor and bright green hue, this powder is ideal for adding to smoothies, lattes and baked goods, and it's certified organic and kosher. The smell is too strong for some.
Matcha Love Japanese Culinary Matcha: available at Amazon
This powder comes in an airtight can to ensure a long shelf life. Its flavor is a nice hybrid of sweet and grassy. It's great for cake recipes and it tastes and smells fresh. However, it isn't certified organic.
Now Foods Organic Matcha Green Tea Powder: available on Amazon and iHerb
A highly concentrated and additive-free powder, this delivers a strong matcha flavor. It's good in specialty drinks and foods, as well as in simple hot tea. The color is not very bright.
Vahdam Teas Matcha Green Tea with Mint: available at iHerb
If you want the digestive soothing properties of mint with your green drink, this is a good choice, though the mint flavor could be stronger. Low on caffeine, it's suitable for evening consumption. It may improve your metabolism and has a subtle sweetness.
Vital Proteins Matcha Collagen Peptides Powder Supplement: available at Amazon and iHerb
Both beauty and energy supplement, this powder contains collagen peptides in addition to pure matcha powder, meaning it's beneficial to hair and skin health. It's easy on the digestive system, though some say it has an unpleasant aftertaste.
Best ceremonial matcha
Best of the best 
Ujido Matcha Green Tea Powder: available at Amazon
Sourced from a Japanese farm that's been making matcha for over 180 years, this powder should deliver an authentic flavor. It comes in a resealable pouch and is high in antioxidants, but it doesn't mix well with cold water.
Best bang for your buck
Splendmood Ceremonial Grade Premium First Harvest Pure Organic Matcha: available at Amazon
Though made for use with hot water in a traditional ceremonial recipe, this also makes an excellent iced beverage. The leaves are harvested in the spring when they're tender and flavorful, meaning the matcha is potent and bright with a refreshing smell. It may settle at the bottom of drinks if not mixed well.
Other options
Encha Ceremonial Grade Premium First Harvest Pure Organic Matcha: available at Amazon
Made from the young leaves of the first spring harvest, this powder has a subtle but sweet flavor and a pleasant fragrance, but it can be a bit clumpy. It comes in BPA-free packaging.
MatchaBar Ceremonial Grade Matcha: available at Amazon
This powder is handmade in small batches on a Japanese farm and has an intense bright green hue. It tastes great in both hot and iced drinks, and it won't cause jitters. However, it can have a fishy odor.
Kenko Tea Super Premium Matcha Tea: available at Amazon
With a smooth flavor, this powder tastes good with little more than hot water and a splash of milk, creating a good froth, though it can form clumps at the bottom of your beverage. The brand offers a lifetime satisfaction guarantee.
Midori Spring Emerald Class Organic Ceremonial Premium Matcha Tea: available at Amazon
A traditional Mikage stone is used to grind the leaves that form this very fine powder. It's excellent for hot drinks as it blends well with water and milk, and it's also great for baking. A little goes a long way. However, the color is a bit dull.
Rishi Teahouse Matcha: available at iHerb
The leaves used to make this powder come from the first springtime harvest, giving it a bright and bold flavor. It's packaged in biodegradable sachets and certified non-GMO, but it's pricey for such a small size.
Julia Austin is a writer for BestReviews. BestReviews is a product review company with a singular mission: to help simplify your purchasing decisions and save you time and money
BestReviews spends thousands of hours researching, analyzing and testing products to recommend the best picks for most consumers. BestReviews and its newspaper partners may earn a commission if you purchase a product through one of our links.
Distributed by Tribune Content Agency, LLC.