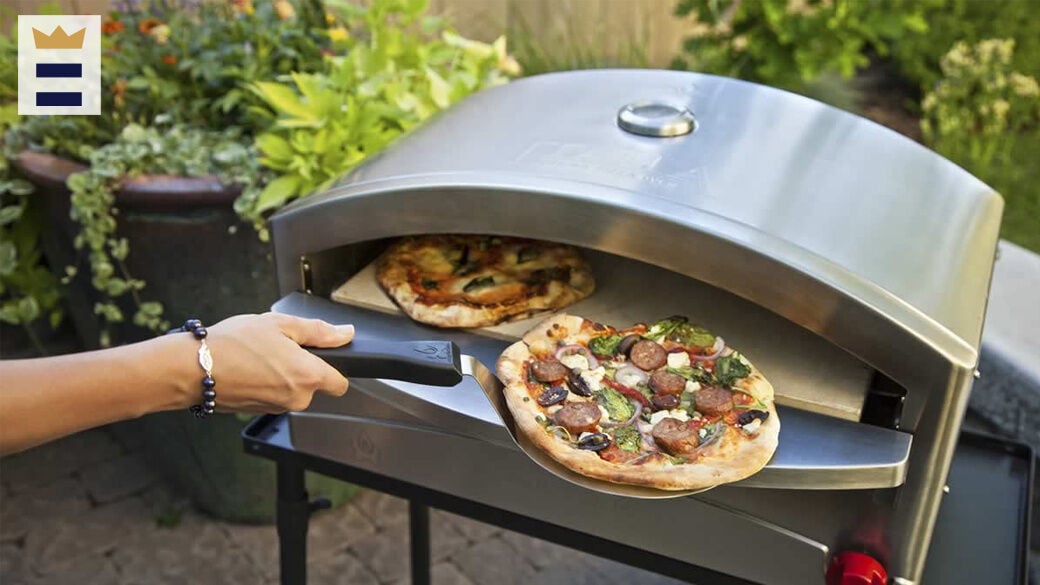 You might think that having the equipment to bake your own restaurant-style pizza while camping or at family picnics and social events is a luxury you can't afford. However, there are numerous affordable and portable pizza ovens to choose from that can give you a perfectly crisp crust with delicious melted cheese from virtually anywhere.
The Camp Chef Italia Artisan Pizza Oven bakes like a brick oven and is ready to cook within 15 minutes. Fully portable and running on propane, this mighty oven can reach temperatures over 700 degrees with ease.
What to know before you buy a Camp Chef pizza oven
Weight
The weight of your personal Camp Chef oven matters, as it will affect portability and even the functions of the unit. Heavier models weigh around 47 pounds, meaning they're hefty but can still usually be lifted by one person. Additional weight is due to the fact these models have built-in burners. 
A two-burner accessory model weighs 30 pounds, which is easily lifted by one person but requires a separate cooking system, stove or BBQ to function. 
Other two-burner accessory models are similar in function yet weigh 41 pounds due to different dimensions and composition. They also require a secondary cooking system for use.
Temperature gauge
Camp Chef pizza ovens can heat well beyond temperatures of 700 degrees. They feature an internal temperature gauge that can provide a fair level of accuracy in showing the internal temperature of the oven. That said, there can sometimes be a discrepancy in the temperature of the air and the temperature of the ceramic; the heat radiates upward from below the pizza stone. Since thin-crust pizzas have a tendency to burn quickly (and you want to ensure the cheese and toppings are cooked), a thermal or infrared temperature gauge is a recommended accessory. 
Camp Chef pizza ovens with a traditional-looking wood-fired open face may experience slight temperature shifts due to inclement weather like heavy wind or freezing temperatures. Camp Chef ovens with a door may still experience slight fluctuations, though they're minimal.
Material
Camp Chef ovens vary slightly in material composition. Some have stainless steel construction, which is corrosion-resistant and easy to clean. Others are made of alloy steel, which increases wear resistance.
Camp Chef pizza oven uses
Pizza
The primary function of a Camp Chef pizza oven, naturally, is baking restaurant-style pizza from the comfort of your own backyard, campsite or family gathering. The ceramic stone guarantees a delightfully crisp crust and the high heat melts the cheese and cooks the toppings beautifully. Camp Chef pizza ovens are suitable for fresh homemade dough, frozen pizzas, flatbread pizza, thin and thick crust pizzas.
Some popular recipes include:
Margherita pizza: This fan-favorite pizza features extra virgin olive oil, fresh garlic, San Marzano tomatoes, finely grated parmigiano-reggiano cheese, fresh mozzarella and basil leaves.
Pepperoni: This crowd-pleaser is typically made with your favorite flavor of red pizza sauce, sliced pepperoni and mozzarella cheese. 
BBQ chicken: For a different take, the BBQ chicken pizza is made of cubed cooked chicken, bold BBQ sauce, chopped red onion and mozzarella.
Vegetarian: Use your imagination with this pizza. Optional toppings include mushrooms, onions, peppers, cherry tomatoes, spinach, basil, jalapeno, pineapple, banana peppers and more.

Bread
Artisanal and crusty breads such as focaccia, french bread and sourdough are excellent breads to try baking on your ceramic Camp Chef pizza oven. For an easy platter of focaccia fingers, start with a ball of pizza dough and stretch it thin. Coat lightly with olive oil and salt and sprinkle with grated mozzarella and parmesan cheese. If you're a garlic lover, finely chopped garlic or a dusting of garlic powder complements the recipe.
Desserts and more
Your Camp Chef pizza oven can easily bake cinnamon rolls, pies, turnovers, brownies and more. It may take some trial and error to find the right temperature and cook times for special uses of the oven. 
Camp Chef pizza oven cost 
The price of a Camp Chef pizza oven varies greatly depending on the model. If you're looking for a smaller oven that requires a burner, like your backyard grill, expect to spend around $160-$200. A fully portable higher-end Camp Chef pizza oven with a greater capacity, more features and built-in propane burner costs approximately $400.
Camp Chef pizza oven FAQ
Do I need a laser temperature gauge to ensure I won't burn the crust?
A. Because of the variable nature of heat radiating upward from below the pizza stone, there can be a temperature divide. A laser temperature gauge is a handy accessory, as it can give you a good reading of the surface temperature when placing your pizza in the oven. For superior crust, users recommend turning the oven to a higher temperature to preheat, then reducing to medium to bake the pizza. This ensures the crust gets crispy without burning, while the cheese and toppings cook evenly.
Are there any other optional accessories that I should consider buying?
A. A pizza peel for loading and unloading your pizza from the Camp Chef oven is a great buy and can also be used for rotating the pizza while cooking. For storage purposes, a cover for the oven is also valuable.
Which Camp Chef pizza oven should I get?
Best of the best Camp Chef pizza oven
Camp Chef Italia Artisan Pizza Oven: available at Amazon
Our take: This Camp Chef oven bakes professional, restaurant-style pizza in the backyard or on the go. 
What we like: This particular model has a temperature gauge monitor for internal temperatures, is easy to clean, has a ventilated oven door with handle and runs on a disposable 1-pound propane bottle. It can also accommodate standard-size propane tanks for convenience and has a total output of 17,000 BTU/hour. Made of stainless steel and featuring built-in valve ignition for total accuracy in flame control, the Artisan pizza oven is several steps above other models.
What we dislike: It's slightly heavier than other models at 47 pounds.
Best bang for your buck Camp Chef pizza oven
Camp Chef Artisan Outdoor Pizza Oven: available at Amazon
Our take: This model handily fits all Camp Chef cooking systems and fits snugly on many other outdoor grills and burners.
What we like: The Camp Chef Artisan outdoor pizza oven has an open face which lends it a traditional wood-fired cooking experience. The ceramic stone is made of cordierite, which pulls moisture from the pizza dough, creating a crispy, restaurant-style crust in minutes. At a great price, this camp oven also includes a pizza oven cooking guide and recipe book. 
What we dislike: A few customers reported a slight fissure in the ceramic.
Honorable mention Camp Chef pizza oven
Camp Chef Italia Artisan Pizza Oven: available at Amazon 
Our take: This Camp Chef Italia outdoor model is similar to the Artisan outdoor model; however, the overall dimensions and cooking surface diameter are different.  
What we like: The Camp Chef Italia outdoor is a two-burner accessory pizza oven with cordierite ceramic and includes cooking recipes and features.
What we dislike: This unit is heavier and less widely available than the Artisan outdoor.
Ashley Britten is a writer for BestReviews. BestReviews is a product review company with a singular mission: to help simplify your purchasing decisions and save you time and money.
BestReviews spends thousands of hours researching, analyzing and testing products to recommend the best picks for most consumers. BestReviews and its newspaper partners may earn a commission if you purchase a product through one of our links.