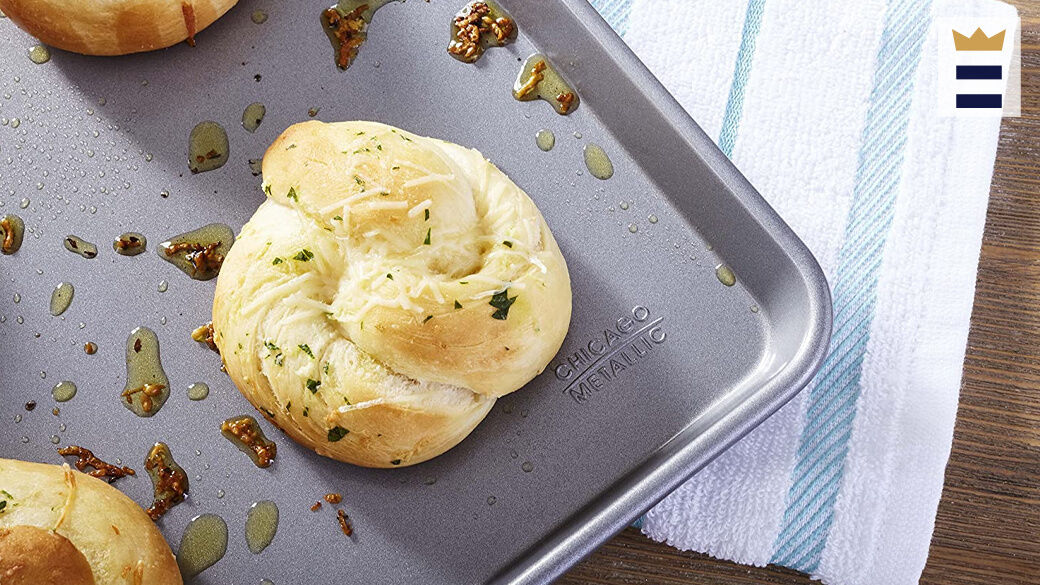 Bakers are masters of precision. Once that cake or pastry makes its way into the oven, there is no looking back and no way to adjust. But to be at the top of your baking game, you must have the tools to get you there. And while spoons, mixers and measuring cups are important, a high-quality baking pan shapes your delicious cakes or crisps your pastries as they bake in the oven. 
Baking pans are an essential part of any good baker's repertoire. Fortunately, there are pans for almost any baking adventure you choose to embark upon, from brownies to tarts to croissants.
What to know before you buy a baking pan
Baking pan material
Baking pans come in a few different materials. Each has pros and cons, so it's important to take time to find the right fit for your baking needs.
Glass: While glass retains heat better than metal pans, they take longer to heat up. This can cause uneven baking since the interior bakes more slowly than the exterior. Glass can also shatter when it experiences quick temperature changes.
Ceramic: Ceramic is also prone to shattering when there is a big temperature change. However, it is nonstick and easier to clean than metal or glass. Ceramic pans bake very similarly to glass and retain heat.
Metal: Aluminum is the perfect metal for baking, but you want to be sure it's light in color. The darker the pan, the more prone it is to overcooking the exterior.  
Types of baking pans
Cookie sheet
A cookie sheet is a flat pan with a very short lip of about a quarter-inch to half an inch. It's probably one of the most versatile pans besides a casserole dish. A cookie sheet can handle cookies, pastries, pizza and much more. You can even use it as a substitute for a jelly roll pan.
Pie pans
Pie pans or plates measure approximately eight or nine inches across and just over an inch deep. The best pie pans are glass or ceramic, but glass pans allow you to see if you're burning the crust. If you choose to bake with a metal pie pan, pick a stainless steel one for the best outcome. 
Loaf pans
Loaf pans are rectangular dishes with deep sides. You can use them for baking loaves of bread, whether it be wheat, rye or banana and so on. You can also use loaf pans for other dishes like meatloaf or even to mold an ice cream cake. 
Springform pans
Use a springform pan to make cheesecake and other cakes. These resemble a cake pan except it has a latch on the side, so you can release the edge of the pan from the bottom. You can use this to serve dessert without removing the supportive bottom.
Cake pans
Cake pans or cake molds come in several different sizes. These allow you to create deep, tiered cakes and with square or round shapes. When you think about cake pans, think about baking sheet cakes, round layer cakes or wedding cakes. 
Specialty pans
Specialty pans typically have a very specific purpose, like a mini doughnut pan or a mini madeleine pan. Alternatively, you can use these as a multipurpose pan like a cookie sheet or a bundt pan. That said, bundt pans work as a mold for any number of foods, including jello and ambrosia.
Baking pan cost 
Basic baking pans run between $10-20 per pan, depending on the material and size. You can get glass pans as a one-off or as part of a larger set that runs over $100 depending on the size of the set.
Baking pan FAQ
Do my pans have to be non-stick?
A. Not necessarily, but it'll make clean-up a lot easier. Using lard or butter on the sides of your pan prior to baking will prevent anything from sticking to the sides and bottom of the pan. You can also use a baking spray like PAM.
Why do I need specialty pans?
A. There are some instances where you can use one type of pan for a multitude of baking items, like a cookie sheet. However, if you're making something that requires a specific shape, you must use the right pan or a similar substitute to stay within the recipe guidelines. For example, it's impossible to create molded chocolate in a cake pan. Similarly, some bakeware doesn't handle extremely high temperatures, so it's best to go with whichever pan or dish noted in the recipe.
Which baking pan should I get?
Best of the best baking pans
Nordic Ware Classic Metal 9x13 Covered Cake Pan: available at Amazon
Our take: A professional aluminum cake pan with cover.
What we like: The interior of this incredibly durable pan measures 9-inch by 13-inches and won't rust. And the lid slides on to protect baked goods while traveling.
What we dislike: It will tarnish if you put it in the dishwasher, so only hand wash this pan.
Best bang for your buck baking pans
Nordic Ware Naturals Aluminum Nonstick Cake Pan: available at Amazon
Our take: A versatile aluminum pan with a nonstick finish, making it great for a variety of baking needs.
What we like: You don't have to worry about uneven baking with this aluminum pan. The interior measures approximately 12-inches by 8-inches by 2-inches. It comes treated in a nonstick coating, so your cakes won't stick.
What we dislike: Like most baking pans, you cannot put this one in the dishwasher.
Honorable mention baking pans
Chicago Metallic Professional Non-Stick 3-Piece Round Cake Pan Bakeware Set: available at Amazon
Our take: High-quality 3-piece set of cake pans, perfect for creating individual cakes or a larger tiered cake.
What we like: This set of round pans comes in 6-inches, 8-inches, and 10-inches. It's made from heavy-weight carbon with a BPA-free nonstick coating. It's also dishwasher safe.
What we dislike: Some reviewers found the rim of the pan a bit sharp.
Stefanie Hammond is a writer for BestReviews. BestReviews is a product review company with a singular mission: to help simplify your purchasing decisions and save you time and money.
BestReviews spends thousands of hours researching, analyzing and testing products to recommend the best picks for most consumers. BestReviews and its newspaper partners may earn a commission if you purchase a product through one of our links.
Distributed by Tribune Content Agency, LLC.