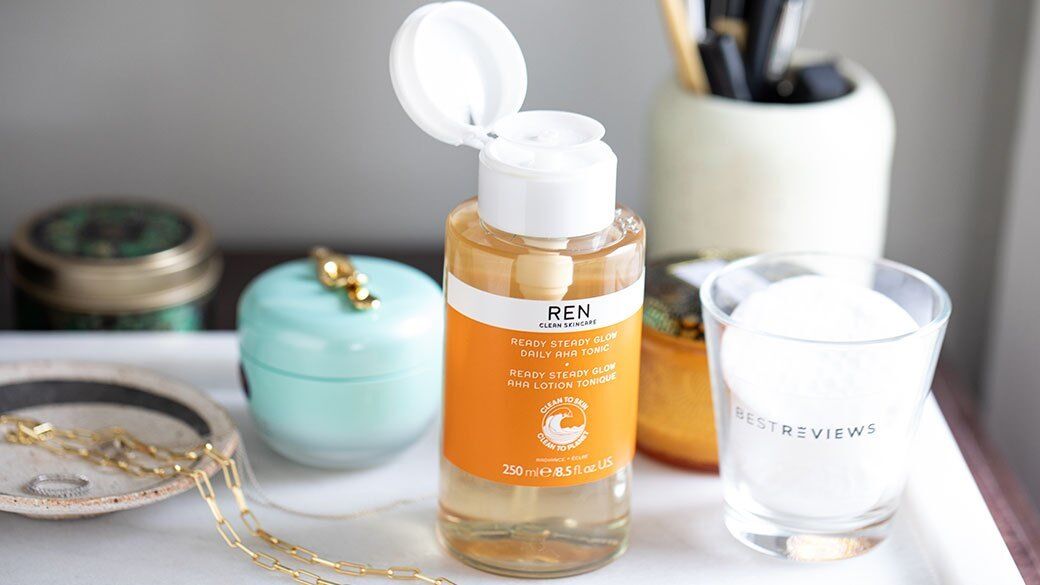 REN Ready Steady Glow
One of the most overlooked products in skincare regimens might be the facial toner. Toners used to rely on alcohol to make skin feel tighter and refreshed, but their ingredients actually tended to strip and dry out skin. Modern toners are formulated with more skin-friendly ingredients and offer many benefits. Toners can restore skin's pH, minimize pores and hydrate or exfoliate, creating a complexion that's more radiant and improving the skin's texture.  
One popular skin-friendly toner is the REN Clean Skincare Ready Steady Glow Daily AHA Tonic, which promises to deliver brighter skin with a gentle toner that won't irritate even sensitive skin with daily use. It's formulated with lactic acid and salicin from willow bark extract, which are gentle yet powerful exfoliating agents that can brighten tired skin, break down buildup and minimize the appearance of pores.
We wanted to see if REN Ready Steady Glow could brighten skin without causing irritation, so we put it to the test. Here's what we learned.
How we tested REN Ready Steady Glow Daily AHA Tonic
We used REN Ready Steady Glow in rotation with other toners and exfoliators over the course of a year following REN's instructions for application, but we did not use it every day. Sensitive skin can become stripped or damaged by overusing a chemical exfoliator, but using this REN lactic acid toner just two or three times a week still delivers results.
What does face toner do?
Modern toners are formulated to be one of two types: hydrating or exfoliating. No matter which category the toner is in, it will use active ingredients to benefit your skin type while ensuring skin is completely clean.
Some toners are formulated with alcohol, which can make them unpleasantly astringent and drying. Other exfoliating toners, like REN Ready Steady Glow, are made without alcohol, so they don't irritate or deplete skin. Exfoliating toners are formulated with a combination of acids like AHAs (alpha hydroxy acids, such as lactic acid), BHAs (beta hydroxy acids, commonly listed as salicylic acid) or PHAs (polyhydroxy acids, which are larger molecules, making them less irritating). These acids can help brighten dull skin, reduce the appearance of fine lines, remove excess oil and cleanse away dead skin cells to improve the appearance of pores. The end result is a smooth, glowing complexion.
How to use toner 
Chemically exfoliating toners should be used with care. Introduce your new toner into your routine gradually and avoid using other exfoliating products at the same time. Some people may have no problem using exfoliating toners daily, but others, particularly those with sensitive skin, should probably only use them a couple times a week.
Generally, toners are applied with a cotton ball or pad, though some toners come in mist form and are sprayed directly onto the face. Be sure to avoid the eye area when using any toner.
It's important to follow a toner with sun protection since the acids in toners make skin more sensitive to the sun and increase the risk of sunburn. Alternatively, use your exfoliating toner as part of your nighttime routine instead of first thing in the morning.
How to use REN AHA Tonic
REN Clean Skincare recommends applying Ready Steady Glow using a reusable cotton pad or cloth. Swipe the REN toner across your cleansed face and neck, avoiding the eye area. REN Skincare also suggests those with sensitive skin dampen the cotton pad first with water to slightly dilute the toner until your skin becomes adjusted to it.
REN toner cost
REN Clean Skincare Ready Steady Glow Daily AHA Toner costs $38 per 8.5oz (250mL) bottle. A travel-size 3.4oz (100mL) bottle is available for $20, and a value-size 16.9oz (500mL) bottle is available for $52.
Where to buy REN toner? 
REN Ready Steady Glow is available at Sephora, Amazon and directly from REN Skincare. The value and travel sizes are available from all three retailers.
Best face toners 
OLEHENRIKSEN Glow2OH Dark Spot Toner is a potent exfoliating toner that reduces the appearance of dark spots, wrinkles and fine lines. It contains AHAs in the form of glycolic acid and lactic acid, plus witch hazel, lemon, chamomile and other skin-soothing botanicals. It is available in two sizes, 6.5oz (190mL) for $29 or 2.2oz (65mL) for $16 from Sephora.
Glow Recipe Watermelon Glow PHA + BHA Pore-Tight Toner is formulated with cactus water and watermelon extract to smooth skin, lock in moisture and minimize pores. Its watermelon fragrance is popular, but some users found the thicker consistency left the residual toner feeling sticky. Available at Amazon and Sephora in a 5-ounce (150mL) bottle, which costs $34, or a mini 1.75-ounce (40mL) bottle, which costs $15.
For those with combination skin, Mario Badescu Glycolic Acid Toner can deliver a more youthful complexion by reducing the appearance of fine lines and wrinkles. It contains soothing aloe vera, but it is not recommended for those with sensitive skin. The 8-ounce bottle is available for $18 from Sephora, Ulta and Amazon.
REN Ready Steady Glow Daily AHA Tonic pros
Since REN AHA tonic is formulated without alcohol, it does not have an alcoholic scent. Instead, its light citrus scent is not overpowering and dissipates quickly. We noticed our complexion looking clearer and brighter overall, with noticeable improvement to acne scars and hyperpigmentation. Skin also seemed to look plumper and more hydrated. We especially noticed its positive effects on oily skin: we could visibly see REN Ready Steady Glow removing dirt. On dry skin, the lactic acid toner improved texture and wasn't drying.
All REN skincare products are also free from synthetic fragrance and colors, parabens, silicones, sulphates and other harsh ingredients, and many of its products, including Ready Steady Glow, are gluten-free and vegan.
REN Ready Steady Glow Daily AHA Tonic cons
While REN designed this AHA toner for everyday use, it's a little harsh to use daily, let alone twice daily. Using it too frequently tended to lead to dryness and breakouts. We had the most success using it to exfoliate every two or three days.
Ready Steady Glow may be too strong for those with sensitive skin; it occasionally caused pain and redness. It also contains citrus oils and added fragrance, which can cause irritation to users with sensitive skin. We had mixed opinions about the citrusy scent, but it faded so quickly it wasn't a big concern.
Is REN Ready Steady Glow Daily AHA Tonic worth it? 
Though many users with sensitive skin had a good experience with REN Ready Steady Glow, if you have sensitive skin, we recommend using caution with this toner because of its exfoliating strength and the inclusion of added fragrance and citrus oils. However, for oily and dry skin alike, we found this REN toner delivered gentle exfoliation, improved skin texture and left us with a brighter, revived complexion. If you're looking for an exfoliating toner to add to your skincare routine, and you want skin that looks more smooth, even and radiant, consider adding REN Clean Skincare Ready Steady Glow Daily AHA Tonic into your rotation of toners and exfoliators.
Laura Duerr is a writer for BestReviews. BestReviews is a product review company with a singular mission: to help simplify your purchasing decisions and save you time and money.
BestReviews spends thousands of hours researching, analyzing and testing products to recommend the best picks for most consumers. BestReviews and its newspaper partners may earn a commission if you purchase a product through one of our links.
Distributed by Tribune Content Agency, LLC.