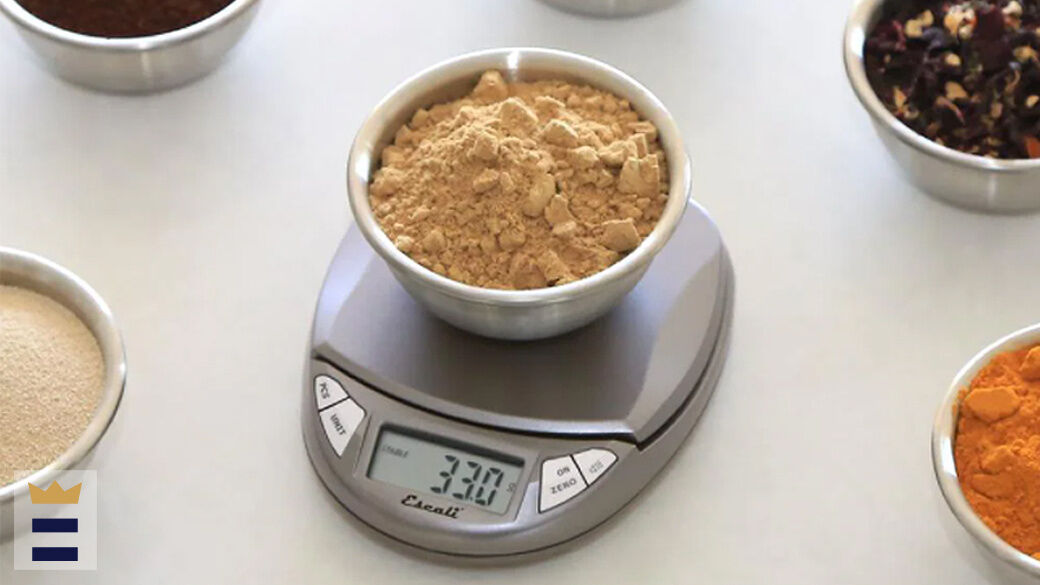 Escali Primo digital scale
Whether you're debating buying a kitchen scale in the first place, or if you're sold on the efficiency of using a scale but considering which model is right for you, you can't go wrong with the Escali Primo digital scale. 
Escali released the Primo in 2005, and it quickly became a bestseller. A staple in home and professional kitchens, the Primo digital scale has an 11-pound weight capacity but is exceptionally lightweight and slim. Its tiny footprint (less than 9 by 7 inches) makes it easy to store in a drawer close to your counter or work table. This may be why the Primo remains so popular in professional kitchens, even though Escali makes quality heavier-duty laboratory-style scales.
It might not be quite as beautiful as the glass-topped scales but has the advantage of being shatterproof, safer for children and extremely easy to clean. You can also get it in a variety of colors like tarragon green and safety orange.
Why get an Escali digital scale?
Have you ever wondered why you followed a cake or muffin recipe perfectly, but the result was dry or dense? With an Escali Primo digital scale, you can avoid these baking pitfalls and focus on your frosting instead.
Better baked goods: Besides oven temperature (which is easily solved with an oven thermometer), flour is the biggest culprit in dry or heavy baked goods. It's simply too easy to mismeasure the flour when using cups and spoons. Not only do flours vary in their density (how they're packed or if they've settled during shipping), but the volume of measuring cups vary greatly from brand to brand. An accurate scale like the Escali Primo makes baking so much simpler.
Saves time: Fussing with cups and spoons takes time. Compare that to dumping everything into the bowl, then hitting a button to measure the next ingredient.
Reduced frustration: Sticky ingredients like honey and molasses are a hassle to measure by volume, but it's a breeze with a digital scale.
Fewer dishes: Another way that using a scale saves you time is cleaning up. If you don't use cups and spoons, you don't have to clean them.
Alternatives to the Escali Primo digital scale
Measuring by volume 
Digital scales like the Escali Primo are the default method of measuring ingredients (particularly for baking) in kitchens all over the world. However, due in part to the use of imperial measuring units instead of the metric system, most Americans are accustomed to measuring by volume, using measuring cups and spoons. For many recipes — especially in savory cooking where slight variances in ingredients aren't so important to a recipe's success — measuring by volume is fine.
For baking and recipes that require precision, a scale like the Escali Primo is an essential tool for consistent results. While scales are becoming more common, for years publishers resisted printing the weight equivalents of volume measurements in recipes for fear of intimidating home cooks. This is changing as savvy cooks are discovering the benefits of using a kitchen scale.
Mechanical scales
Mechanical scales operate by measuring force on a spring and don't require a power source. Handy for weighing produce, an analog kitchen scale looks nice on the countertop but isn't precise enough for measuring ingredients for baking. The lighter the item, the less confidence you can have it will be accurate. Mechanical scales are also quite bulky and can't be tucked out of sight easily.
The Escali Primo is capable of a much higher level of precision than mechanical scales. It has the option to display weight in both metric measurements (grams, liters and kilos) and imperial measurements (ounces and pounds).
Digital scales with specific features
The Escali Primo is an extremely simple and user-friendly design with only two buttons. It may not be the right choice if you're looking for a specific feature like a scale with a pull-out display (so you can see the weight display more easily when using large or awkwardly shaped containers) or an integrated measuring bowl.
Escali Primo digital scale features
Accuracy
You'll want to check for the level of calibration on any scale if you need to measure precisely. Some measure in 2-gram increments or even larger. The Escali Primo digital scale is accurate and displays weights in 1-gram (0.05 ounce) increments.
Capacity
One of the best things about measuring by weight is being able to set your entire bowl on top of the scale and throw in all your ingredients. If you have a favorite glass or beautiful stoneware mixing bowl, look for a scale that has the capacity to hold not only the weight of the bowl itself but several pounds more as well. A good digital scale has at least a 10-pound capacity. While extremely lightweight, the Escali Primo digital scale has a weight capacity of 11 pounds (5,000 grams).
LED display speed
Many digital scales have a lag time for registering the weight on the LED display screen, which causes you to go over your intended measurement (because the scale can't keep up with you). This is especially common with sugar and liquids, and in some cases, you might have to dump out your bowl and start again. This may not be a big deal if you're only using it occasionally. The Escali Primo has minimal to no lag time. 
Units of measurement
You can easily toggle between units of measurement on the Escali Primo digital scale. It displays weight in ounces, pounds and grams. 
Auto shutoff
You may care about conserving battery life, but when you're in the middle of measuring dry ingredients for a birthday cake and realize that you have to climb to the top shelf of a cabinet to get the last 20 grams of cocoa powder, you'll want the scale to stay on so you don't lose track and have to start again. The Escali Primo gives you four minutes to finish your measuring step before shutting off.
Tare feature
A game-changing feature if you've never used it, the "tare" button resets the display screen to zero so you can measure multiple ingredients in quick succession without having to do math in your head. It also cuts down on dishes because you can measure directly into your mixing bowl by first placing the bowl onto the scale. 
The Escali Primo has a simple two-button operation. The power button on the left also functions as the tare button when pressed quickly (hold down longer to power down). A second button on the right of the display allows you to switch the display between grams or ounces.
Easy to clean
A scale is something that's likely to get dusted with flour and cocoa powder or smeared with honey or butter. If you have traditional buttons, gunk will collect in the grooves over time. The Escali Primo has flat buttons and sealed displays that wipe clean.
How does the Escali Primo digital scale measure up?
Still weighing your options? Overall, the Escali Primo digital scale is an excellent buy. For a minimal investment, you can improve your baking and streamline cleaning with this durable, efficient and low-maintenance kitchen tool.
Rachel Boller is a writer for BestReviews. BestReviews is a product review company with a singular mission: to help simplify your purchasing decisions and save you time and money.
BestReviews spends thousands of hours researching, analyzing and testing products to recommend the best picks for most consumers. BestReviews and its newspaper partners may earn a commission if you purchase a product through one of our links.
Distributed by Tribune Content Agency, LLC.