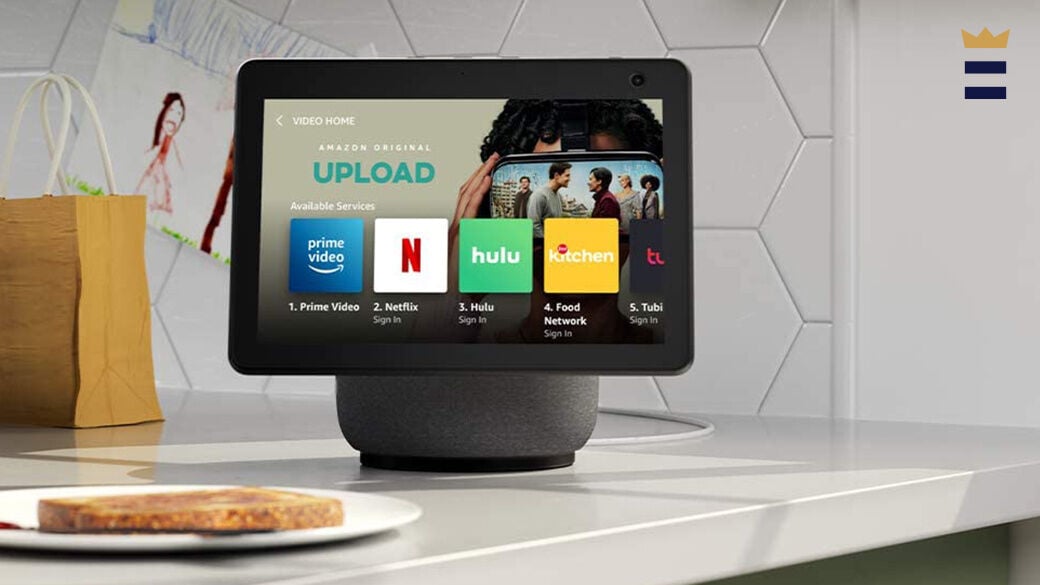 Amazon Echo Show 10
The Amazon Echo Show 10 is the company's newest smart display device that combines the intelligence of a smart speaker with the convenience of a built-in screen. It features Alexa as your virtual assistant and can act as a hub for compatible smart home devices, allowing you to easily use voice commands while making video calls, reading a recipe, or watching shows on its screen.
But, at the retail price of around $250, you might be wondering if the Amazon Echo Show 10 is worth the expense. Some users make the most out of its wealth of features while others won't use most of them and would be content with a simpler alternative. Learning more about the Echo Show 10 can help you come to a decision on whether or not the device will fit your lifestyle. 
Amazon Echo Show 10 features
To decide whether the Amazon Echo Show 10 is worth it, you'll need to consider its features. With a wide range of built-in and digital components, it can offer something for everyone. 
Wide-angle camera
The Echo Show 10 features a wide-angle 13-megapixel camera that's great for video calls. Since it's wide-angled, you can easily fit the whole household in the frame, which makes for more natural and relaxed calls to friends and family members. The camera quality is more advanced than the average laptop webcam and can zoom in and out as needed. The camera also doubles up as a security device so you can securely log into it on your phone to take a look around your home. 
Auto-framing screen
The Echo Show 10's auto-framing screen uses its rotating base and automatic tilt to keep you in the frame at all times, no matter how much you move around the room. This is great if you're video chatting while going about your day or cooking from a recipe on screen as you search the kitchen for ingredients and equipment. 
10.1-inch screen
The Echo Show 10 measures 10.1 inches diagonally across its screen. It's around the size of a standard iPad, making it large enough to watch TV shows and movies, see people on the other end of video calls and read text from a reasonable distance. However, a large screen means that you'll need to find a big enough spot to accommodate the device with enough room around it for the screen to rotate freely. 
HD display
Expect a clear display from the Echo Show 10's HD screen with a resolution of 1280-by-800 pixels. This resolution isn't as crisp as some tablets of similar sizes but, since users are more likely to look at an Echo Show 10 from a distance, the difference is virtually undetectable. 
Alexa
You can expect to predominantly use voice commands to control your Echo Show 10 with the Alexa AI virtual assistant. Ask Alexa any question and it will return a response. There are tens of thousands of Alexa "skills" or apps you can enable to do all kinds of things from controlling household lighting to giving first aid tips. Alexa is built into all devices in the Echo Show series.
Zigbee hub
The Echo Show 10 can act as a Zigbee hub, helping you manage smart home devices without the need for a separate control center. You can control any smart device that is compatible with Zigbee (including most big-name brands) straight from your Echo Show 10. 
Speakers
Whether listening to music, watching movies, or chatting with friends, quality speakers will enhance your experience. The Echo Show 10 contains two tweeters and a woofer to give you well-balanced sound, even when listening to bass-heavy audio. These speakers are the most advanced of the Echo Show 10 series and are perfect for day-to-day use. 
Privacy protection
If you're worried about security, the Echo Show 10 allows you to switch the mic and camera off at any time. There's a physical shutter you can engage to cover the camera lens when not in use. You can also choose to turn off the motion-sensor and auto-framing features. 
Alternatives to the Echo Show 10
If you're looking for an alternative to the Echo Show 10, you might want to consider other Echo Show Devices or a product from a different manufacturer. 
The Amazon Echo Show 5 is the smallest and most affordable Echo Show device on the market. It has a 5.5-inch screen and 2-megapixel camera and is priced at around $85. Its compact size makes it easy to set up almost anywhere in your home. 
The Amazon Echo Show 8 sits between the Echo Show 5 and Echo Show 10 both in size and cost, with an 8-inch screen and a $130 price tag. It has a better screen resolution than the Echo Show 5 as well as a 13-megapixel camera. 
The Google Nest Hub Max is more similar in size and specs to the Echo Show 10 with a 10-inch auto-rotating HD screen and quality speakers, but it uses Google Assistant as a virtual assistant rather than Alexa. It costs around $230. 
Alternatively, if you want a smart speaker without a screen, the Bose Portable Smart Speaker has better sound quality than most and has Alexa built in. 
Is the Amazon Echo Show 10 worth buying? 
When looking at the device's features, the Echo Show 10 offers a promising value for its price, but these features might not be worth the cost for all users. If you think you wouldn't use the screen, you would be better off with a screenless Amazon Echo device or another smart speaker. However, if you're looking for a smart assistant with a decently sized screen and camera capabilities, then the Echo Show is definitely worth it.
Lauren Corona is a writer for BestReviews. BestReviews is a product review company with a singular mission: to help simplify your purchasing decisions and save you time and money.
BestReviews spends thousands of hours researching, analyzing and testing products to recommend the best picks for most consumers. BestReviews and its newspaper partners may earn a commission if you purchase a product through one of our links.