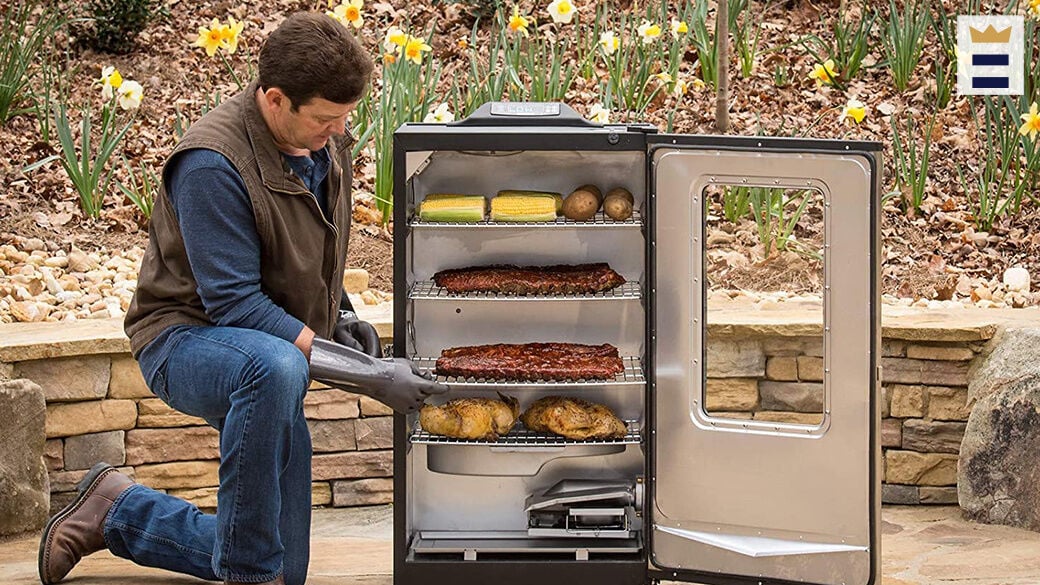 How to use a box smoker
If you're yearning for fall-off-the-bone baby back ribs or melt-in-your-mouth brisket, you no longer have to wait an entire day for the pitmaster to deliver that perfectly smoked meat. Instead, you can make your own in just a few hours. 
With the advent of patio-size box smokers that connect to electricity or a propane tank, practically anyone who has an interest can smoke meat at home. All it takes is a little know-how and a well-constructed box smoker. 
What is a box smoker?
A box smoker should not be confused with a smoker box. A smoker box is a small, wood chip-filled metal box that sits on top of a grill and gives meat a subtle smoky flavor, but it doesn't actually smoke the meat.
A box smoker is completely different. Known also as a cabinet smoker, vault smoker or electric smoker, a box smoker is a separate outdoor appliance. As the name implies, it is shaped like a box, but is made from steel and fueled by electricity or propane. Inside, there are grates where the meat cooks slowly and steadily for several hours, resulting in perfectly cooked smoked meat. 
How does a box smoker work?
A box smoker works by circulating heat through a chamber inside the box. The heat mixes with a small amount of water located in a small container to create steam, which then cooks the meat. Wood chips are added to a small box that brings the smoky flavor to the meat. 
What are the different types of box smokers?
A box smoker can be electric or propane.
An electric box smoker has a heating element at the bottom of the box with a wood chip box stationed above it. The heat is regulated by either an analog or digital thermostat. The analog smoker requires more user regulation, while the digital thermostat self-regulates a programmed temperature. Some digital smokers come with an internal meat probe that automatically turns off the smoker when the meat's desired internal temperature is reached.
A propane box smoker is more portable because an electrical source isn't needed. The propane fuels an igniter that then lights the wood chips for smoking the meats. The propane knob regulates the temperature and amount of smoke.
Of the two kinds of box smokers, a digital electric smoker is the easier to use.
What does a box smoker cost?
Prices of box smokers begin at around $200 and can cost up into the thousands of dollars, depending on construction, features, overall performance and amount of meat that can be smoked.
The least expensive box smokers are made of a lower quality stainless steel and other materials that don't hold the heat well. Consequently, you'll need to work harder at acquiring an ideal smoked meat. Still, there are a few lower-priced smokers that will do a quality job smoking meat. 
How do you use a box smoker?
While there are general rules for using a box smoker, be sure to read the manufacturer's instructions for your specific purchase. Electric smokers have different regulators than propane smokers.
First, season the smoker. Fill the wood tray with wood chips and water pan with water. Close the door, set the temperature to 200 degrees and let the smoker run for about 45 minutes.
While the smoker is being seasoned, prepare your meat. Generally, you want to apply a rub to the outside of the meat to season it. Garlic, salt, pepper and chili powder make a basic dry rub, for example. Let the rub soak into the meat.
Choose the type of wood chips you want to use, as different woods offer different smoked tastes. Hickory provides a deep, smoky flavor and is good on beef, pork or chicken, while apple and cherry offer a sweet smoke. Oak chips are excellent for fish.
After the smoker and meat have been seasoned, you're ready to begin cooking. Place the wood chips on the tray and fill up the water pan without going over the marked line.
Then, turn on the box smoker either by turning the propane tank knob and sparking the igniter, or by plugging in and turning on the electric box smoker. Allow the smoker to begin heating.
Once the desired temperature is met, open the door and load the rack with your prepared meat. Cooking time depends on the type and cut of meat, as well as the smoker's temperature. Follow a recipe's guidelines to ensure the meat gets cooked at an appropriate temperature.
Best overall box smoker
Masterbuilt Bluetooth Digital Electric Smoker, 40": available at Amazon
Designed for both the beginner or the backyard professional, this box smoker is built solid and is well insulated. Control the smoker from either the digital control panel or from a smartphone. The patented side wood chip loading area allows you to load wood chips without opening the smoker door — and the windows allow you to see what's cooking without opening the door, as well. 
Best electric box smokers
Best analog electric box smoker
Masterbuilt analog electric smoker in black, 30": available at Home Depot and Amazon
The analog dial regulates temperature settings, with the built-in temperature gauge assisting in temperature control. A front access grease tray catches excess food and drippings, and a 1,500-watt heating element provides even smoking. 
Bang for your buck box smoker
Cuisinart COS 330 Smoker, 30": available at Home Depot and Amazon
This compact smoker has 548 square inches of cook space, making it ideal for small patios. The small removable racks are dishwasher safe, making clean up easy. It also has an internal thermometer that some in this price point don't have. 
Mid-range box smoker
Char-Broil Deluxe Black Digital Electric Smoker, 30": available at Amazon
This digital smoker offers 725 square inches of cook space in a double-wall insulated oven. It comes with a removable integrated food thermometer so you can set the desired temperature for your smoked meats, and the door features a window for viewing food.
High-end box smoker
Bradley Smoker Digital 4 Rack Electric Smoker, 40": available at Amazon
This smoker is made of a powder epoxy steel on the exterior and polished, insulated stainless steel on the interior, making it sturdy and durable for years to come. It can cook up to eight hours with its automatic feed system, but it requires the use of Bradley bisquettes. It self-regulates time, temperature and smoke. 
Best propane box smokers
Bang for your buck box smoker
Masterbuilt MPS 330g Propane Smoker, 30": available at Amazon
This box smoker has four chrome-coated racks and a push button ignition. An air damper helps with moisture, temperature and smoke control.
Mid-range box smoker
Camp Chef Smoke Vault Propane Gas Smoker, 24": available at Home Depot and Amazon
With adjustable heat control dials, three damper valves and a door thermometer, this option holds heat for consistent temperatures. The wood chip tray is made with heavy-gauge steel, and the porcelain base tray removes easily for clean-up. 
High-end box smoker
Masterbuilt Thermo Temp XL Propane Smoker, 40": available at Amazon
Standing nearly 53 inches tall, this gas smoker allows you to cook for a crowd. It comes with four chrome-coated smoking racks. It has a patented thermostat-controlled temperature gauge that eliminates the user's need to constantly check the temperature. A safety valve shuts off the gas burner if the flame is extinguished.
Tammy Tilley  is a writer for BestReviews. BestReviews is a product review company with a singular mission: to help simplify your purchasing decisions and save you time and money.
BestReviews spends thousands of hours researching, analyzing and testing products to recommend the best picks for most consumers. BestReviews and its newspaper partners may earn a commission if you purchase a product through one of our links.
Distributed by Tribune Content Agency, LLC.