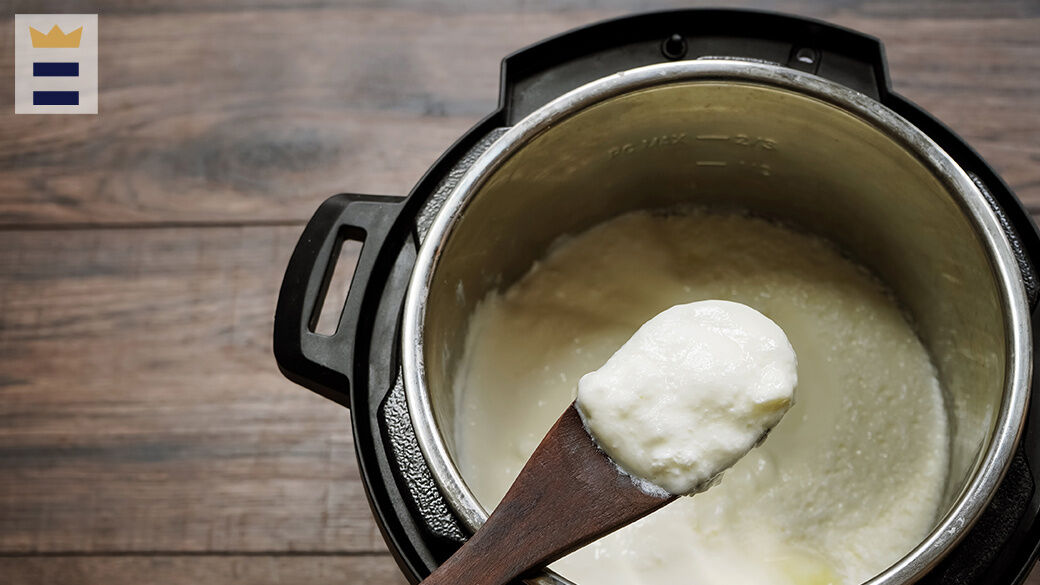 Slow cooking in an Instant Pot
The Instant Pot has a cult following for a reason — one appliance can make perfect polenta (no stirring required), homemade yogurt and pork shoulder that falls apart the moment it meets your fork. It usually takes a fraction of the time of traditional cooking methods. Most electric pressure cookers include a slow-cook function, but weren't they created to speed up cooking?
There may be times when slowing down fits your schedule better, allowing you to prep a homemade meal that your future self will appreciate. Read on for a guide to your Instant Pot's slow-cooker function and some crucial tips to get better results.
What is an Instant Pot?
Instant Pot is the most well-known brand of electric pressure cookers. Pressure cooking was invented in the 17th century by physicist Denis Papin, who discovered that trapping the steam of boiling liquid made foods cook over 50% faster. More than a third of American kitchens had a stovetop pressure cooker by the early 1950s. They slowly declined in popularity as consumers had other options to speed up cooking (like the microwave) that didn't have the risk of exploding. While pressure cooker explosions were rare, even the threat of an explosion was enough to drive many home cooks away from using a stovetop pressure cooker on a regular basis.
Modern electric pressure cookers have built-in safety precautions (so explosion is not an issue when used correctly), and they're more efficient and quieter than earlier stovetop pressure cookers. If you don't have one, the top-rated 6-quart Instant Pot Duo is a great choice for most households.
What is a slow cooker?
A slow cooker is an electric cooking appliance that cooks food slowly for many hours at a low temperature in a ceramic crock with a vented glass lid. Invented in 1940, the slow cooker's popularity took off in the 1970s under the brand Crock-Pot as a way to get dinner on the table without having to do all the chopping and prepping right beforehand.
Typically if you want to use your slow cooker for dinner, you need to prep ingredients in advance and start the slow cooker in the morning (average cooking times in slow cooker recipes are 4-10 hours).
Multicooker functions
Most electric pressure cookers (like the Instant Pot) do more than just pressure cooking, and this versatility earns them the name "multicooker" or "multi-pot." Models feature a range of settings including those as specific as yogurt, chili and rice. This can be confusing, especially to a novice cook, and some of the settings may not yield consistent results. For example, does the "bean" function know whether you're using dried beans or canned beans? Since a black bean will cook in a fraction of the time a kidney or scarlet runner bean will take to soften, a single setting for beans could be a recipe for disappointment.
You're better off focusing on the following core functions in common across major multicooker brands:
Sauté: One of the most useful features of a multicooker is the ability to sauté (with the lid off). Many slow-cooked dishes start with softening onions or browning meat. Multicookers eliminate the step of doing this on the stovetop and transferring to the pot.
Pressure cook: Pressure cooking cooks food quickly by trapping steam and putting the contents of the pot under pressure. Be sure to follow all safety instructions on your appliance to prevent a steam burn.
Slow cook: Slow cooking heats food very slowly from underneath without sealing or putting contents under pressure.
Instant pots vs. traditional slow cookers
Both Instant Pots and slow cookers excel at comforting, succulent braised dishes (meats, beans or vegetables cooked in liquid). This is the sweet spot for slow cooking.
While the two appliances both have the ability to slow cook, slow cooker devotees are likely to want to keep their Crock-Pot around, as the Instant Pot doesn't perform in quite the same way as a slow cooker.
Heating element distribution
One of the biggest differences between traditional slow cookers and electric pressure cookers is heat distribution. Slow cookers have heating elements not only on the bottom but around the sides of the crock. Instant Pots only heat from the bottom, which can cause food to cook unevenly at a low temperature.
Ceramic vs. metal
Another difference is the material of the cooking vessel. The Instant Pot inner cooking pot is thin stainless steel, whereas dedicated slow cookers are fitted with a thick ceramic crock. Ceramic is excellent at retaining heat and the heat is distributed very evenly across the material.
This is not as big of an issue when the contents are under pressure, but when slow cooking, ceramic's even heating conduction makes a difference.
Lack of evaporation
A traditional slow cooker has a glass lid that allows you to peek in on your dish as it's cooking as well as let steam escape over the course of the long cooking time. This results in a gradual reduction of the juices in your dish, concentrating the flavor much like simmering on the stove. The sealing lid that comes standard with your Instant Pot doesn't allow much steam to escape, even when turned to vent. This can lead your dish to be watery.
Tips for slow cooking in an Instant Pot
Choose the right recipe. No matter which appliance you use, slow cooking shines when braising meats and beans in dishes like chili, stew and pulled pork. You can even slow cook oatmeal and apple "dump" cake. Melissa Clark's book "Dinner in an Instant: 75 Modern Recipes for Your Pressure Cooker, Multicooker, and Instant Pot" is full of pressure cooker recipes that include slow-cooking instructions as well.
Choose recipes that have some liquid. Unless your recipe has at least 1 cup of liquid, it won't work in the Instant Pot (2 cups if you have the 8-quart model).
Use a tempered glass lid. If you want to use your Instant Pot as a slow cooker regularly, get a tempered glass lid which replicates the lid that comes with most slow cookers.
Leave the steam valve open. This is crucial whenever you're using the slow cook, sauté or any of the non-pressure functions. Turn the knob to "venting" to allow steam to escape.
Adjust the Instant Pot's "Slow Cook" function up a notch. The "low" setting on a traditional slow cooker is at least 10 degrees hotter than the lowest setting (marked "less") on the Instant Pot. For your recipe to cook through properly, you'll need to set your Instant Pot's slow cook function to:
"Normal" if your recipe calls for "Low" on a slow cooker
"More" if your recipe calls for "High" on a slow cooker
 
Plan on it taking up to 25% longer. If your recipe is normally cooked on "high" in a slow cooker, allow an extra 15 minutes per hour of indicated cook time.
Rachel Boller is a writer for BestReviews. BestReviews is a product review company with a singular mission: to help simplify your purchasing decisions and save you time and money.
BestReviews spends thousands of hours researching, analyzing and testing products to recommend the best picks for most consumers. BestReviews and its newspaper partners may earn a commission if you purchase a product through one of our links.
Distributed by Tribune Content Agency, LLC.