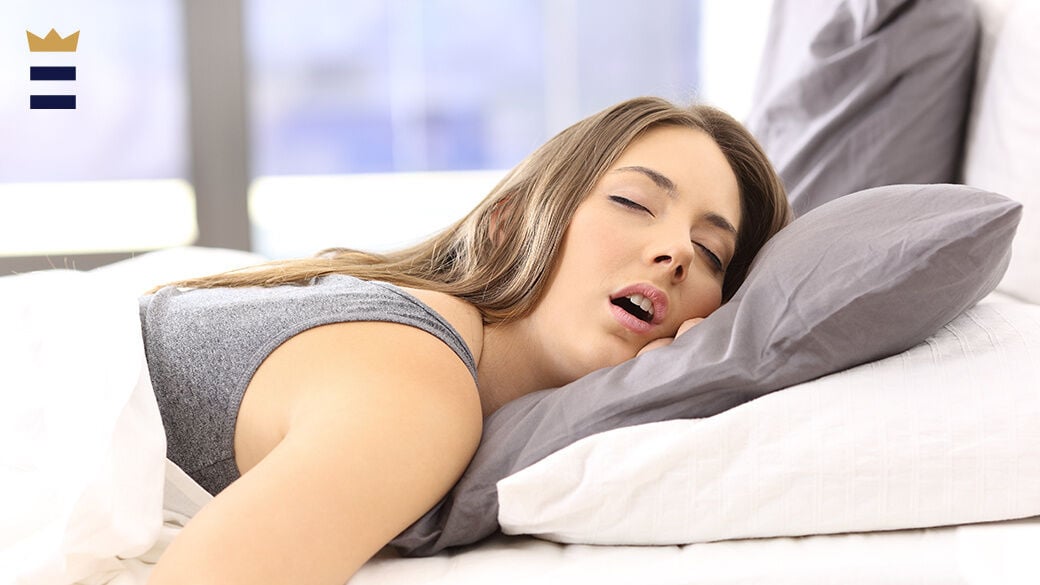 How to stay awake in class 
College students lead busy lives. From studying at the library to participating in clubs, sports and extracurricular activities, their packed schedules can take a toll on their bodies, causing many students to oversleep and miss early-morning classes. Alternately, if they do make it to class, they may end up nodding off in the middle of a lecture.
While the easiest solution to stay awake in class is to get a better night's rest, that's easier said than done. It's more than a matter of going to bed early, too. Rather, staying awake in class involves a few lifestyle changes to support healthy sleep habits, which may translate into more energy and alertness during the day. 
What you should know about sleep health
How much sleep should a college student get?
As you age, the amount of sleep you need each night changes. College students are on the cusp of young adulthood and according to MedlinePlus, this means they require anywhere from 7-10 hours of sleep per night. 
The quality of sleep is just as important as how many hours of sleep you get. Ideally, a good night's rest is uninterrupted. Otherwise, when it is interrupted or cut short, you may feel tired or lethargic the next morning. 
What happens when you don't get enough sleep?
Besides feeling tired, sleep deprivation impacts your body in several ways.
It's often harder to wake up in the morning after a poor night's rest. This means you might not feel up to going to class in the morning or worse, you might sleep through it. Lack of sleep also means you have less than optimal energy, making it harder to concentrate, complete coursework or participate in everyday activities. Some individuals experience headaches or lightheadedness when they don't get enough sleep. Your mood is negatively impacted by lack of sleep as well and may result in an increase in irritability or anxiety.
Talk to your doctor
Occasional tiredness after a late night of studying (or partying) isn't unusual, but when it becomes more prevalent, it's best to speak with your doctor.
How to get a good night's sleep when you're in college
Get organized
Because every minute counts, it's worth optimizing your morning routine to maximize sleep time. Get into a "night before" routine, in which you lay out clothes, pack up your backpack and prepare breakfast or snacks. When your morning gets off to a good start, it's easier to stay stress-free and focused throughout the day. 
The BooQool Academic Planner offers weekly and monthly planning with plenty of room to write schedule details. The durable design is made with thick, archival-quality paper. 
An iDesign Orbinni Over-the-Door Valet is ideal for organizing outfits the night before. The sleek chrome hook holds up to five hangers and supports the weight of coats and heavy garments.
Gelibo Weekly Pill Organizer helps you keep track of medication and vitamins. The pillbox, available in eight colors, is made with BPA-free, food-grade plastic. 
Make time for breakfast
When you wake up in the morning, your body has been without food for at least several hours. Since you need food to fuel your body, make time to eat a nutritious breakfast in the morning. After replenishing your energy, you should feel more alert and awake for class. 
Ninja Personal Blender comes with two 16-ounce to-go cups, which means morning smoothies and protein shakes can be enjoyed on the way to class. The blender comes with a 30-recipe guide to get you started. 
Bentgo Prep 3-Compartment Containers are suitable for meal prepping day or night. The 10- container set includes custom-fit lids that seal in flavors and odors.
Sistema Microwave Easy Eggs can help you whip up poached and scrambled eggs within minutes — and without the mess. It's dishwasher-safe, so cleanup is simple. 
Be more active
Believe it or not, being active may help you sleep better and stay awake during the day. When you boost your activity level, your body expends more energy. Some people find it helps them wind down after a long day. Other people enjoy morning workouts, the early activity giving their day an energetic jumpstart.
The Fitbit Charge 4 tracks fitness and activity goals, including steps, heart rate changes and active zone minutes. It's equipped with over 20 goal-based exercise modes and has built-in GPS. 
The Bowflex SelectTech Kettlebell adjusts between 8 and 40 pounds with the turn of a dial. The space-savvy design replaces up to six kettlebells, making it dorm-friendly fitness equipment.
Bodygym Core System, a portable resistance gym, comes with a 94-minute workout DVD. Since it's quick and easy to set up, it's suitable for early morning or between-class workouts. 
Practice mindfulness
If you find it difficult to fall asleep, practicing mindfulness may help you transition into sleep mode more easily. There are many free guided meditation videos online or you can listen to relaxing music as you meditate. Additionally, you can "set the stage" for mindfulness by creating a peaceful, relaxing space in your dorm.
The Samsung Galaxy Buds Plus isolates users from distracting noises so they can enjoy an immersive, peaceful listening experience. The earbuds offer 22 hours of playback and are Android and iOS compatible. 
"Practicing Mindfulness" by Matthew Sockolov covers 75 essential meditations and exercises to reduce stress. The book is praised for its approachable, encouraging tone. 
The InnoGear Essential Oil Diffuser comes with six essential oils. The aromatherapy device, which is suitable for most dorm rooms, offers two misting modes and has an auto-shutoff feature. 
Upgrade your bedding
Dorm mattresses aren't always comfortable. Upgrading your bedding setup may deliver the comfort boost your body needs to sleep better. Besides switching to cozier bedding, consider buying supportive accessories like pillows, mattress pads or weighted blankets.
The Original Casper Pillow has a responsive design that adapts to a sleeper's movement. It's filled with clump-resistant down-alternative and is machine washable. 
The Weighted Idea Cool Weighted Blanket offers light compression that gently "hugs" sleepers to help them relax. It's available in a variety of sizes and weights so that sleepers can find their ideal blanket.
The LUCID Gel Memory Foam Mattress Pad has four inches of plush memory foam that cradles and supports the body. It's infused with gel beads to pull heat away from the body, keeping sleepers cool. 
Try holistic sleep aids
For those who need help falling asleep, there are some holistic options worth considering. These include non-prescription, non-habit-forming supplements with melatonin, chamomile or lavender. However, check with your doctor before beginning any new supplements, especially if you are currently on prescription medication.
Nature Made Melatonin 5mg Tablets may help regular sleep and wake cycles when taken one hour before bedtime. The formula is free of artificial colors, flavors and preservatives.
Yogi Bedtime Tea is an herbal tea that has a soothing blend of chamomile, licorice, cardamom and cinnamon. It's USDA Certified Organic and is free of artificial sweeteners and flavors. 
OLLY Ultra Sleep Soft Gels, which contains melatonin, magnesium and L-theanine, may help calm the mind and body. The gel capsules are easy to swallow and usually take effect in approximately 30 minutes. 
Sian Babish is a writer for BestReviews. BestReviews is a product review company with a singular mission: to help simplify your purchasing decisions and save you time and money
BestReviews spends thousands of hours researching, analyzing and testing products to recommend the best picks for most consumers. BestReviews and its newspaper partners may earn a commission if you purchase a product through one of our links.
Distributed by Tribune Content Agency, LLC.