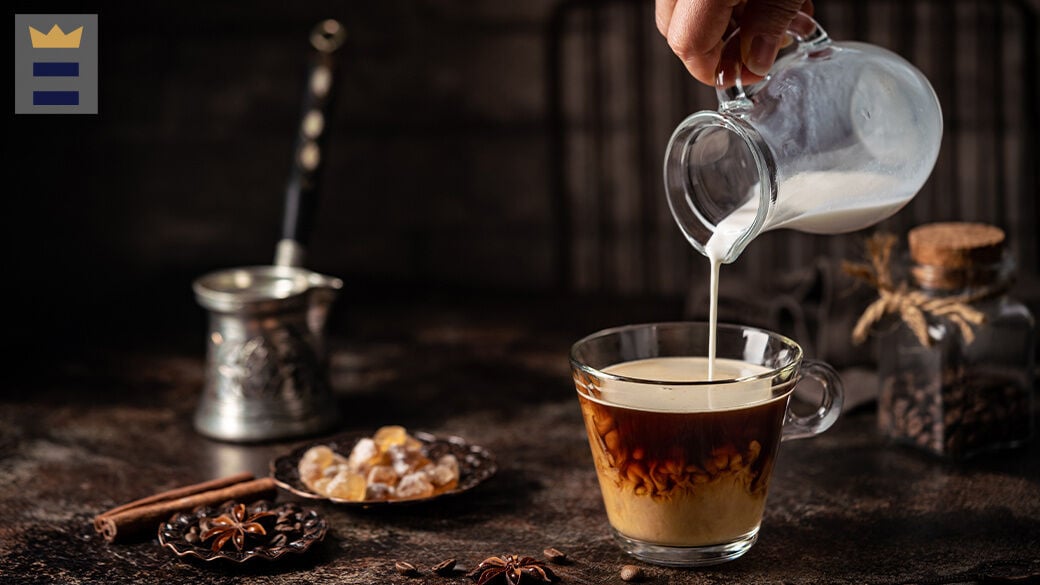 Vietnamese coffee
Vietnamese coffee is a strong, intensely sweet and creamy pick-me-up that combines rich, fragrant coffee with sweetened condensed milk. Also known as cà phê đá or cafe da, this delicious treat is traditionally served piping hot in the morning and iced in the afternoon. Here's how to make Vietnamese iced coffee at home with just a few simple steps.
What you need to make Vietnamese iced coffee
To make the iced coffee itself, you will need the following:
Four teaspoons Vietnamese coffee
One cup of boiling water
Two teaspoons of sweetened condensed milk, or more depending on taste
You'll also need a vessel to brew your coffee, a glass to pour your iced coffee into and, of course, some ice. Traditionally, Vietnamese iced coffee uses crushed ice, but if you only have cubes, that works, too.
How to use a phin
Some coffee drinkers use an espresso machine for this beverage. But if you want to make traditional Vietnamese iced coffee, you'll want to use a phin. A phin is a filter that sits right over the vessel you plan to brew your coffee in and allows you to brew individual cups of coffee.
A phin has a lid, a body and a filter disk. There is also a lip or a rim that allows you to set the entire phin on a coffee cup or glass.
Basic Vietnamese iced coffee recipe
To make a cup of Vietnamese coffee, start by boiling some water. When the water is hot, rinse your phin with some boiling water so it's warm for preparation. Skip this step if you want the iced version.
Take the filter out of the phin and add your coffee. For filters that screw on, twist the filter back into place gently until it just stops. Place the phin on top of whatever vessel you're brewing your coffee into.
Add a little bit of boiling water to the phin and wet the coffee grounds. This allows them to expand a bit, so any small grounds are pushed through the filter into the coffee vessel. Be sure to pour those out before you continue brewing.
Now for the hard part. Fill up the phin and wait for that delicious coffee to brew. This process takes between three and five minutes. Any faster, and your brew is watery and weak. Any longer than five minutes, and you'll find yourself with a bitter, over-brewed coffee.
When the water makes its way through the grounds, allow it to cool slightly. Fill a large glass with ice and add your brewed coffee. Pour in some sweetened condensed milk to taste, then stir and enjoy!
Vietnamese iced coffee tips and tricks
If you're short on time, you can skip a step and brew your Vietnamese iced coffee into a pint glass. Simply fill a pint glass with ice and place the phin on the rim. Be careful, though, as a thin-walled pint glass can shatter when the hot coffee contacts the chilled glass.
Traditional Vietnamese iced coffee requires the use of sweetened condensed milk. If you prefer a creamy version with less sweetness, replace some of the sweetened condensed milk with half and half.
Sweetened condensed milk can be challenging to store. If you have a squeeze bottle, pour the entire can into the squeeze bottle and keep it in the fridge. Be sure to throw away any condensed milk you don't use after two weeks.
And of course, if you prefer your Vietnamese coffee hot, simply skip the ice at the end!
Supplies for Vietnamese iced coffee
Best pour-over kettle
Miroco Gooseneck Electric Pour-Over Kettle: available at Amazon
This Miroco kettle is the fastest way to extract the most flavor from your coffee. The temperature control settings deliver boiling water in two minutes, and the kettle holds your water at the desired temperature for up to an hour. It has an auto-off setting and a boil-dry shutoff.
Best traditional coffee
Café du Monde: available at Amazon
The Vietnamese people invented the process and the vessel, but many still use Café du Monde in a nod to the French contribution. Some people even credit French colonization for the invention of Vietnamese coffee.
Best dark-roast coffee
Saigon Phin Daklak: available at Amazon
This signature dark coffee from Saigon uses Robusta, peaberry and Arabica beans for a smooth, almost fruity blend.
Best low-acid coffee
Trung Nguyen Premium Blend: available at Amazon
For those who love the deep, rich flavor of Vietnamese coffee but cannot stomach the high acid in most blends, Trung Nguyen is the answer. This blend also works well in cold brew applications for an even smoother cup.
Best whole-bean coffee
Chestbrew Whole Bean Coffee: available at Amazon
Whole-bean coffee gives you even more control over the strength of your Vietnamese coffee. Chestbrew uses single-origin Arabica beans grown in Vietnam.
Best phin for two
AMT Vietnamese Coffee Filter: available at Amazon
It can be hard to wait for two cups of coffee, and this phin makes it so you don't have to. This durable phin is made of solid stainless steel and equipped with a screw-down filter. The unique design allows you to control the strength of your Vietnamese iced coffee easily.
Best all-in-one Vietnamese coffee set
Vietnamese Coffee Filter Maker Set: available at Amazon
This beautiful, six-piece Vietnamese coffee set comes with everything you need to make a velvety cup of coffee, right down to a stylish spoon. Handmade in Vietnam, this individually glazed ceramic set is a unique work of craftsmanship.
Best Vietnamese coffee kit 
Vietnamese Coffee Kit by Len's Coffee: available at Amazon
Looking to try Vietnamese coffee but don't want to guess what supplies you need? This kit is the answer. It comes with a phin, Trung Nguyen coffee and traditional Longevity sweetened condensed milk.
Suzannah Kolbeck is a writer for BestReviews. BestReviews is a product review company with a singular mission: to help simplify your purchasing decisions and save you time and money.
BestReviews spends thousands of hours researching, analyzing and testing products to recommend the best picks for most consumers. BestReviews and its newspaper partners may earn a commission if you purchase a product through one of our links.
Distributed by Tribune Content Agency, LLC.