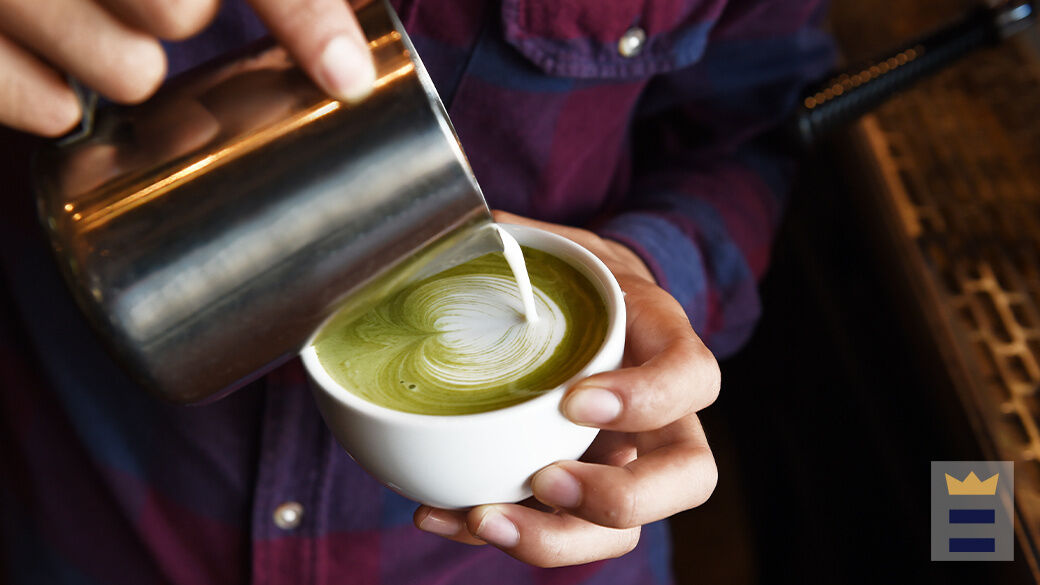 Starbucks matcha latte
Whether you're a dedicated matcha latte lover or just want to change up your regular latte, Starbucks matcha lattes are delicious and have some great health benefits. However, they can become costly if you buy them at the cafe regularly. But that doesn't mean you need to give up your matcha latte habit.
Almost anyone can make a matcha latte at home. Not only will you save a lot of money, but it's also an impressive skill to show off to guests who come over for coffee dates.
What is a matcha latte?
Matcha finely ground green tea leaves, which come in powder form. Farmers grow these green tea leaves for about a month before harvesting them and making them into a fine powder. Matcha powder is bright green, rich in antioxidants and has many health benefits. You can make a Starbucks matcha latte by blending matcha powder with steamed milk and sweetener. It's surprisingly easy to make one yourself.
What are the benefits of drinking matcha?
Because matcha is ground green tea leaves, the health benefits are similar to that of green tea. However, the concentration of nutrients in matcha is much higher than a cup of green tea, where you steep the leaves instead of grinding them.
High in vitamins and antioxidants
Matcha is rich in antioxidants and supplies a whole host of vitamins including A, B, C and K. WedMD explains that vitamin C is especially important for your immune system functions, and can help prevent health issues such as cardiovascular disease. Vitamin D is vital for promoting good bone health. So adding a matcha latte into your diet is an easy and delicious way to boost your vitamin intake.
Could help prevent cancers
Green tea, and therefore matcha, is also high in Epigallocatechin Gallate (EGCG). EGCG is a powerful compound that studies show can reduce inflammation and prevent certain diseases. Some studies even show the EGCG found in green tea leaves can have a positive impact on the prevention of cancer.
Promotes healthy skin
Because matcha is so packed with vitamins, some suggest it has skin healing properties. Vitamins B and C are crucial elements in collagen production and naturally encourage the healthy turnover of skin cells. If you have skin concerns, why not try adding matcha into your daily routine, or even switching out your regular coffee to a matcha latte?
What do I need to make a Starbucks matcha latte at home?
1 1/2 teaspoons of matcha powder
1 tablespoon of boiling water
Your choice of sweetener (we recommend honey or maple syrup)
3/4 cup of hot milk (or alternatives such as oat, almond and coconut milk)
Starbucks matcha powders
Matcha has become quite popular over the last few years, which means that many grocery stores now sell it. With so many options available, it can be hard to know which one is best. Here are the top-rated matcha powders for your at-home matcha lattes.
Jade Leaf Organic Matcha Green Tea Powder: available at Amazon
This matcha powder is organic and comes from certified organic Japanese tea fields. The product goes through several quality tests which makes for delicious, nutrient-dense matcha.
Sencha Naturals Matcha Green Tea Powder: available at iHerb
This matcha powder is non-GMO and gives you great value for your money. It comes in a 4oz bag, so you'll get a lot of drinks out of it and won't need to restock anytime soon.
Jade Leaf Organic Matcha Latte Mix: available at Amazon
This matcha powder is specifically made for matcha lattes and comes pre-sweetened with organic, unrefined cane sugar. Made to mix easily with your choice of milk, this is a great powder for those who like the convenience of quick at-home drinks.
Starbucks matcha latter recipe
To make your homemade matcha latte, follow our simple steps below.
Spoon about 1 1/2 teaspoon of matcha powder and your choice of sweetener into a mug or cup. You can add more or less matcha or sweetener depending on your personal preferences.
Add 1 tablespoon of boiling water and mix until it becomes a thick paste. Make sure there are no lumps left; aim to make the paste as smooth as possible.
In a pot or in the microwave, heat your milk until it is steaming but not quite boiling. You can even opt to froth your milk using a whisk or a milk frother.
Carefully pour the milk into the cup with the matcha paste and stir well.
Drink while hot and enjoy your homemade matcha latte!
 
If you'd rather have a cold drink, you can make an iced matcha latte. Rather than heating the milk, simply add it when it's cold and stir well. To make it super chilled, pour over ice. Alternatively, you can make a large hot batch, let it cool and keep it in the fridge an iced matcha latte whenever you like.
How to serve your matcha latte
These coffee glasses are the perfect way to serve your drink. They're double insulated, so they will maintain the temperature of both hot and cold lattes.
If you want to get the entire Starbucks experience, check out their range of serving cups. For an iced latte, we recommend enjoying your cold drink in this transparent to-go cup. It lets you see its vibrant, green color as you enjoy your drink. For a hot matcha latte, we recommend this reusable plastic hot cup with the Starbucks iconic logo. Serve these to your friends, and they won't know the difference between store-bought and your homemade version!
Heather Roy is a writer for BestReviews. BestReviews is a product review company with a singular mission: to help simplify your purchasing decisions and save you time and money.
BestReviews spends thousands of hours researching, analyzing and testing products to recommend the best picks for most consumers. BestReviews and its newspaper partners may earn a commission if you purchase a product through one of our links.