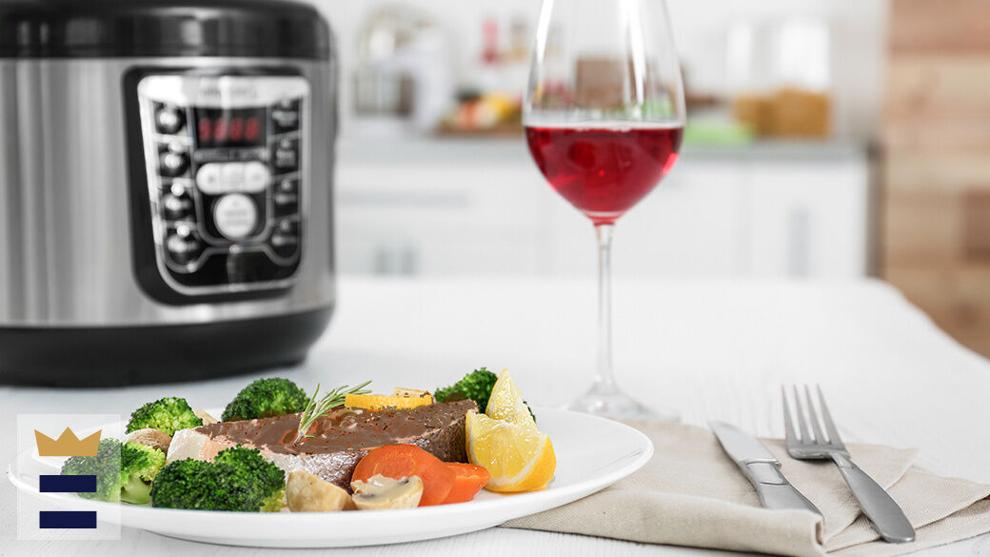 Slow cooker steak
If you've got a slow cooker sitting on your kitchen countertop, it's likely that you love being able to throw ingredients in and come home to a fully cooked meal. They take little effort and fuss, making them convenient for those with busy lives.
Some people shy away from cooking anything other than stews and casseroles in a slow cooker, but they're actually useful for cooking more delicate meals and foods than they're given credit for.
Cooking steak in a slow cooker the right way means tender and juicy meat packed full of flavor. Here's how you can achieve it with your slow cooker at home.
What is a slow cooker?
A slow cooker is an electrical kitchen appliance that gently cooks food over a long period, often with little or no cooking supervision required. Many call them Crock-Pots, after the brand that first created them for use in the home, though not all are made by Crock-Pot.
Slow cookers generally come in the form of large ceramic pots with lids. They sit on top of the kitchen counter during use and can easily be stored on larger shelves or inside cupboards. They're mostly used to cook meals that would traditionally simmer on a stove.
How does a slow cooker work?
Most slow cookers consist of a large pot (usually ceramic) and a lid (usually glass) with a heating element encased around the pot that heats food slowly and evenly. The pot is coated to ensure food doesn't stick to the bottom like it might in traditional stovetop cooking.
The ceramic pot is designed to retain heat and cook food thoroughly over a long period of time. To that end, most slow cookers come with just two or three heat settings and recommended cooking times, depending on the contents of your meal.
For long-cooking dishes, you'll typically need a minimum amount of thin liquid in the pot to stop food from overheating, burning or sticking to the bottom of the pot.
Can you cook steak in a slow cooker?
You can cook steak in a slow cooker, although certain cuts of meat are more suitable than others.
Tougher cuts of meat with lots of connective tissue (such as shoulder steak) work well for typical meals you would cook in a slow cooker, such as stew. The simmering heat and long cooking time break down tough meat during the hours of cooking, making them fall-apart tender when they're done.
However, when cooking single or multiple steaks (as opposed to including meat in a casserole dish), it's best to go with different cuts.
Best cuts of steak for a slow cooker
The best cuts of steak to use in a slow cooker are those that will tenderize during cooking rather than toughening up. Sirloin steaks, rib-eye and tenderloin cuts all cook nicely in the slow cooker.
The Crock-Pot style of cooking can help to seal in the flavors of the meat, especially if you choose to include some seasoning with your steak in the cooker.
Steps for cooking steak in a slow cooker
Step 1: Prepare your steaks for the slow cooker
Preparation for cooking steaks in the slow cooker is no different than preparing them for a skillet. It's best for the steaks to be at room temperature before cooking begins.
Rub salt, pepper, a small amount of oil and any preferred herbs onto your steak. Leave them to sit this way for a few minutes before cooking begins.
Step 2: Sear the steaks
To help seal in flavor, it's best practice to sear your steaks in a hot frying pan before adding them to the slow cooker.
All this means is laying the steak down in the frying pan for about 2 minutes on each side. All sides and edges of your steak should be browned before you remove it from the frying pan.
Step 3: Prepare some beef stock
All cooking in a slow cooker requires some liquid. When cooking steaks, it's a good idea to add about 1/4 cup of beef stock. You can use stock cubes or beef stock jelly pots. Not only will this prevent your steak from drying out, but it will also add to the delicious flavor.
Step 4: Add the steak to the slow cooker
When adding steaks to the slow cooker, each steak should fit inside with some room around the edges. Crowding steaks in the pot will stop them from cooking.
Lay the steaks down flat on the bottom of the slow cooker pot before adding your beef stock over the top. Take the glass lid and place it on top.
Step 5: Choose the right cooking time and temperature
Since steaks can easily be overcooked, the best temperature setting to select on your slow cooker is "low." Slow cook the steaks for approximately 4-6 hours, depending on how well-done you prefer your steak.
Step 6: Remove from the slow cooker and serve
Once cooking is finished, remove your steaks from the slow cooker and serve them with your sides of choice. The steaks should be juicy, tender and full of flavor.
Best slow cookers for cooking steak
Best value slow cooker
Elite Gourmet Electric Oval 2-Quart Slow Cooker: available at Amazon
Some slow cooker models are on the pricier end, but this Elite Gourmet edition is great value for money while retaining a good level of functionality.
Best large-capacity slow cooker for steak
Hamilton Beach Extra-Large Stay-or-Go 10-Quart Slow Cooker: available at Amazon
Some cuts of steak are large and still need space in the slow cooker, which can make it tricky if you're cooking for a larger household. This 10-quart model provides plenty of space for even the largest cuts.
Best advanced-functionality slow cooker for steaks
Crock Pot 8-Quart Programmable Slow Cooker: available at Amazon
Crock Pot is one of the most widely recognized brands in slow cookers. This model comes with all the bells and whistles that enable you to enjoy the hands-free nature of slow cooking while tailoring timing and temperature accurately for each recipe.
Lauren Farrell is a writer for BestReviews. BestReviews is a product review company with a singular mission: to help simplify your purchasing decisions and save you time and money.
BestReviews spends thousands of hours researching, analyzing and testing products to recommend the best picks for most consumers. BestReviews and its newspaper partners may earn a commission if you purchase a product through one of our links.
Distributed by Tribune Content Agency, LLC.