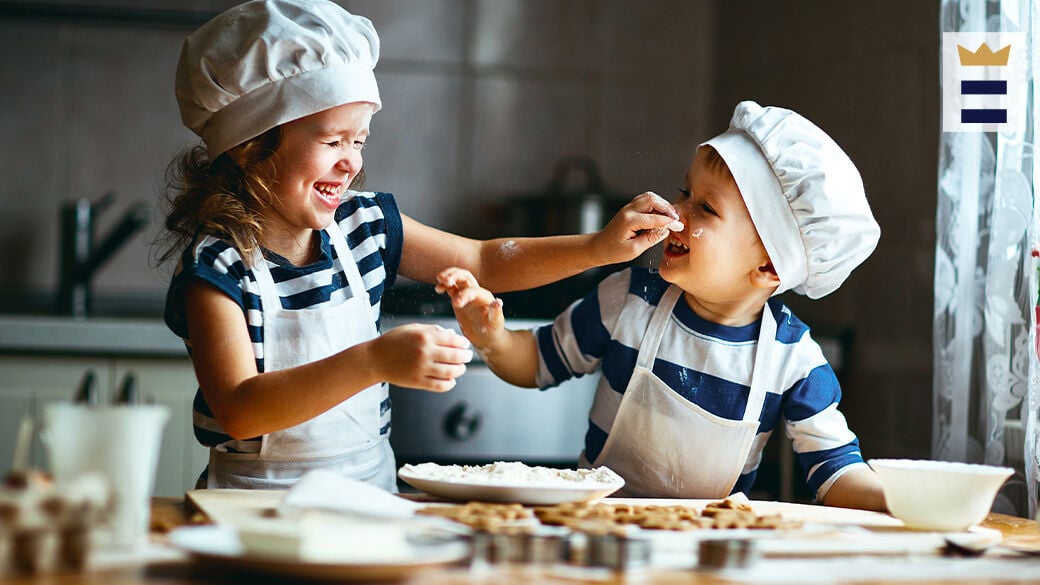 Teaching kids to cook
If you have a little one who can't stay out of the kitchen, equip them with the tools they need to practice new culinary skills. With these fun and practical products, your kid can become a pretend chef and help you whip up delicious dishes whenever they want. 
There are many reasons to get kids interested in cooking and meal planning. Little ones who learn to cook are building the foundation for an important lifelong skill. Along the way, they'll work on hand-eye coordination, math and overall confidence. 
How to get kids interested in cooking
If you're a passionate home cook who wants to foster the same culinary curiosity in your kids, there are a few strategies to build interest in helping out in the kitchen. 
Spend time looking through food magazines, blogs, recipe websites and cookbooks. The colorful and mouth-watering images may catch kids' interest. Let them select a new recipe to try as a household. 
Take an outing to the farmer's market or grocery store. Let kids choose an ingredient or two to try using at home. Bonus points if it's something totally new.
Plan meals with kids and assign them important tasks. Kids will feel a sense of responsibility for helping out and accomplishment when their handy work produces a tasty meal. 
Outfit children with their own cooking gear, including an apron, hat and oven mitt. Kids can even decorate their own chef's getup with fabric paint and iron-on patches. When they look the part, they'll be excited to get into the kitchen. 
Cooking toys and games for kids
When your little one is eager to get into the kitchen to prep and mix alongside you, these tools and toys can help build on that passion. 
Play kitchen set
Let your kids run their own kitchen with a realistic playset. This adorable setup from Best Choice includes a fridge, dishwasher, oven and pretend range top for cooking and baking. It also comes with important utensils, like a ladle and two pots for practicing their favorite recipes. The fridge even dispenses ice. This all-wood set is both safe and durable for years of culinary experiments. 
Toy food
Once you have the kitchen, fill it with play food. This 70-piece set of fruits and vegetables is a great representation of healthy, colorful food options and can help kids practice their cutting skills. Each piece of produce can be "sliced" in half along a velcro center. Kids can open up star fruit, pomegranates and eggplant to see what the interior looks like. Then you can try each of the fruits and vegetables for yourself.
Toy cooking utensils
If you don't have space for a full play kitchen, this adorable set of appliances and food from Cute Stone is a great in-between. It comes with a pretend hot plate, pressure cooker and even a realistic knife block that can help get little ones comfortable around common cooking tools. They can practice cracking and frying an egg, slicing bananas and grocery shopping with the basket of produce. 
Kitchen tools for kids
Once your child is ready to be more hands-on in the real kitchen, these gadgets can help teach them kitchen safety and basic culinary techniques. 
Kids' knife set
When it comes to cutting, safety is the most important thing. Teach little ones the right way to chop, dice and slice without risking a nick with this kids' plastic knife set from N+A. It comes with two pairs of cut-resistant gloves to keep small hands safe. The knives have BPA-free plastic blades that can cut fresh fruit and vegetables, bread, cheese and baked goods. The set also includes a plastic cutting board that's the perfect size for small helpings. This is a great way to get kids engaged in preparing their own lunches and snacks. 
Baking set
This colorful baking set may look like a toy, but it's actually the real deal. It includes everything a young baker needs to get started, including a pastry bag with piping tips, measuring spoons and a bread loaf pan. Most of the pieces are made from silicone, which is easy to clean, microwave-safe and flexible. Everything is also fully reusable, so you can reduce kitchen waste. 
Personal cooking utensil set
Give your little chef their own set of cooking utensils to follow your lead at the stove or on the counter. This set of five pieces from CheffyKids includes a whisk, three rubber spatulas and a silicone pastry brush. The bright color means you can keep kid's tools separate and easily identifiable. 
Fun cookie cutters
A playful set of cookie cutters can inspire more than just cookie baking. Choose a set with animal shapes or numbers to help kids learn while they shape their food. Together, you can make fun shapes out of sandwiches, veggie tots, pancakes, waffles and more. 
Kids cooking accessories
These giftable accessories are just what your child needs to embrace their inner chef. 
Cookbook for kids
Get your little chef their own cookbook. The Complete Cookbook for Young Chefs from America's Test Kitchen is full of beautiful full-color images and step-by-step visual instructions to make more than 100 delicious and healthy meals that appeal to young palates. From food safety tutorials like the importance of washing hands to an overview of how to use the most common kinds of equipment, this is a fantastic primer for newbie chefs. 
Child-sized apron
Help your child look the part with a kid-sized apron that suits their personality. From this fun dinosaur-printed apron to this ruffled floral number, there's a chef's apron for every shape, size and style. And if you want to customize your own aprons as a fun activity outside the kitchen, grab a plain white cotton apron as the blank canvas to your creativity. This set of three white kid's aprons comes with matching chef hats to complete the look. If you want to pick up the hats separately, this cotton cap is adjustable to small heads. 
Kitchen diary
If your little one likes to create their own recipes and concoctions, this beautiful keepsake kitchen diary from Lily & Val is a great place to store their ideas and culinary inspiration. Kids can use the blank space in the book to express their recipe ideas, including what inspired them and how each dish came out. The book also includes tear-out recipe cards to share with friends and helpful cooking guides for quick reference. 
Bento boxes
Get kids involved in packing their meals for school. Filling the compartments of a colorful bento box set can be a fun activity every morning or school night. This set from NUFR has three stackable bento compartments, a silicone food sponge and adorable animal-shaped picks for some extra fun at lunchtime.
Lizzy Briskin is a writer for BestReviews. BestReviews is a product review company with a singular mission: to help simplify your purchasing decisions and save you time and money.
BestReviews spends thousands of hours researching, analyzing and testing products to recommend the best picks for most consumers. BestReviews and its newspaper partners may earn a commission if you purchase a product through one of our links.
Distributed by Tribune Content Agency, LLC.