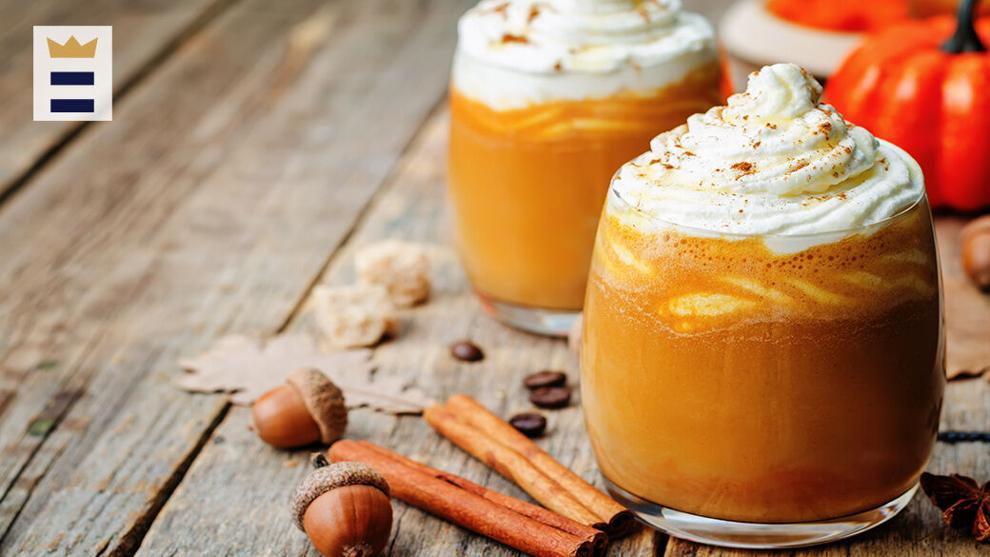 Keto pumpkin spice latte recipe
If you're following the keto diet or have looked into starting it, you'll know that it is restrictive of many carbohydrates — including refined sugars. However, the much-discussed weight loss and health benefits can make the carbohydrate sacrifices worth it.
This is especially true when you realize just how many delicious ketogenic versions of your favorite treats are out there. So, when fall comes around, you won't have to forego a pumpkin spice latte. Instead, you can easily make your own keto-friendly version of the beverage at home.
What is a pumpkin spice latte?
A latte is a coffee-based beverage that mixes a shot of espresso with lots of steamed, frothy milk. Pumpkin spice lattes are made the same way, but with the addition of extra spices and flavors. They're a favorite hot beverage for many once autumn comes around. 
When you buy a pumpkin spice latte from a coffee shop, they typically use a pre-mixed syrup to add the pumpkin spice flavor. But those syrups are full of sugars that are not compatible with a true ketogenic diet. So, making a keto-friendly version at home requires a couple of extra ingredients in place of the syrup. 
How to make a keto-friendly pumpkin spice latte
Before you get started, there are a few ingredients and pieces of equipment that you'll need. These include:
Brewed coffee (preferably from an espresso or coffee machine)
Almond milk (unsweetened)
Pumpkin puree
Pumpkin pie spice
Sweetener
Heavy cream
Milk frother
Whipped cream
Ground cinnamon
First, put the almond milk, pumpkin puree, pumpkin spice, heavy cream and sweetener in a bowl and heat in the microwave.
Next, take your milk frother and mix the heated combination until it is smooth and frothy. Then add in your brewed coffee and gently stir a couple of times.
Finally, top off your beverage with some whipped cream before adding a sprinkle of ground cinnamon over the top.
What you need to make a keto pumpkin spice latte
To get the most out of your keto-friendly treat, you will want to get the most quality ingredients.
Best almond milk for keto pumpkin spice latte
Kirkland Signature Organic Almond Unsweetened Beverage: available at Amazon
This almond milk is totally suitable for ketogenic diets and is free from sugar, soy and dairy. It comes with a little vanilla added in for extra sweetness for your pumpkin spice latte. Some consumers report that it doesn't taste quite like typical almond milk, but it has a long shelf life.
Elmhurst 1925 Unsweetened Almond Milk: available at Amazon
If you're looking for an organic, naturally-made almond milk, this one is made from nothing more than almonds and water. It has a very smooth and creamy texture which makes it perfect for adding to a coffee beverage. However, it is one of the pricier almond milks you can buy.
Pacific Foods Organic Almond Non-Dairy Beverage: available at Amazon
The almonds used in this milk are gently roasted first, which ensures a distinctive almond flavor to the product. This could be considered a pro or a con depending on how much you like the taste of almonds. 
Best pumpkin pie spice for keto pumpkin spice lattes
Frontier Pumpkin Pie Spice: available at Amazon and iHerb
This pumpkin pie spice is made from nutmeg, cinnamon, cloves and ginger for a true fall taste in your keto pumpkin spice latte. It's a well-balanced spice that works just as well in savory dishes as sweet ones. It's also non-GMO certified.
SweetLeaf Pumpkin Spice Liquid Stevia: available at Amazon
This pumpkin spice liquid stevia also acts as a natural sweetener — perfect if you have an extra sweet tooth. You can easily adjust the number of drops you add to your keto pumpkin spice latte to your exact preferences. However, the pumpkin spice flavor won't come through as strongly as with a powdered spice. 
Jordan's Skinny Syrups Pumpkin Praline Pie: available at Amazon and Bed Bath & Beyond
If you're planning on enjoying a ketogenic pumpkin spice latte pretty often, this keto-friendly syrup makes it easy to get a consistent flavor every time. Since you only need 1 ounce of the syrup in your drink, the 25.4-ounce bottle will last you quite a while. You will need to carefully measure the syrup, though, as adding too much can make the beverage overly sweet.
Best sweetener to use in keto pumpkin spice lattes
Lakanto Monkfruit Sweetener: available at Amazon and iHerb
This sweetener rates as zero on the glycemic index and is made from monk fruit which is much sweeter than standard white sugar. While it adds significant sweetness to your beverage, users should be aware that, like many sugar substitute sweeteners, it also contains erythritol which can cause side effects like stomach cramps.
Sukrin Gold Natural Brown Sugar Alternative: available at Amazon
If you miss adding some brown sugar to your coffee drinks, this sugar substitute made from erythritol, stevia and malt is a great alternative. It adds a richer sweetness to your keto pumpkin spice latte but can leave an aftertaste if you use too much.
Swerve Sweetener, Brown: available at Amazon
Another brown sugar substitute, this sweetener uses erythritol and oligosaccharides, sourced mainly from starchy fruits and vegetables. It's totally keto-friendly but the texture can harden and make it difficult to break up for use.
Best milk frothers for homemade ketogenic pumpkin spice lattes
Zulay Original Milk Frother: available at Amazon
Available in multiple colors, this frother is a lovely addition to your kitchen appliances and is super easy to use. Since it uses AA batteries, you can use it anywhere in your kitchen without a power source and simply run the end under a tap to rinse and clean it. 
Miroco Electric Milk Frother: available at Amazon
This frother heats and froths the milk at the same time with the push of a button, so all you have to do is stand and wait for a minute or two. However, it doesn't provide a very large capacity, so it's only suitable for making one or two pumpkin spice lattes at a time.
PowerLix Handheld Milk Frother: available at Amazon
This handheld frother is battery-powered and comes with a cup that fits over the frother easily. It froths milk in just 20 seconds, but it may have a harder time frothing almond milk in comparison with dairy-based milk.
Lauren Farrell is a writer for BestReviews. BestReviews is a product review company with a singular mission: to help simplify your purchasing decisions and save you time and money.
BestReviews spends thousands of hours researching, analyzing and testing products to recommend the best picks for most consumers. BestReviews and its newspaper partners may earn a commission if you purchase a product through one of our links.
Distributed by Tribune Content Agency, LLC.