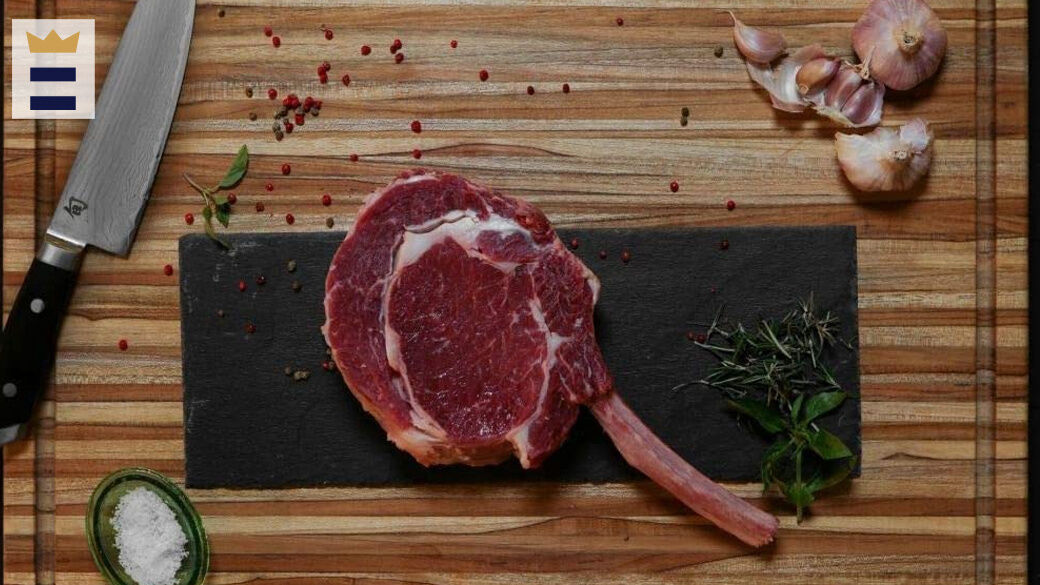 How to prepare meals on a paleo diet
Meal prepping has become a popular trend over the past few years, especially among people who want to stick to a specific diet. By making and assembling your meals ahead of time, it can be easier to adhere to your eating goals. Plus, you won't have to take the extra time when hunger is setting in to put together a wholesome meal.
People following the paleo diet in particular have adopted meal prepping as a strategy to incorporate healthy eating into their daily lives with ease. If you're looking to clean up your diet with the help of meal prep, here's what you'll need to get started.
What is paleo?
The paleo diet has been increasingly popular in the past decade, becoming one of the most followed diets in America. It's sometimes called the caveman diet because the basic principles are to eat foods that our paleolithic ancestors would have consumed. In particular, paleo eaters avoid processed foods, added sugars, dairy, grains, legumes, potatoes and salt.
Instead, the paleo diet puts an emphasis on consuming plenty of whole fruits and vegetables, nuts and seeds, lean meats and seafood.
What do you need for paleo meal prep
Paleo cooking tools
You'll need a few essential kitchen gadgets to prepare breakfast, lunch and dinner, including:
A sharp chef's knife is key to make quick work of all of those fruits and veggies. In fact, a well-equipped knife set is a smart investment if you're planning to do a lot of cooking at home, paleo or not. The Global 7-Piece Ikasu Knife Block Set is a great option that includes a hefty chef's knife, a serrated bread knife, a paring knife and several mid-sized knives, all housed in a  sleek bamboo block.
Protect your counters and your new sharp blade with a sturdy cutting board. Since you'll be preparing multiple meals at once, opt for a bigger board with plenty of space to keep your ingredients organized. The TeakHaus Edge Grain Teakwood Cutting Board has an ample surface area of 20x15 inches. It's also thick and sturdy enough to stay in place, no matter how vigorous a chopper you are.
When you're done with the prep work and it's time to start cooking, you'll want a reliable set of pots and pans to work with on the stove. The Cuisinart 12-Piece Cookware Set includes pots and pans in a range of sizes to accommodate any recipe or serving size. It even includes a steaming pot for making bright, crisp and tender broccoli to accompany your paleo chicken breast.
If you're more of a hands-off cook, a slow cooker can do most of the work for you. In fact, the All-Clad Slow Cooker is programmable so you can dump in your ingredients, set it up with a cook and stop time and walk away for the rest of the day. It comes in 4 and 6.5-quart models, so there's ample space to prepare big batches of your favorite paleo stews and soups. Pressure cooking is another way to develop the deep, rich flavors of long-simmering ingredients in a fraction of the time. The Instant Pot Duo 7-in-1 Electric Pressure Cooker combines pressure cooking with slow cooking and other techniques in one countertop appliance.
Paleo meal-prep storage
After you've done all the cooking, you'll need the proper food storage solutions to keep everything fresh and portable for eating on the go.
If you're preparing a salad of fresh greens, lean protein and heart-healthy nuts, a smart container like these stacked bento boxes from Bengto help keep your greens fresh and salad dressing separated until you're ready to toss and serve your salad. The containers are made from leak-proof glass that's as easy to pack as it is to keep clean.
If a hot meal like paleo chicken soup is on the menu, you'll want an insulated container like this 24-ounce container from DaCool. The stainless-steel container keeps food hot or cold for up to 12 hours and comes in seven attractive colors and two sizes. The top even has space for a collapsible spoon so you don't need to pack separate utensils.
If your meal-prep plan is more straightforward than layered salads or hot soups, you might need a more simple meal storage solution. This set of 10 glass meal-prep containers from C Crest is the perfect size to store a well-rounded paleo lunch, dinner or breakfast. The containers are reusable and dishwasher safe so you won't produce extra waste.
To transport your carefully-prepared meals to school or work, you'll want a spacious lunch box like this tote-style bag from Vagreez. It's waterproof and easy to keep clean so you won't have to worry about odor or stains. The bag also has plenty of room to hold several meal prep containers and comes in dozens of colors to match any outfit.
Paleo meal prep ingredients
To stock your kitchen for paleo meal prep, there are a few ingredients that will come in handy. These include:
Raw nuts and seeds: Top salads with whole almonds, walnuts or pumpkin seeds for a paleo-approved protein source. Keep a big bag of raw almonds on hand in the freezer.
Paleo-approved cooking oil: The paleo diet avoids dairy and processed oils, so your best option for cooking is a nut or plant-based oil like this organic avocado oil from Nutiva.
Tinned fish: Tuna, sardines and salmon are all hallmarks of the paleo diet. Keep a supply of lean fish like Wild Planet Sardines in the pantry to add protein to salads and sandwiches.
 
Nut milk: Because dairy is off limits on the paleo diet, you'll want to swap your yogurt and milk for nut-based alternatives. Make sure to choose a sugar-free option like unsweetened almond milk from Califia Farms.
Lizzy Briskin is a writer for BestReviews. BestReviews is a product review company with a singular mission: to help simplify your purchasing decisions and save you time and money.