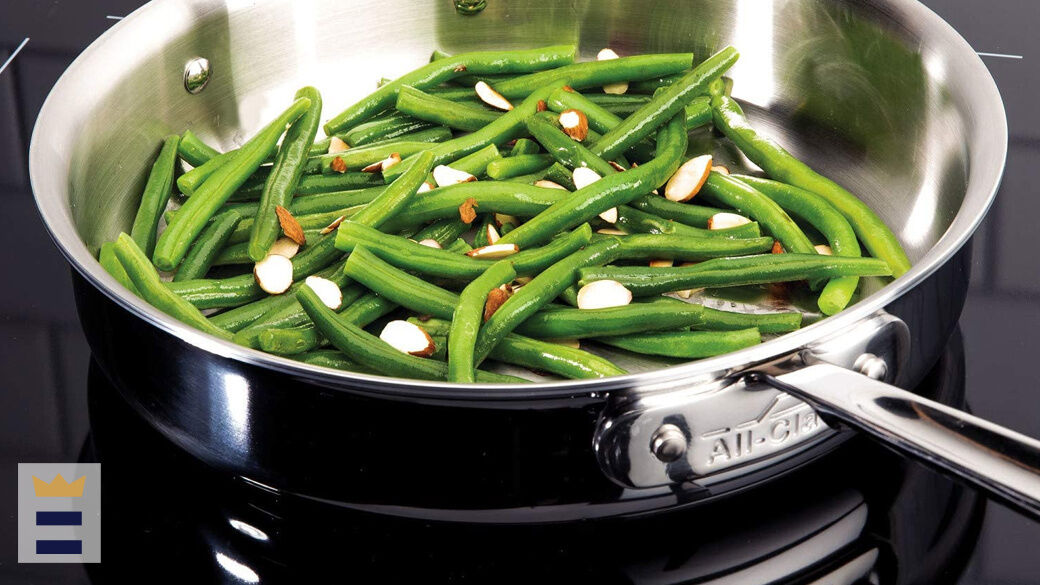 All-Clad cookware
They say the number one way to make a house feel more like a home is to share a meal with friends. And what better way to share a meal than to make one together? But if you're just starting your kitchen collection, or need to add some more pieces to an existing one, you may not be sure where to buy your cookware from.
It's essential to have effective, proper cookware in your home. While you may be tempted to go cheap, more affordable options may not last very long. And having the right tools ensures you can fry, sauté, braise and boil all your favorite recipes. The best cookware caters to the types of food you enjoy while offering easy maintenance and straightforward care.
All-Clad is one of the most respected cookware companies on the market today. They offer an array of professional-grade options, including individual pieces and larger sets. Their durable cookware comes with a lifetime warranty. While this is appealing to every amateur chef, it does mean they come with a higher price tag. But these pieces are ideal for dedicated cooks or anyone looking to invest in high-quality, long-lasting cookware.
The best All-Clad Cookware
D5 Stainless Steel Cookware Set: available at Amazon
This comprehensive All-Clad cookware set provides a solid base for a chef at any level. Compatible with gas, electric and induction stovetops, these beautiful and durable stainless steel pieces evenly distribute heat and stand up to long-term use. While they come at a high price, the investment is sure to pay off over the years.
Copper Core Saucepan: available at Amazon
The copper lining of this 5-layer saucepan allows for a quick temperature increase and more precise control when you're cooking. The riveted handle is comfortable to hold and allows for easy movement of the pot. The flared edges prevent spilling or dripping when pouring, and it's large enough to cook for a handful of people.
D3 Compact Stainless Steel Set: available at Sur la Table
This 10-piece set features several useful pieces. It's perfect for those in need of long-lasting kitchen essentials. The 10-inch skillet, 3-quart saucepan and 5-quart stockpot are all oven-safe and ideal for those cooking for one or two people. They also stack easily, which saves space when not in use.
D3 Fry Pan Set: available at Amazon
A pair of quality fry pans are essential for a comprehensive cookware collection. This set features a 10-inch and 12-inch option with sloped sides for easy stirring and flipping. They are also dishwasher safe and hang easily to save space.
Copper Core Wok: available at Amazon and Bed Bath & Beyond
This durable 14-inch wok is ideal for those who cook large, creative meals, particularly noodle dishes. The tall, sloped sides allow for easy stirring and mixing without any spills, while the flared edges make it easy to transfer contents. What's more, it's stick-resistant so your food won't coat the wok. It's easy to clean and maintain.
Hard-Anodized Square Grill: available at Amazon and Bed Bath & Beyond
Enjoy a range of sandwiches and meats with this handy small-sized square grill. While it may be somewhat of an indulgence, the safe, nonstick coating provides ease of use, as does the comfortable, riveted handle. 
Hard-Anodized Steamer Pot with Insert: available at Amazon
This large stock pot holds up to 7 quarts and is ideal for cooking pasta and soup. It features a matching insert for straining and comes at a reasonable price. With proper care and use, you can expect this nonstick pot to last for years to come.
Copper Core 14-Piece Set: available at Amazon
This is the most extensive set on this list and one of the priciest. But this comprehensive collection of Copper Core cookware should last you a lifetime. It includes two fry pans, two sauté pans and two saucepans, along with a stockpot and matching lids for most items. They heat quickly and evenly, allowing both seasoned chefs and novice cooks to make tasty meals.
D5 Stainless Steel Covered Sauté Pan: available at Bed Bath & Beyond
This 3-quarts durable saucepan provides longevity and versatility in the kitchen, whether you're cooking for yourself or a large group of people. It's safe for all varieties of stovetops is oven-safe, and can go in the dishwasher. What's more, the flared rims assist in pouring, so there are no drips.
Hard-Anodized 10-Piece Cookware Set: available at Amazon
These hard, anodized pieces by All-Clad provide quality durability at a slightly lower price. Although they lack the stainless steel exterior, they are just as versatile when it comes to stovetop and oven usage. This 10-piece set is a great option for those in need of a complete collection to get their kitchen started.
D3 Two-Piece Set: available at Bed Bath & Beyond
This two-piece set is ideal for those who cook smaller portions or those who want to add some smaller cookware options to complete a larger set. The 8-inch fry pan and 1-quart pot pair with any set. The nonstick coating offers easy usage, and the flared edges prevent messes.
Stainless Steel Lasagna Pan: available at Amazon
This option may be a luxury for some, but anyone who enjoys casseroles, roasts or lasagna will find plenty of value and convenience with this pan. It's durable, large, and easy to grip, allowing for safe movements in and out of the stove. The nonstick coating prevents food from lingering on the pan.
D5 Stock Pot: available at Amazon
If you need a larger, durable stockpot to cook for more people, this 12-quart model is one of the biggest available. The elegant stainless steel exterior and construction provide both beauty and longevity in the kitchen.
Anthony Marcusa is a writer for BestReviews. BestReviews is a product review company with a singular mission: to help simplify your purchasing decisions and save you time and money.
BestReviews spends thousands of hours researching, analyzing and testing products to recommend the best picks for most consumers. BestReviews and its newspaper partners may earn a commission if you purchase a product through one of our links.