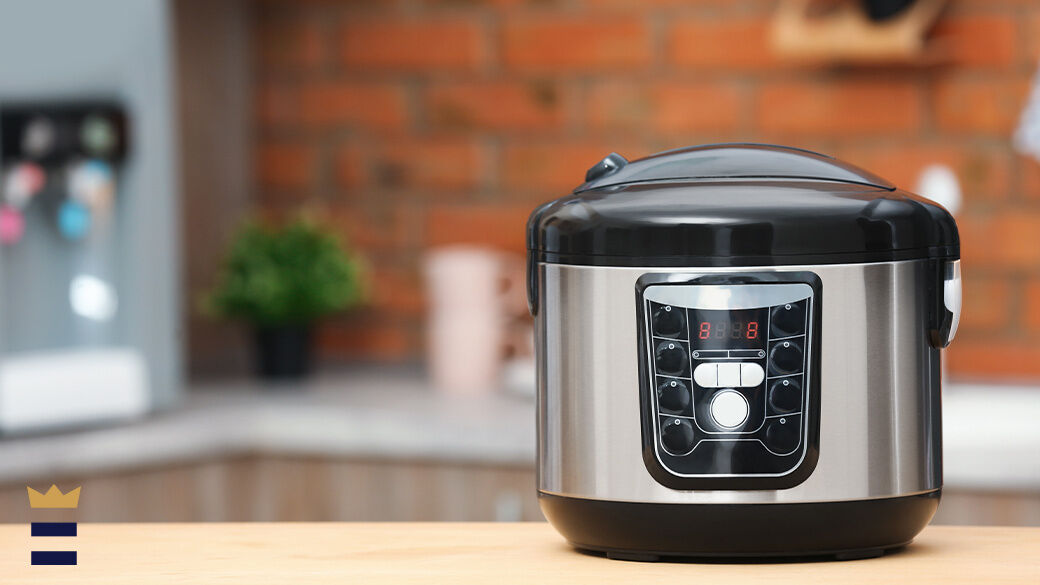 Buying a pressure cooker 
Pressure cookers cook food by trapping steam and releasing air, allowing both pressure and heat to build while maintaining enough moisture to keep foods from burning. This process drastically decreases cooking time by up to 70%. 
Based on an invention in 1679, pressure cookers have a surprisingly long history. Nearly 40% of households had one of these gadgets back in 1950, with only 20% having them today. Other household appliances such as microwaves caused them to drop in popularity, but in recent years, innovative models have been released, putting pressure cookers back on the list of must-have kitchen gadgets. 
Types of pressure cookers
Generational
Due to their history, pressure cookers are often categorized in terms of first, second and third generations. 
First generation pressure cookers were basic airtight containers with a weighted valve that releases excess pressure and steam periodically during cooking. This release valve is similar to the technology used in steam engines and makes a similar whistling sound. First-generation pressure cookers tend to only have one pressure setting.
Second-generation pressure cookers are safer and more customizable than the first generation, with two pressure settings and a spring-loaded valve that's hidden from view. Some of these models don't release any pressure (except as a safety precaution), making them much quieter than older models. Another type of second-generation pressure cooker uses a dial that adjusts the spring tension, allowing the user to adjust or release pressure manually. 
Third-generation, or electric pressure cookers, are similar to other gadgets you may have in your kitchen, with an electric heat source and buttons to adjust the settings. These modern cookers work by combining the spring-loaded valve with an automated heat system, which self-regulates the pressure and heat. These nifty cookers also have timers that allow you to set cooking time and then walk away with the knowledge that your cooker will turn off after the timer goes off. Most consumers today purchase third-generation pressure cookers. 
Multifunctional 
Another way of categorizing pressure cookers distinguishes between single-function pressure cookers and multifunctional pressure cookers. These categories are exactly what they sound like: single-function pressure cookers simply cook food by creating high pressure, while multifunctional pressure cookers can cook, steam or sear and many have slow-cooker functions as well. 
Best cheap pressure cookers
These nifty kitchen appliances are a real time-saver, but they can be costly as they grow in complexity. With many high-quality multifunctional pressure cookers costing more than $250, finding a quality product can be confusing. Here are some budget-friendly pressure cookers that can serve your culinary needs without breaking the bank. 
Best overall pressure cooker
Instant Pot Duo 7-in-1 Electric Pressure Cooker: available at Amazon, Wayfair, Kohl's and Macy's 
This multifunctional pressure cooker from an industry giant lives up to its reputation. With capabilities that include a pressure cooker, slow cooker, yogurt maker, saute pan, food warmer, rice cooker and steamer, you can clear off your countertop with one simple purchase. This superior customizability and durability come at a budget-friendly price, with 3-, 6- and 8-quart models being priced at $59.99, $79.99 and $99.99, respectively. The different size options allow you to find the right model for your home and your wallet.  
Best single function pressure cooker
Presto 01370 8-Quart Stainless Steel Pressure Cooker: available at Amazon and Wayfair
This beautiful stainless steel pressure cooker is equipped with a cover lock feature that ensures the pressure valve can't be opened until it's safe to do so. It works on all types of stovetops and is dishwasher-safe when disassembled. With a pressure regulator and an 8-quart capacity, this pressure cooker gives you plenty of bang for your buck.
Best multifunctional pressure cooker
Yedi 9-in-1 Total Package Pressure Cooker: available at Amazon
Programmable and user-friendly, this multipurpose pressure cooker can do it all — pressure cook, sauté, slow cook, steam, bake, pasteurize, cook rice, make yogurt and warm your foods all with one appliance. Despite being much more affordable than many multifunctional pressure cookers, this product delivers on every front and even includes a variety of accessories to create a convenient cooking experience. 
Best innovative pressure cooker
CHEF iQ World's Smartest Pressure Cooker: available at Amazon and Wayfair
This is the most expensive pressure cooker on the list, but it's actually reasonably priced given both its technology and its competitors. CHEF iQ has a product app that connects with your pressure cooker via Wi-Fi or Bluetooth, providing hundreds of recipes, how-to videos, tips and tricks, and even a calculator for precise ingredient measurement. Furthermore, you can monitor and control your pressure cooker from the app, giving you the freedom to complete other tasks while your food is cooking. 
Best pressure cooker under $60
Insignia 6-Quart Multi-Function Pressure Cooker: available at Amazon
This multifunctional Insignia pressure cooker has all the capabilities of most high-end electric pressure cookers at roughly half the cost. With a family-size 6-quart capacity, you can steam, saute, pressure cook and warm food for your whole family without breaking the bank. The lid locks in place once the pressure has built until it's safe to open, and the pot is dishwasher-safe to ensure easy cleanup. 
Collette Bliss is a writer for BestReviews. BestReviews is a product review company with a singular mission: to help simplify your purchasing decisions and save you time and money.
BestReviews spends thousands of hours researching, analyzing and testing products to recommend the best picks for most consumers. BestReviews and its newspaper partners may earn a commission if you purchase a product through one of our links.
Distributed by Tribune Content Agency, LLC.