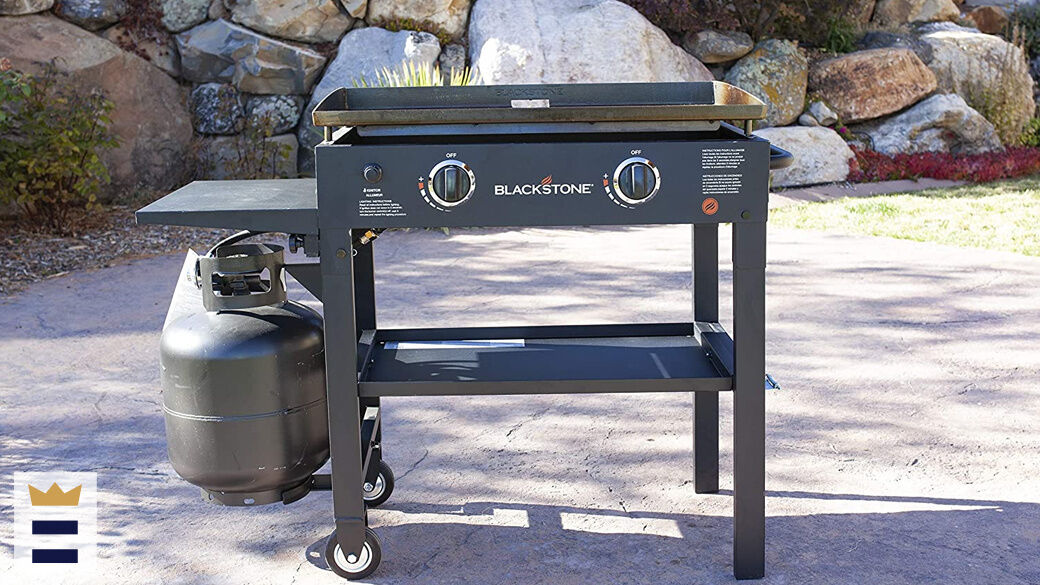 Blackstone grills 
Outdoor cooking is an amazing way to bring people together. From neighborhood cookouts and tailgate parties to family barbecues, sharing a meal outside brings a sense of community and fun to a summer's day.
When you're catering to people for an outdoor feast, you need the right type of equipment. Blackstone is a company that has cultivated a respectable reputation for their outdoor cooking appliances, especially their grills and griddles.
But are they worth the investment? Before you buy a grill, it's important to understand the products, features and value that Blackstone offers over its competitors. 
Grills vs. griddles
A grill is a cooker with a surface made from raised ridges or bars, usually made from iron or steel. This allows the oils and juices from the food to drip down between the ridges during cooking, adding that smoky barbecue flavor to your food. 
Griddles, on the other hand, are completely flat cooking surfaces. They're usually made from cast iron or steel, and you'll often see them in commercial-grade kitchens. The flat surface distributes the heat and cooks food more evenly. 
Blackstone is primarily known for their griddles, but many of their products combine both types of surfaces for a grill/griddle combo.
Types of Blackstone grills and griddles
Tabletop griddles and grills
Blackstone makes tabletop products that are super easy to bring with you to outdoor events away from home. If you frequently go camping, this style of grill is an ideal option.
Cooking stations
Blackstone cooking stations are similar to traditional outdoor cooking stations for barbecuing. However, many Blackstone models also come with wheels or foldable stands, so they're still fairly easy to transport. 
Accessories
Blackstone provides a wide variety of accessories to optimize your cooking station. You can select a griddle accessory kit, which comes with a range of tools. Individual items like the tabletop griddle carrier bag are a must for traveling. Accessories for specific types of foods — such as the griddle omelette cooking kit — are also available.
Grill combos
While the griddle is the main type of outdoor cooking appliance provided by Blackstone, there are lots of models that provide two separate cooking plates. You can choose a griddle/grill combo or a griddle/air fryer combo depending on your needs.
Advantages of choosing a Blackstone grill
Size options
If all you need is a way to cook a few burgers for two while on a camping trip, you might choose a 17-inch tabletop griddle. For catering to larger parties, the cooking stations are available up to 36 inches in size, which provide a large 720 square inches of cooking space.
Quality
Blackstone has become synonymous with quality in the griddle world. All of their products are finely engineered and built with quality, reinforced steel. Everything down to the wheels on your cooking station is made to last.
Overall cooking experience
Blackstone has also paid great attention to providing a seamless cooking experience for the outdoor chef. Large models, for example, come with four separate burners and the ability to fine-tune temperature control over each burner. That means you can "zone" your cooking into four separate areas for different types of food.
Affordability
In the grand scheme of outdoor cooking and barbecue grills, Blackstone models are middle-of-the -oad in terms of price. However, it's easy to find one that fits within your specific price range because they offer a variety of sizes and models.
Easy to assemble
Blackstone products are designed and packaged to be ready to use. There is little to no assembly required in comparison to other grills on the market.
Standard accessory packs
Most Blackstone products include some accessories so you can get straight to cooking. This includes items such as liquid dispensers, a spatula, a scraper, a chopper and a recipe booklet.
Disadvantages of choosing a Blackstone grill
Maintenance
One downside of Blackstone griddles is the maintenance required, specifically for the cooking surface. The rolled steel surface is great for cooking and seasoning, but improper cleaning and maintenance make it prone to rust and corrosion. It needs a very thorough cleaning and oiling after each use.
Design flaws
Blackstone grills have very few design flaws, especially in the newer models. But some of the cooking stations allow heat to escape between the burners and the cooking top. If the wind is blowing, it can make it tricky to keep the cooking temperature consistent. To mitigate this, you can purchase wind guards from Blackstone separately. 
Storage
Some Blackstone models, such as the smaller tabletop grills, are very easy to store. But the larger models provide very little opportunity to fold or remove side trays and other accessories for easy storage.
Maneuverability 
Blackstone grills are made from high-quality steel. However, this makes them very heavy and pretty difficult to move around, even with a model that comes with wheels on one side of the cooking station.
Is the Blackstone grill worth the money?
Blackstone grills are certainly worth the money. The key consideration is whether the grill or griddle will cater to your needs. If you're looking for large cooking surfaces and a durable, high-quality piece of equipment, Blackstone is well worth it. Barbecue traditionalists, however, may want to look elsewhere.
Best Blackstone griddles to buy
Best portable Blackstone grill: Blackstone 1971 Heavy-Duty Flat-Top Grill Station
This tabletop griddle provides even cooking and comes with or without a hood. The small size makes it very easy to transport for camping or tailgating.
Best Blackstone grill for large parties: Blackstone 28-Inch Outdoor Flat Top Gas Station
This cooking station provides a whopping 470 square inches in the cooking area. If you need to cook for a larger crowd, this model is the one for you.
Best Blackstone grill for small patios: Blackstone 1939 On-the-Go Griddle Grill Station
For smaller outdoor spaces, this model provides all the quality of a Blackstone product in a more compact package.
Lauren Farrell is a writer for BestReviews. BestReviews is a product review company with a singular mission: to help simplify your purchasing decisions and save you time and money.
BestReviews spends thousands of hours researching, analyzing and testing products to recommend the best picks for most consumers. BestReviews and its newspaper partners may earn a commission if you purchase a product through one of our links.
Distributed by Tribune Content Agency, LLC.