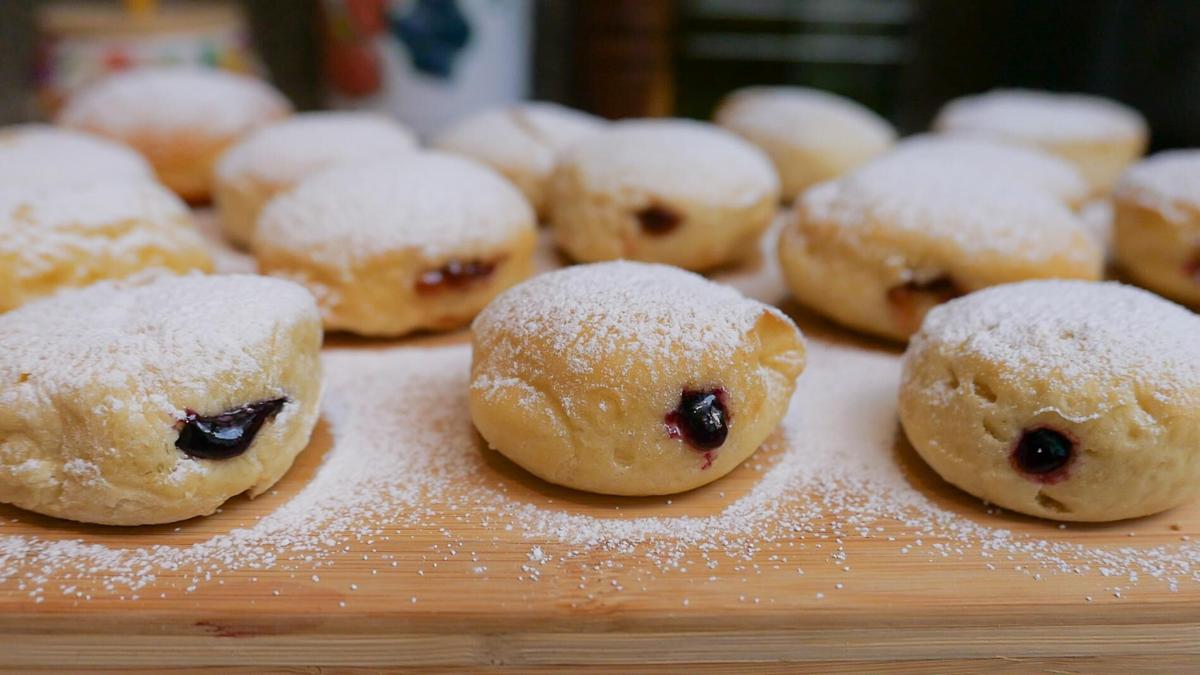 When most people think of indulgent, deep-fried dough to eat en masse before Lent begins, their minds probably turn to the Creole staple, beignets. But New Orleans does not have a monopoly on Fat Tuesday or on doughnuts. For Polish-Americans, the day before Lent is all about pączki.
Amazing Dessert Recipes to Try at Home
Pronounced POHNCH-kee, pączki are indeed a bit like traditional jelly-filled doughnuts in that they are fried, filled with jelly or custard, and absolutely smothered in powdered sugar. But where these particular pastries differ is in that they use large amounts of lard, eggs, milk, sugar and fruit. Traditionally, pączki were made as a way to use up all of those indulgent ingredients before the fasting season of Lent begins.
While pączki are still a great way to have one last hurrah before giving up sweets for 40 days, chances are you don't have a tub of lard in the back of your refrigerator that you need to use every last bit of before tomorrow. Enter, one of our favorite modern kitchen gadgets: the air fryer.
Air frying pączki makes far less mess than deep-frying, and the results are still pillowy and delicious.
Though air frying saves the mess of deep-frying (and saves a ton of oil), you should treat this technique like deep frying, so be sure to keep an eye on your pączki. When we cooked them, each batch took a slightly different amount of time, so be sure to check the air fryer every minute or so to see how they're doing. You'll also need to carefully poke the donuts to get a sense of their texture, since you won't be able to tell if they're cooked through due to their color. While these are still pretty pączki, they're not as golden as traditional deep-frying.
Oh, and a safety note! Line your air fryer with parchment paper, but do not put parchment paper in the air fryer without the doughnuts. Doing so can be a fire hazard.
If air frying isn't your thing, however, you can still deep fry these doughnuts. Just heat the oil to 350 degrees, and fry away! But before you heat up all that oil, make sure you read our primer on everything you need to know about frying food at home.
Air Fryer Polish Pączki Recipe
Ingredients:
2 cups whole milk, warmed to 110F
4 1/2 teaspoons active dry yeast
3/4 cups + 1 teaspoon granulated sugar, divided
6-7 cups all-purpose flour, divided
1 egg
4 egg yolks
1 teaspoon vanilla extract
1 teaspoon salt
4 tablespoons unsalted butter, melted and cooled
Jam, for filling
Custard, for filling
Powdered sugar, for coating
Directions:
Step 1: Pour 2 cups warm milk into bowl of a stand mixer. Stir in 4 1/2 teaspoons active dry yeast and 1 teaspoon granulated sugar. Let stand for 5-10 minutes, or until it has become bubbly.
Step 2: Stir in 2 cups of flour to the mixture until the batter becomes smooth. Cover with plastic wrap and set in a warm spot for 30 minutes. The mixture should have risen and become bubbly.
Step 3: In a bowl, whisk 1 egg and 4 egg yolks for 3-4 minutes, until it becomes frothy. Add 3/4 cup sugar, 1 teaspoon vanilla extract and 1 teaspoon salt, and whisk until smooth.
Step 4: Add the egg mixture to the dough and mix on medium-low speed with the dough hook attached until mostly combined. Stir in 4 tablespoons melted butter. Gradually add 3-4 more cups of flour to the mixture and knead until a very soft dough comes together. It will be a sticky dough and will not form a ball. Transfer the dough to a lightly greased bowl, cover with plastic wrap, and set in a warm spot until it has doubled in size, about 1 hour.
Step 5: Remove the dough from the bowl and turn out onto a floured work surface. Sprinkle flour on the dough and roll it out to ½-inch thickness. With a glass, metal can or biscuit cutter cut out circles and place on a parchment-lined cookie sheet. Do this with all of the dough. Cover dough circles with a towel and let rise for 1 hour.
Step 6: Preheat air fryer to 350F for 3 minutes. Line the bottom of the air fryer with parchment paper and place 3-4 dough circles in at a time (do not line the air fryer with parchment paper and put it inside without the donuts). Bake for 4-6 minutes, flipping halfway through. Check paczki often to make sure they aren't burning. You want a light golden color.