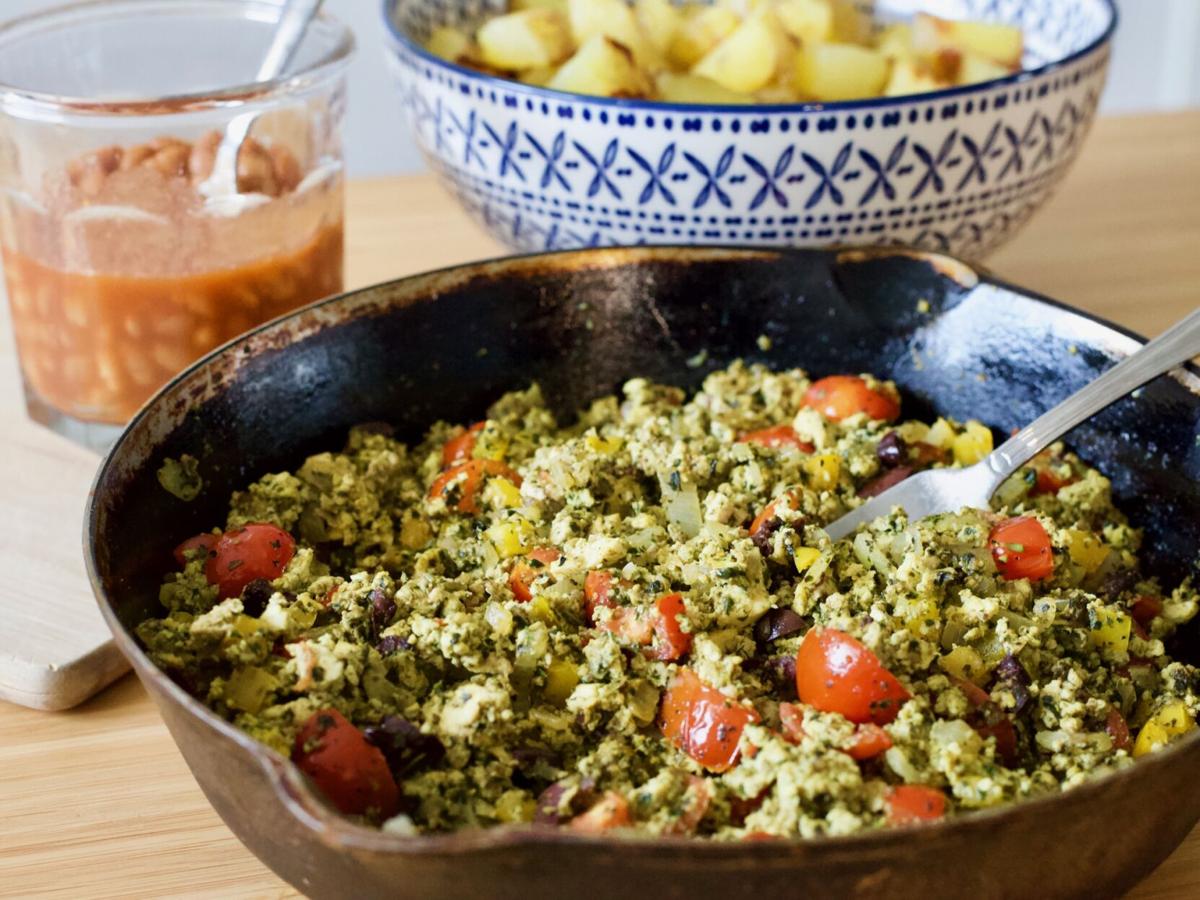 Serve up this delicious scrambled tofu recipe with your favorite breakfast side dishes: fried potatoes, baked beans, toast or a simple green salad. It is quick to make and keeps well in the fridge for leftovers.
It's easier than before to find dairy-free pesto at the grocery store, but if you can't find any it's not hard to whip up! Simply take any pesto recipe and leave out the Parmesan cheese; blend it up and in less than 5 minutes you'll have homemade pesto. If you don't have pine nuts on hand, use raw sunflower seeds instead.
Pesto & Tomato Scrambled Tofu
Serves 2 to 3
1 tablespoon olive oil
1/2 onion, finely diced
1/2 yellow bell pepper, finely diced
1 cup cherry tomatoes, quartered
1 pkg tofu, drained and crumbled
1/8 teaspoon turmeric
10 black olives, pitted and sliced
1/4 cup dairy-free pesto
1. Heat a frying pan over medium heat. Add olive oil, onion and bell pepper. Cook and stir until onion has softened and is beginning to caramelize, about 8 to 10 minutes.
2. Add in cherry tomatoes, cook and stir until they begin to soften, about 2 to 3 minutes.
3. Add crumbled tofu, turmeric, black olives and pesto. Cook and stir until heated through, about 5 minutes. Season to taste and serve.
Tasty tips
Use a potato masher to crumble the tofu.
To pit an olive, place the olive on your cutting board and press into it with your thumb, then remove the pit.
(Kary Osmond is a Canadian recipe developer and former television host of the popular daytime cooking show "Best Recipes Ever." Her easy recipes include helpful tips to guide you along the way, and her love of plant-based cooking offers healthy alternatives to some of your favorite dishes. Learn more at karyosmond.com.)