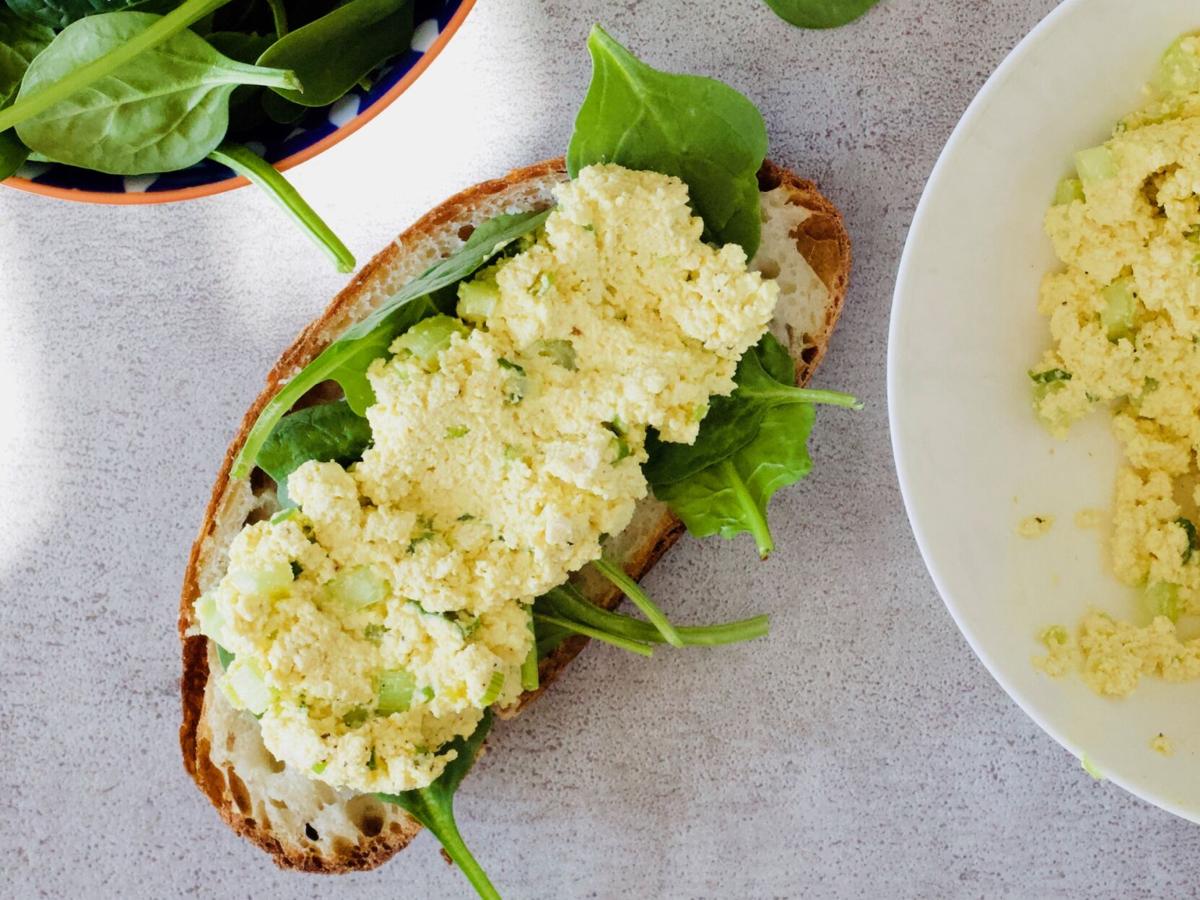 I've been on a breadmaking kick lately and needed something delicious to put between two slices. So, the other day I took my favorite egg salad recipe and turned it vegan!
The most important step in the following recipe is to drain the tofu of any residual water to get the best texture and flavor. You can use items in your kitchen to drain the tofu, but if you cook with tofu regularly, I recommend getting yourself a tofu press. The amount of water that gets drained with a tofu press is unreal!
Eggless Salad Sandwich Mix
Makes enough for 4 sandwiches
1 package extra firm tofu (300 grams)
1/3 cups plant-based mayonnaise
2 tablespoon minced green onion
2 tablespoon minced celery
1/4 teaspoon curry powder
1/8 teaspoon turmeric powder
Salt
Pepper
1. Wrap the block of tofu in a tea towel or paper towel. Place on a plate and put a cutting board on top, and weigh it down with something heavy, like a pan of water or a few cans of beans. Let the tofu drain for 30 minutes.
2. Place drained tofu into a medium bowl and crumble with your hands, or mash with a potato masher until a fine crumble.
3. Add crumbled tofu to a bowl of mayonnaise, green onion, celery, curry powder and turmeric powder. Mix until well combined and spices are fully incorporated.
4. Season to taste with salt and pepper.
Tasty tips
My favorite way to serve this tofu salad is on freshly baked bread with a layer of baby spinach or arugula.
You can substitute red onion for the green onion.
(Kary Osmond is a Canadian recipe developer and former television host of the popular daytime cooking show "Best Recipes Ever." Her easy recipes include helpful tips to guide you along the way, and her love of plant-based cooking offers healthy alternatives to some of your favorite dishes. Learn more at karyosmond.com.)