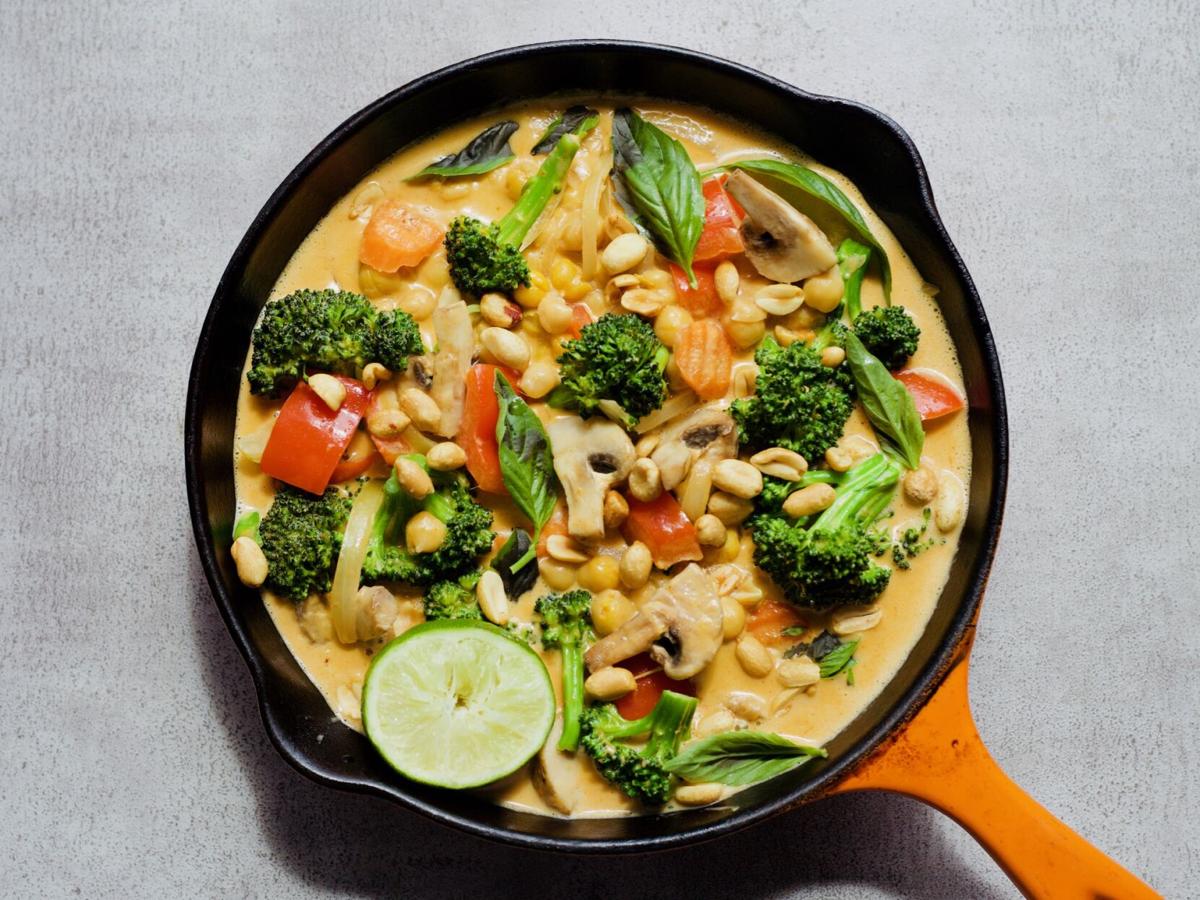 I'm having curry again, and I'm taking you along for this recipe ride!
I don't always have tofu on hand for my vegetable curries, instead I'll add chickpeas for added fiber and protein. I find the key to a successful Thai curry is to only cook the veggies until they're tender crisp; you want them to retain their sweetness and color.
If you're sensitive to heat, add less curry paste to start. You can always add more, but you can't take away. Once you're happy with the heat level, you can start to balance the salty and sweet flavors with soy sauce and sugar.
Chickpea Thai Vegetable Curry
Serves 3
2 tablespoons vegetable oil
1 to 2 tablespoons red Thai curry paste
1 tablespoon minced ginger
1/2 red bell pepper, diced
1 (400 mL) can coconut milk
1 tablespoon soy sauce
2 teaspoons brown sugar
5 brown mushrooms, quartered
1/2 carrot, peeled and sliced 1/4-thick
1 cup broccoli florets
1 cup cooked chickpeas
10 basil leaves
1/4 cup roasted peanuts
1 lime, juiced
1. Heat a large frying pan over medium heat. Add oil and curry paste. Cook until soft and starting to stick to the bottom of the pan, about 3 minutes.
2. Add ginger and red bell peppers. Cook and stir for 3 minutes.
3. Slowly stir in coconut milk, lifting all the flavor from the bottom of the pan. Stir in soy sauce and brown sugar. Bring to a boil.
4. Add in mushrooms, carrots, broccoli and chickpeas. Simmer uncovered for 7 to 8 minutes. Check the doneness of carrots. If tender crisp, remove from heat.
5. When ready to serve, garnish with basil, peanuts and lime juice.
Tasty tips
Serve over steamed rice or cooked rice noodles.
I love accompanying Thai curries with a mango salad.
(Kary Osmond is a Canadian recipe developer and former television host of the popular daytime cooking show "Best Recipes Ever." Her easy recipes include helpful tips to guide you along the way, and her love of plant-based cooking offers healthy alternatives to some of your favorite dishes. Learn more at karyosmond.com.)