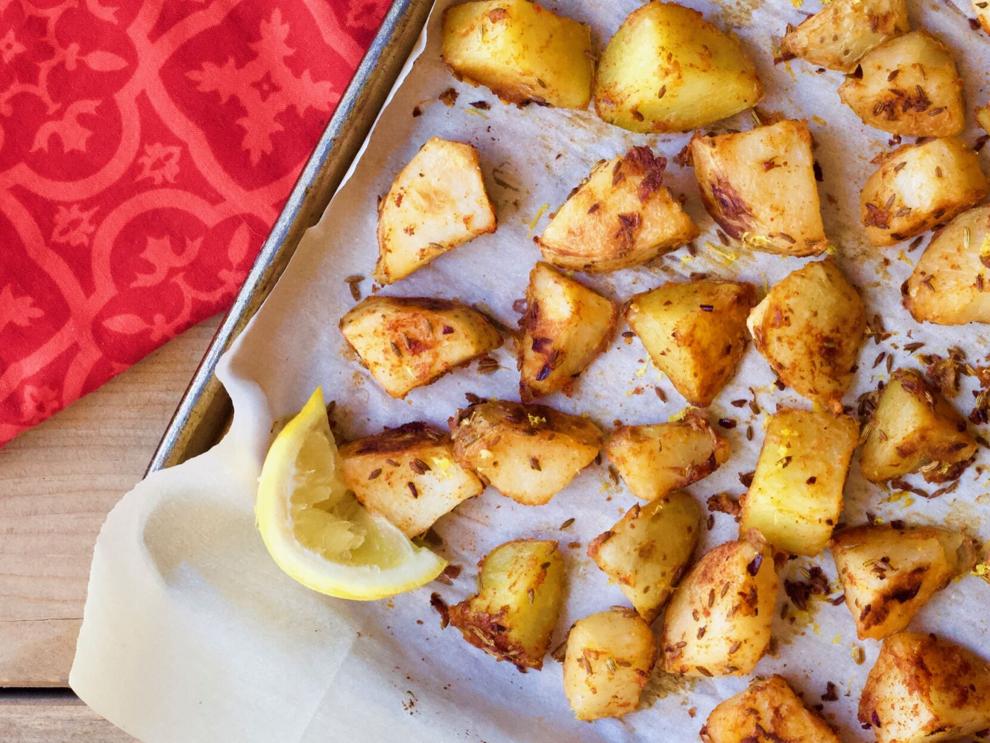 Seasoning potatoes with cumin and smoked paprika makes this side dish irresistible. It's the perfect dish to accompany your favorite breakfast scramble, sandwich or a baby green salad.
To cook these potatoes to perfection, par cook the potatoes in boiling water, toss them in oil and a spice mixture which consists of cumin seed, fennel seed, some chili flakes for heat, garlic and salt. As the seeds roast with the potatoes their flavors intensify as they toast up.
Cumin Roasted Potatoes
Serves 3 to 4
2 teaspoons salt
5 large potatoes, diced into 1-inch cubes
2 teaspoons cumin seed
1 teaspoon smoked paprika
1 teaspoon garlic powder
1/2 teaspoon red chili flakes
1/2 teaspoon fennel seeds
1/2 teaspoon salt
2 tablespoons olive oil
1 lemon zested and juiced
1. Preheat the oven to 425 F.
2. Bring a large pot of water to a boil over high heat.
3. Add salt and potatoes, cook uncovered for 7 minutes, or until partially cooked. Drain into a colander and give them a few shakes to rough up the edges.
4. In a large bowl mix together cumin seed, smoked paprika, garlic powder, chili flakes, fennel seeds, salt and olive oil. Add drained potatoes, and gently toss to coat the potatoes in the spice mixture.
5. Dump the potatoes onto a parchment lined baking sheet, spread out in a single layer and roast for 25 minutes, or until golden and crispy.
6. Remove from the oven and sprinkle the potatoes with the lemon zest and a teaspoon of lemon juice (save the remaining lemon juice for making a glass of lemonade!).
Tasty tips
Cut the potatoes into roughly the same size for even cooking.
Russet or yellow potatoes are the perfect choice for this recipe.
(Kary Osmond is a Canadian recipe developer and former television host of the popular daytime cooking show "Best Recipes Ever." Her easy recipes include helpful tips to guide you along the way, and her love of plant-based cooking offers healthy alternatives to some of your favorite dishes. Learn more at karyosmond.com.)