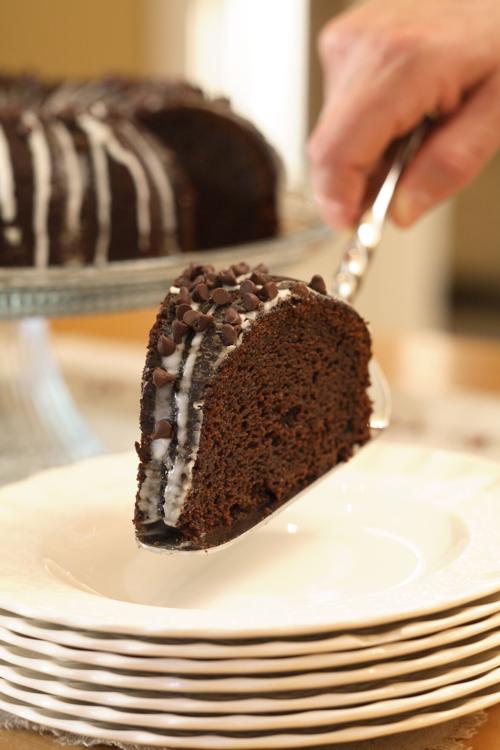 Looking for a Halloween dessert? This tender, moist chocolate cake uses pureed pumpkin to replace much of the fat and is delicately seasoned with classic fall flavors.
Glazed Chocolate-Pumpkin Bundt Cake
Serves 16
Active Time: 30 minutes
Total Time: 3 1/2 hours (including cooling time)
For the cake:
1 cup all-purpose flour
3/4 cup whole-wheat pastry flour
1 cup granulated sugar
3/4 cup unsweetened cocoa powder (not Dutch-process)
1 1/2 teaspoons baking powder
1 1/2 teaspoons baking soda
1 teaspoon pumpkin pie spice
1/4 teaspoon salt
1 cup nonfat buttermilk
1 (15-ounce) can unsweetened pumpkin puree
3/4 cup dark brown sugar packed
1 large egg at room temperature
1 large egg white at room temperature
1/4 cup canola oil
1/4 cup light corn syrup
1 tablespoon vanilla extract
For the glaze and garnish:
1/2 cup packed confectioners' sugar
1 tablespoon nonfat buttermilk
2 tablespoons mini chocolate chips or toasted chopped nuts
1. To prepare cake: Preheat oven to 350 F. Coat a 12-cup Bundt pan with cooking spray.
2. Whisk all-purpose flour, whole-wheat flour, granulated sugar, cocoa, baking powder, baking soda, pumpkin pie spice and salt in a medium bowl.
3. Blend 1 cup buttermilk, the pumpkin puree and brown sugar in a large bowl with an electric mixer on low speed. Beat in whole egg and egg white. Stir in oil, corn syrup and vanilla. Gradually add the dry ingredients, stirring until just combined. Transfer the batter to the prepared pan.
4. Bake the cake until a wooden skewer inserted in the center comes out with only a few moist crumbs attached, 1 to 1 1/4 hours. Let cool on a wire rack for 15 minutes. Remove from the pan and let cool completely on the rack, about 2 hours.
5. To glaze and garnish the cake: Combine confectioners' sugar and 1 tablespoon buttermilk in a small bowl, stirring until completely smooth. Place the cake on a serving plate and drizzle the glaze over the top; garnish with chocolate chips (or chopped nuts) while the glaze is still moist.
Tasty tips
To get the most volume from beaten eggs, it's best for them to be at room temperature. Either set the eggs out on the counter for 15 minutes or submerge them in their shells in a bowl of lukewarm (not hot) water for 5 minutes.
For the best flavor, toast nuts and seeds before using in a recipe. To toast seeds, sliced or chopped nuts, place in a small dry skillet and cook over medium-low heat, stirring constantly, until fragrant, 2 to 4 minutes. To toast whole nuts, spread in a single layer in a small baking pan and bake in a 350 F oven until golden and fragrant, 5 to 7 minutes, stirring the nuts or shaking the pan once. Transfer to a small bowl or plate to cool. (When toasting hazelnuts, rub the nuts with a clean kitchen towel as soon as they come out of the oven to remove as much of the papery skin as possible.)
Prepare through Step 4 up to one day ahead. Glaze and garnish (Step 5) shortly before serving.
Recipe nutrition per serving: 235 Calories, Total Fat: 5 g, Saturated Fat: 1 g, Cholesterol: 13 mg, Carbohydrates: 47 g, Fiber: 3 g, Added Sugars: 28 g, Protein: 4 g, Sodium: 237 mg, Potassium: 141 mg, Folate: 3 mcg, Calcium: 35 mg.
Carbohydrate servings 3.
(EatingWell is a magazine and website devoted to healthy eating as a way of life. Online at www.eatingwell.com.)