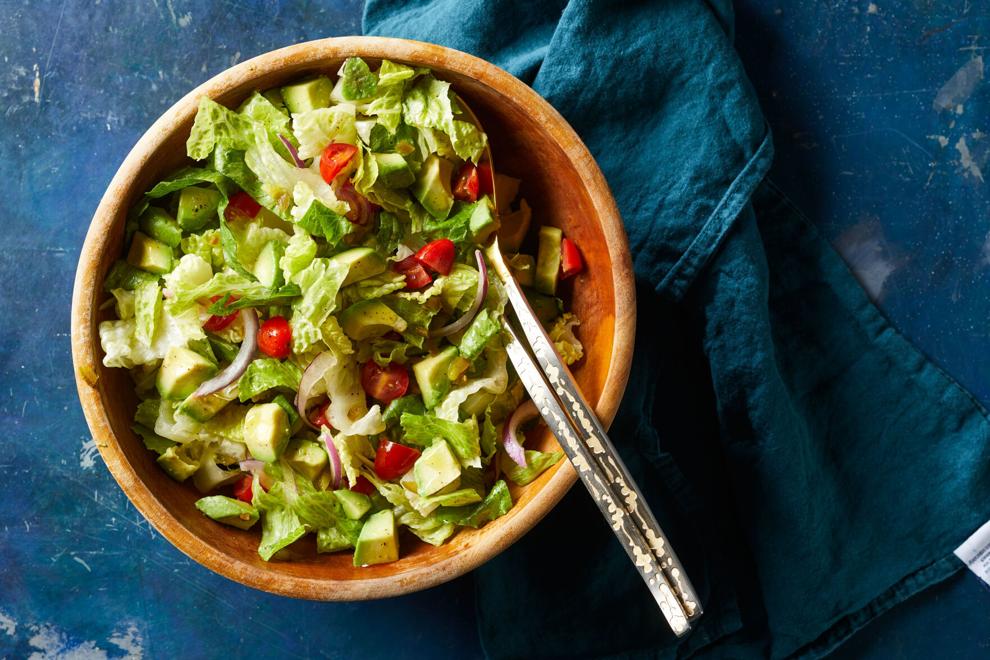 All of the delicious guacamole flavors you love in a healthy veggie-packed salad. Want to pump up the protein? Add leftover roast chicken or sauteed shrimp. Serve with tortilla chips on the side (or crumbled over the top) to take it up a notch.
Guacamole Chopped Salad
Serves 4
Active Time: 20 minutes
Total Time: 20 minutes
2 tablespoons corn oil or avocado oil
2 tablespoons lime juice
1 clove garlic, grated
1/4 teaspoon salt
1/4 teaspoon ground pepper
4 cups chopped romaine lettuce
2 ripe avocados, diced
1 cup grape tomatoes, quartered
1/4 cup slivered red onion
1 tablespoon chopped pickled jalapeno pepper
1. Whisk oil, lime juice, garlic, salt and pepper in a large bowl. Add romaine, avocado, tomatoes, onion and jalapeno; toss gently to coat.
Recipe nutrition per serving: 244 Calories, Total Fat: 21 g, Saturated Fat: 2 g, Cholesterol: 0 mg, Carbohydrates: 13 g, Fiber: 8 g, Total Sugars: 2 g, Added Sugars: 0 g, Protein: 3 g, Sodium: 224 mg, Potassium: 725 mg, Iron: 1 mg, Folate: 153 mcg, Calcium: 39 mg, Vitamin A: 4569 IU, Vitamin C: 20 mg.
Carbohydrate Serving: 1.
(EatingWell is a magazine and website devoted to healthy eating as a way of life. Online at www.eatingwell.com.)