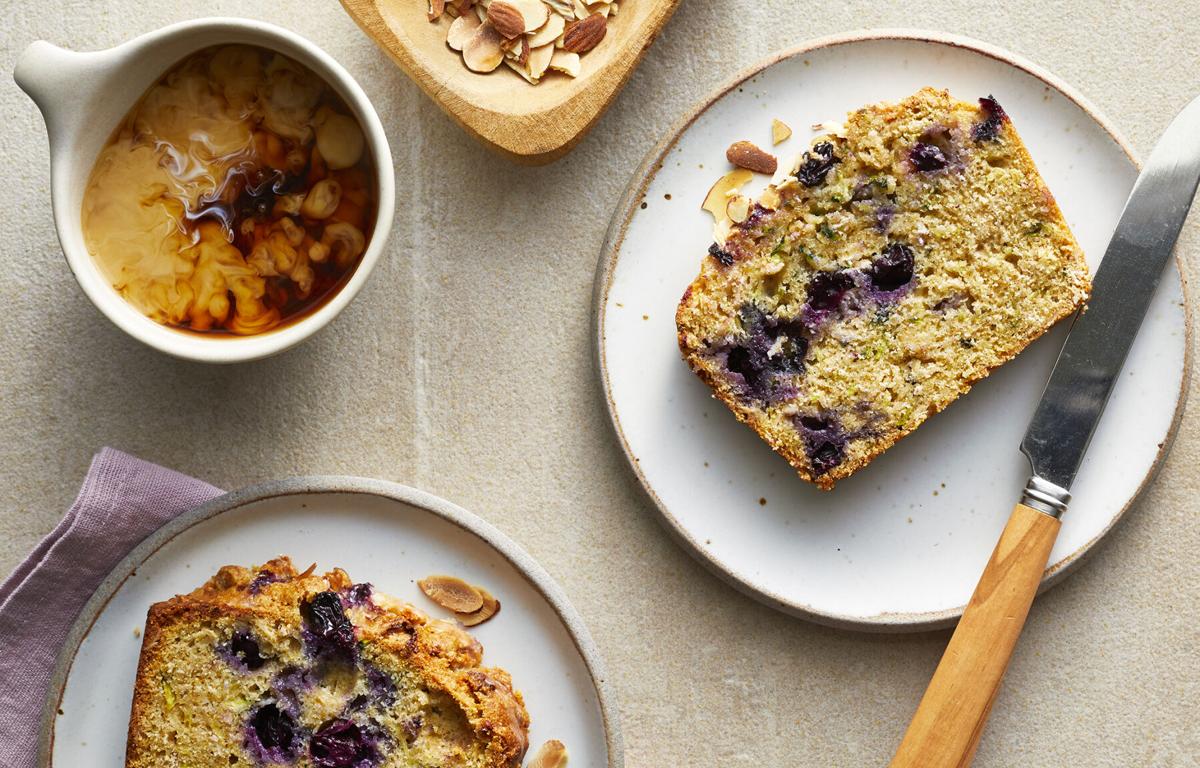 This easy and healthy zucchini bread recipe is elevated to company-worthy brunch fare with the addition of fresh blueberries to the batter and a simple lemon glaze and toasted almonds on top. A combination of whole-wheat flour and oats in the batter make it more nutritious than standard zucchini bread.
Blueberry-Lemon Zucchini Bread
Makes 1 loaf; serves 12
Active Time: 20 minutes
Total Time: 2 hours, 30 minutes
1/2 cup old-fashioned rolled oats
2 cups white whole-wheat flour
2 teaspoons baking powder
3/4 teaspoon salt
2 large eggs
1 cup sugar
6 tablespoons grapeseed oil
1 tablespoon lemon zest
1 1/2 cups shredded zucchini
2 cups fresh blueberries
1/4 cup confectioners' sugar
1 teaspoon lemon juice
1 tablespoon toasted sliced almonds
1. Preheat oven to 350 F. Coat a 9-by-5-inch loaf pan with cooking spray. Evenly spread oats on a rimmed baking sheet. Bake until lightly toasted, about 10 minutes. Let cool for 10 minutes.
2. Transfer the oats to a large bowl. Add flour, baking powder and salt; whisk to combine. Combine eggs, sugar, oil and lemon zest in a medium bowl; add zucchini and stir until incorporated. Add the zucchini mixture to the flour mixture; fold until just combined. Fold in blueberries.
3. Pour the batter into the prepared loaf pan. Bake until a toothpick inserted in the center comes out clean, about 65 minutes. Let cool in the pan for 5 minutes. Run a knife along the sides of the loaf to loosen it from the pan; invert onto a wire rack. Let cool completely, about 1 hour.
4. Whisk confectioners' sugar and lemon juice in a small bowl until smooth. Drizzle the glaze over the cooled loaf; sprinkle with almonds.
Recipe nutrition per serving: 247 Calories, Total Fat: 8 g, Saturated Fat: 1 g, Cholesterol: 31 mg, Carbohydrates: 41 g, Fiber: 3 g, Total Sugars: 22 g, Added Sugars: 19 g, Protein: 4 g, Sodium: 240 mg, Potassium: 138 mg, Iron: 3 mg, Folate: 13 mcg, Calcium: 59 mg, Vitamin A: 107 IU, Vitamin C: 7 mg.
(EatingWell is a magazine and website devoted to healthy eating as a way of life. Online at www.eatingwell.com.)