This is a healthier twist on a classic creamy turkey and wild rice soup that hails from Minnesota. Serve with a crisp romaine salad and whole-grain bread.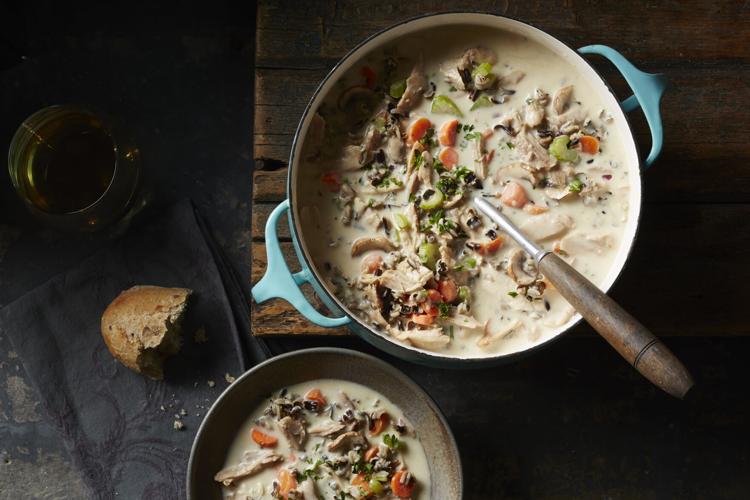 Cream of Turkey & Wild Rice Soup
Serves 4
Active Time: 35 minutes
Total Time: 35 minutes
1 tablespoon extra-virgin olive oil
2 cups sliced mushrooms (about 4 ounces)
3/4 cup chopped celery
3/4 cup chopped carrots
1/4 cup chopped shallots
1/4 cup all-purpose flour
1/4 teaspoon salt
1/4 teaspoon freshly ground pepper
4 cups reduced-sodium chicken broth
1 cup quick-cooking or instant wild rice
3 cups shredded cooked chicken or turkey (12 ounces)
1/2 cup reduced-fat sour cream
2 tablespoons chopped fresh parsley
1. Heat oil in a large saucepan over medium heat. Add mushrooms, celery, carrots and shallots and cook, stirring, until softened, about 5 minutes. Add flour, salt and pepper and cook, stirring, for 2 minutes more.
2. Add broth and bring to a boil, scraping up any browned bits. Add rice and reduce heat to a simmer. Cover and cook until the rice is tender, 5 to 7 minutes. Stir in turkey (or chicken), sour cream and parsley and cook until heated through, about 2 minutes more.
Recipe notes
To poach chicken breasts, place boneless, skinless chicken breasts in a medium skillet or saucepan and add lightly salted water to cover; bring to a boil. Cover, reduce heat to low and simmer gently until chicken is cooked through and no longer pink in the middle, 10 to 15 minutes. (A pound of raw boneless, skinless chicken breasts yields about 2 1/2 cups chopped or shredded cooked chicken.)
Quick-cooking or instant wild rice has been parboiled to reduce the cooking time. Conventional wild rice takes 40 to 50 minutes to cook. Be sure to check the cooking directions when selecting your rice, as some brands labeled "quick" take about 30 minutes to cook. If you can't find the quick-cooking variety, just add cooked conventional wild rice along with the turkey at the end of Step 2.
Recipe nutrition per serving: 344 Calories, Total Fat: 8 g, Saturated Fat: 3 g, Cholesterol: 82 mg, Carbohydrates: 27 g, Fiber: 3 g, Added Sugars: 0 g, Protein: 35 g, Sodium: 792 mg, Potassium: 782 mg, Folate: 62 mcg, Calcium: 66 mg
Carbohydrate Servings 2
(EatingWell is a magazine and website devoted to healthy eating as a way of life. Online at www.eatingwell.com.)