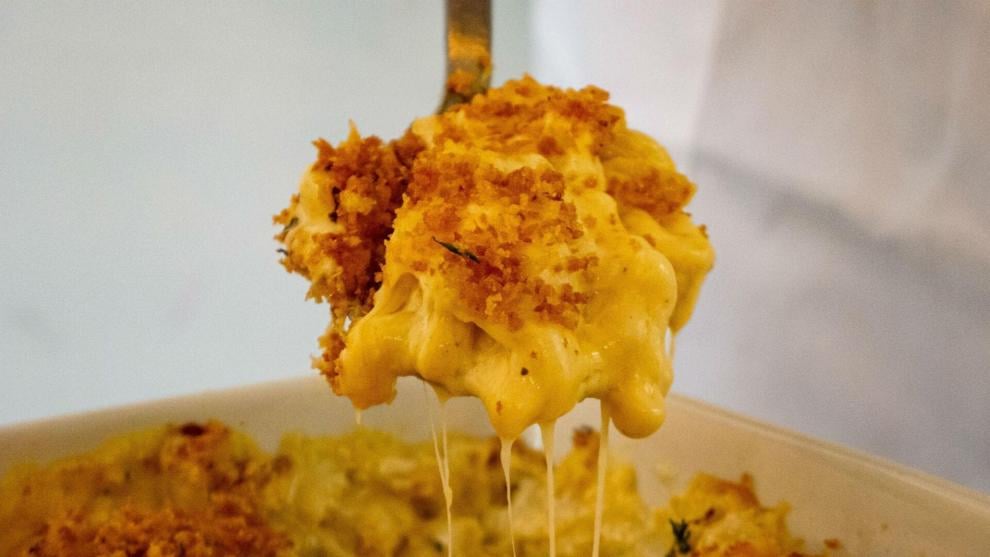 That boxed mac and cheese from the grocery store can't compare to preparing homemade mac and cheese. Sure, you can make the boxed stuff in a few minutes, maybe add a few unexpected ingredients that go great in mac and cheese, and you'll have an easy dinner on those busy weeknights. But why settle for processed cheese and stale noodles when you can achieve the most flavorful and creamiest mac and cheese with this recipe?
The Best Mac and Cheese Recipes
It only takes an hour to create this gooey, creamy mac and cheese masterpiece, crafted originally at Manhattan's venerable Murray's Cheese. This recipe does call for some handiwork by grating your own cheese rather than buying the pre-grated cheese from the store. But if you take the time to grate the cheese yourself, it will help you get that smooth, creamy texture that you'll want for your mac and cheese every time you make it.
Alina Stallone, the kitchen manager at Murray's Cheese, chose a fairly classic lineup to add to her recipe: cheddar, Fontina and Gouda. She then took things one step further by adding a fourth secret cheese.
"A wonderful trick to make your mac and cheese extra luxurious is adding cubed Taleggio," Stallone told The Daily Meal. "Because when it bakes with the pasta, it's going to turn into little ooey-gooey pockets of delicious cheese." Taleggio, a semisoft, washed-rind Italian cheese, is used twice: once while making the initial cheese sauce and again after incorporating the pasta into it. You can watch the full technique in the video below.
You can upgrade this recipe by adding bacon, scallions, SPAM or whatever else sounds good. Crushed Goldfish crackers, for instance, can be a surprisingly delightful addition. Once you master this recipe, use the leftover cheese you have on hand (if any) for more super decadent, delicious cheese-filled recipes.
Ingredients:
1 pound elbow macaroni, cooked

1/2 onion, skin removed

1 bay leaf

2 1/2 cloves garlic

1 quart milk

11 tablespoons butter

1/2 cup all-purpose flour

1/2 teaspoon nutmeg

1/2 teaspoon black pepper

1/4 teaspoon cayenne

10 ounces cheddar

10 ounces taleggio, rind removed and cubed

8 ounces fontina

8 ounces Gouda

1 cup panko breadcrumbs

2 sprigs fresh thyme, minced

Zest from one lemon
Directions:
Step 1: Grate cheddar, fontina and Gouda cheeses; cube taleggio and remove the rind. Preheat your oven to 350F.
Step 2: Cook your 1 pound elbow pasta until al dente, drain and set aside.
Step 3: Cut a slit into the halved onion and place a bay leaf in the slit. Place the onion into a saucepan with 2 whole cloves of garlic. Start making the mornay sauce by adding 1 quart milk to the saucepan and simmer at medium-low heat.
Step 4: In a separate large saucepan, melt 8 tablespoons of butter and add ½ clove grated garlic. Cook for 30 seconds and then slowly add ½ cup flour, whisking to combine, and cook for 2 more minutes. Do not let it burn.
Step 5: Ladle in the warm milk (without the onion, bay leaf and garlic), whisking constantly, until combined and smooth. Add the ½ teaspoon nutmeg, ½ teaspoon black pepper and ¼ teaspoon cayenne pepper. Add 5 ounces cheddar, 5 ounces taleggio, 3 ounces fontina, and 3 ounces Gouda.
Step 6: Pour the mornay sauce over the cooked pasta and toss to combine. Mix in the rest of the cheeses until it's at your desired consistency. Pour into a baking dish.
Step 7: In a small sauté pan, melt 3 tablespoons butter and add 1 cup panko breadcrumbs, 2 minced thyme and lemon zest. Cook on low heat until golden-brown. Evenly sprinkle onto the macaroni in the baking dish.
Step 8: Bake in a 350F oven for 20 minutes and serve immediately.